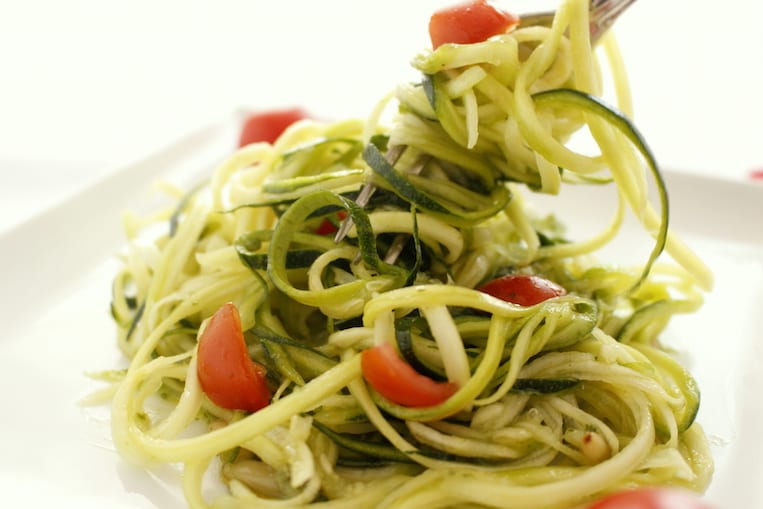 These noodles or better "zoodles" are a light version of the traditional semolina spaghetti. This dish is definitely summer-y, hydrating and refreshing. It is prepared with seasonal ingredients such as zucchini, tomatoes and basil. Zucchini are vegetables rich in water (about 90%), therefore very good for this hot season. Their delicate flavor goes very well with the more fragrant taste of pesto (see my recipe for homemade pesto here). The addition of tomatoes gives a colorful and tasty touch to the dish. The preparation is easy and fast, with no cooking is involved. I recommend using a spiral vegetable cutter to prepare zucchini. In a few minutes you can prepare large quantities of spaghetti.
Once prepared spaghetti should be served immediately because, as zucchini are very rich in water, they lose their freshness. You can enjoy it as a first course or main course served with some fresh cheese, a delicious vegetarian meal.

Zucchini Spaghetti with Pesto and Cherry Tomatoes
Make a light summer "pasta" replacing traditional spaghetti with refreshing zucchini tossed in a zesty pesto.
Author:
Paola Lovisetti Scamihorn
Recipe Type:
Main, Pasta, Primi
Ingredients
4 medium zucchini
6 tablespoons homemade pesto
10 cherry tomatoes, cut into small pieces
Salt and freshly ground pepper
Pine nuts to garnish
Instructions
Wash zucchini, cut off the ends. Prepare spaghetti cutting zucchini into julienne strips
In a bowl season the "spaghetti" with 5 tablespoons of pesto and cherry tomatoes. Add salt and pepper to taste
Arrange the spaghetti on a serving dish, garnish with pesto and pine nuts. Serve immediately. – Paola