This winter citrus bundt cake is a bright and cheery dessert with a tender crumb and a hint of almond.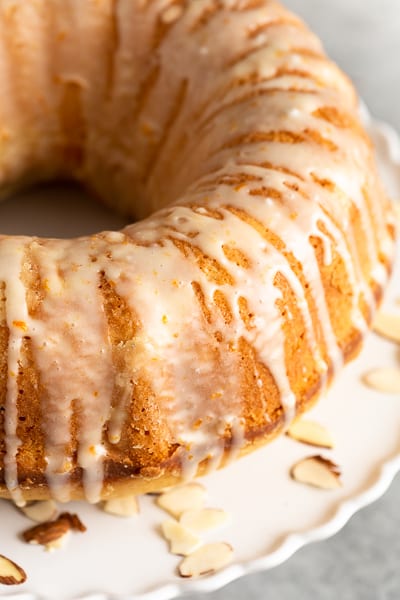 Being in the middle of a week with negative degree temps (at least for those of us in the Midwest), I thought we could use a slice of cake to cheer us all up. I mean, I've grown to enjoy the colder weather that Minnesota has, but -50 degrees?! What in the actual you-know-what.
So yes. CAKE. And cookies…but that's coming on another post!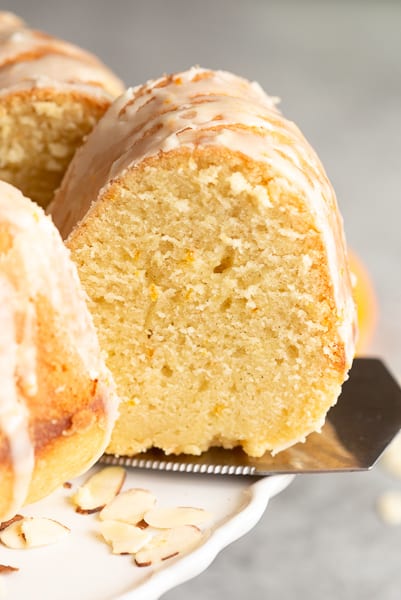 I actually made this Almond Citrus Bundt Cake on a whim. It was 6:00 a.m. and I had already been up for 30 minutes with my younger son. Then Lars, my 3-year old, came walking downstairs not much later and I knew we were in for a long morning. Some days I might think of something negative like "GREAT…this is going to be a long morning" or "why can't my kids just sleep in? I'm so tired."
On this particular day, however, I decided to change my perspective. I said out loud to both of the boys "Well, we are getting a bright and early start to the day! We're all just excited to get the day going!" Soren, of course, just looked at me with a blank stare and Lars said "yeah mama! I'm excited to watch some Paw Patrol!" Well, okay then!
For whatever reason, that tiny change in my perspective in that early hour of the day, completely changed the day for me. It felt like it was going to be a good day. I feel like maybe I could use this perspective this week, too. Like, maybe it's so cold that we can't go outside and preschool is canceled and OMG there's just so much together time. But, on the bright side, what a great excuse to get cozy, stay in our PJ's all day, and do some creative things at home. And not feel bad about it one bit!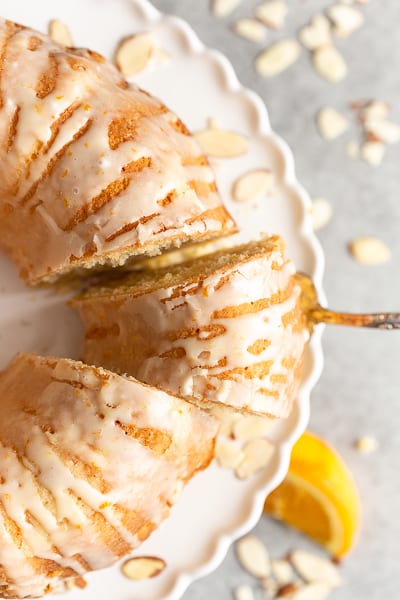 Anyways! Back to this cake. I'm so glad I had the itch to bake that morning and decided to make this Almond Citrus Bundt Cake. It's so good!
This bundt cake is everything I wanted it to be. The texture has a moist and tender crumb and is delicate but kind of dense at the same time. It's a delectable combination of almond extract, lemon extract, vanilla extract, and is so bright and cheery it can make us all feel like we are sitting on a beach this week!
The cake is topped off with a simple, but essential, orange glaze. It's a combination of powdered sugar, milk, orange juice, and orange zest, and it really takes this cake over the top.
Click HERE for the recipe.
Taylor Kadlec
Taylor Kadlec is a lover of all things food including baking, cooking, and of course, eating. She is a self-taught baker and cook, and she shares her kitchen adventures on her blog Greens & Chocolate, where healthy cooking meets sinful indulgence.