Create the traditional beautiful braided loaf, but with a wild sourdough flavor.
By Yuliya Childers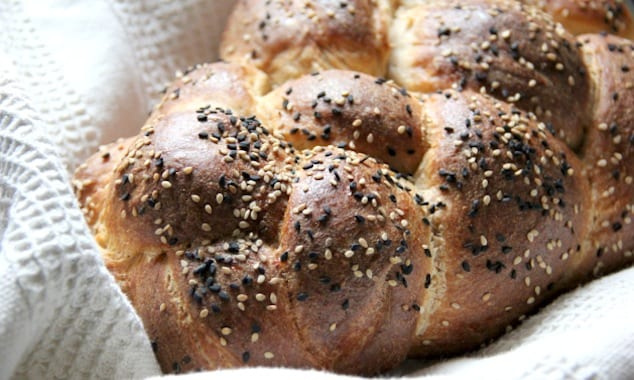 If you are into bread baking you probably know that finding the right kind of flour is a very important task. Using predictable, good quality flour is key in getting predictable, good quality bread loaves day after day. The task becomes doubly challenging if you are trying to stay away from mystery wheat, GMO, bleached, bromated and "enriched" goodness that's sold in most stores. King Arthur flour, which is the golden standard for home bread baking, has its line of unbleached and even organic flours, but purchasing them at a grocery store in two-pound increments is ridiculous and expensive. Even purchasing on sale, you'll pay an arm and a leg, and if you decide to stock up, well… your kitchen cabinets and top of the fridge can only stretch so far, not to mention that minor factor of flour getting stale.Other brands are tricky; you may find mixed (if any) reviews here and there, so you have to try them out in both gluten development and consistency.
I decided to step out of the King Arthur circle and did, indeed, venture into the wild world of other brands. I gave it the ultimate test and tried a wild sourdough challah recipe. Wild sourdough means less (or none at all) commercial yeast, slower rise, superior flavor and sometimes unpredictable results, so there you go. The flour I tried is Great River Organic Milling Company 100% Organic Bread Flour. The label says that this flour is made of hard winter red wheat, it retains germ, but was lightly sifted for bran reduction, and it's perfect for white yeasted breads. First thing I noticed was the color of the flour — the familiar super white silky look was gone, and I was looking at lightly beige powder that wasn't all silky, but still quite finely milled. The dough proofed for 3-1/2 hrs or so. I didn't get this violent rapid rise out of it, but that didn't bother me at all. Slow and steady wins the race to good flavor. Then I braided the challah and left it under plastic for 1 hr for final rise, egg-washed. Again, it didn't increase in size too dramatically, but what I got instead was a beautiful bloom in the oven.
Print
Wild Sourdough Challah
Traditional challah braid using a sourdough base and an organic wheat flour.
Author:

Yuliya Childers

Yield:

1

loaf

1

x
Category:

Baking
300

gr (1-1/2 cups) wheat 100% hydration sourdough starter

300

gr (2-1/3 cups) organic bread flour (I used Great River Organic Milling Company 100% Organic Bread Flour)

35

gr (2-1/2 tbsp) olive oil

35

gr (3 scant tbsp) sugar

10

gr (2 scant tsp) salt

1

egg + 1 egg yolk (reserve the whites for egg-wash)

1/2 tsp

dry yeast (optional)
sesame seed or poppy seed for sprinkling
Instructions
Use fully active starter, which means it should be bubbly, not flat. Feed the starter about 4-6 hours prior to using in this bread
Mix all ingredients in a bowl until well incorporated and hydrated through. Leave for 20 minutes to soak.
Knead with a hook attachment in a mixer for 6-8 minutes, or 8-10 minutes by hand, until the dough turns silky smooth and elastic. Depending on your flour and the consistency of your starter, you may need to add a bit of lukewarm water to soften the dough. Try doing this in the beginning stages of the kneading.
Transfer the dough into a greased bowl, cover with plastic and let rise slowly for about 3-4 hours, or until dough is at least doubled in size.
Transfer the dough onto a lightly floured surface, divide it into 3,4, or 6 pieces, depending on how you want to braid your challah. Roll each piece into a log and let rest for 20 minutes under plastic.
Braid your challah as desired, tuck in the ends. There are plenty of videos on various braiding techniques, fascinating!
Transfer challah loaf onto parchment lined baking sheet.
Lightly whisk the reserved egg white and, using a brush, glaze the entire loaf, including the sides and ends, with the egg wash.
Cover the loaf with plastic and let rise for about 1 hour. Egg-wash the loaf again after rising, and sprinkle with seeds.
Preheat the oven to 375F. Bake challah for 25-30 minutes, turning 180 degrees once half way through the baking, to ensure even browning. Challah is done when it's evenly rich brown all over.
Cool challah on rack for 1 hr and enjoy.
Yuliya Childers
Yuliya Childers is a self-proclaimed cooking and writing addict born and raised in a cosmopolitan city of Odessa on the Black Sea coast. She started cooking at quite an early age and learned most of her skills by watching others and reading cook books. Made-from-scratch naturally grown food is her passion. Yuliya believes that truly good food either creates or invokes memories. Her blog Eat Already! is focused on everyday creative yet un-pretentious cooking that anyone with basic skill can replicate. Yuliya's recipes are usually accompanied by childhood memories or family stories related to the dish in some way. Her recipes are honest, eclectic, multi-cultural, imaginative, and often outside the box. Currently she's into artisan breads, traditional cooking, and everything fermented… Yuliya is cooking and writing about it from Alabama.