Walnut and Coconut Crusted Berry Ricotta Tart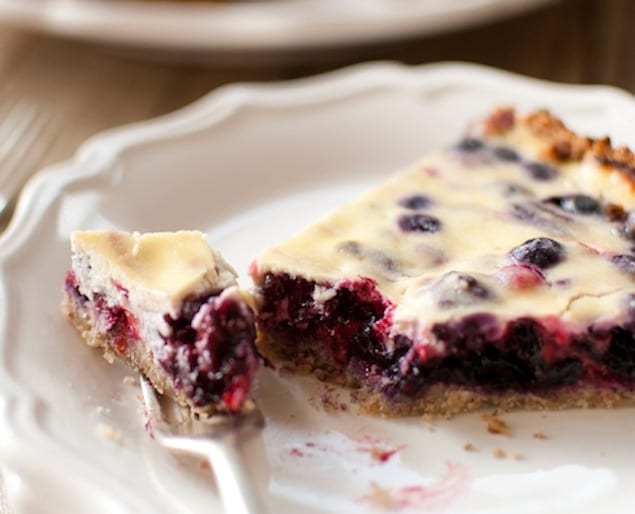 This tart is not too sweet, but full of natural goodness of the berries and the walnuts. The flavors pare nicely with the walnuts and the soft berry filling.
By Maria Laitinen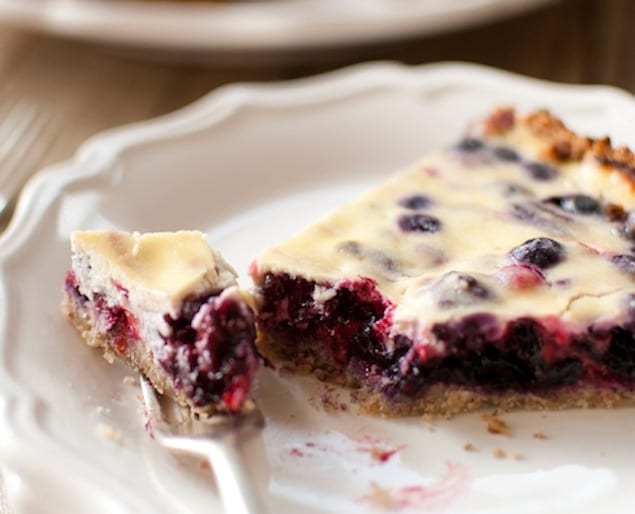 I wanted to make something a little bit special and indulging for the launch of Honest Cooking, and this berry ricotta tart truly is my kind of a treat. It is not too sweet, but full of natural goodness of the berries and the walnuts. The coconut oil and the coconut flour pare nicely with the mellow walnuts and the soft berry filling. You can help yourself with a second serving as this is completely guilt-free!
Walnut and Coconut Crusted Berry Ricotta Tart
This tart is not too sweet, but full of natural goodness of the berries and the walnuts. The flavors pare nicely with the walnuts and the soft berry filling.
Ingredients
Crust
2 cups (240g) walnuts
2 tbsp (30ml) coconut oil
2 large free-range egg whites
½ cup (30g) coconut flour
Filling
3 cups (500g) frozen berries, defrosted
3 tbsp (30g) potato starch
2 cups (250g) smooth, low-fat ricotta
1 large free-range egg
1 tsp (5ml) natural vanilla extract
1 tbsp (15ml) raw honey
Instructions
Start by greasing a 25 cm (10 inch) tart tin.
Place the walnuts in a food processor and blitz until coarse. Add the coconut oil, egg whites and the coconut flour and mix well to combine. Pour the mixture in to the tart tin and press with your fingers to spread evenly on the base and the sides of the tin. Refrigerate for 20 minutes.
Preheat your oven to 180C (356F).
In the meanwhile, prepare the filling. Toss the berries with the potato starch. In a separate bowl, mix the ricotta with the egg, vanilla and honey. Set aside.
Bake the crust for 15 minutes, then remove from the oven, fill the cavity with the berries and spread the ricotta mixture evenly on top. Return the tart in to the oven and continue to bake for a further 20-30 minutes or until the filling feels firm to touch. Leave to cool on a wire rack before serving.
Maria Laitinen
Maria Laitinen is a regular contributor to Honest Cooking. She is the editor of the food blog Scandi Foodie specialising in healthy, feel good food. Originally from Finland and living in Sydney, Australia, her food philosophy and sense of style is heavily influenced by her Scandinavian background. She is a tireless promoter of Nordic cuisine and an avid collector of vintage tableware.