Winter is a time of eating, spending time with family and of course going crazy in the kitchen with hearty recipes. For a great winter brunch, try the Waldorf's famous eggs Benedict.
By Michelle Tchea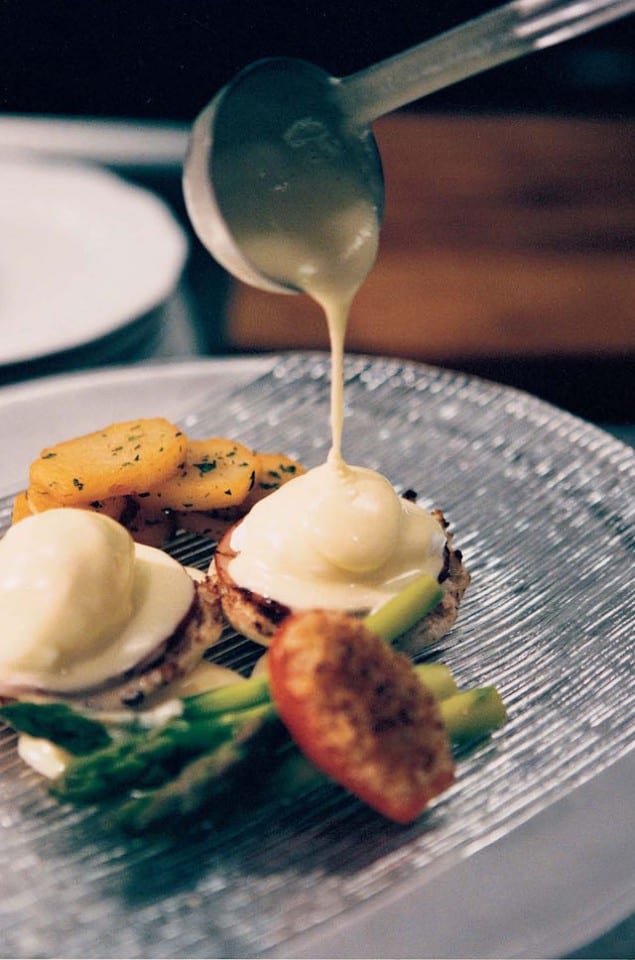 Honest Cooking loves new twists on classics like this Korean Tartare or dare we say it…the cronut – for all our buttery and sugary cravings, we even love, love, love the Cheesy vegemite scroll!
But sometimes you really can't go pass an old classic in the kitchen – especially if you're going to please a crowd in a tiny New York Kitchen! If you're lucky enough to live in the Big Apple – you really must pop into the iconic Waldorf Astoria Hotel for the beautiful Christmas decorations and enjoy the deliciously scrumptious Sunday Brunch.
But for those of you who live abroad, here is the Waldorf Astoria's famous recipe for Eggs Benedict. Now this recipe is intense – everything is made from scratch, as expected, but you can be lazy and grab a bag of English Muffins from your favourite artisan bakery – just don't skimp on the homemade Hollandaise Sauce – it's a MUST!
Bon Appetit!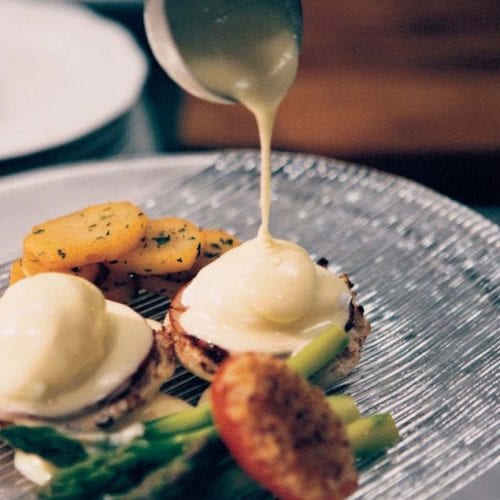 Waldorf Astoria's Famous Eggs Benedict
Ingredients
English Muffins
8

tsp

Dry Yeast

1

cup

Lukewarm Water

5

cup

Buttermilk

10 ½

cup

Patent Flour

2/3

cup

Granulated Sugar

2 ½

cup

Kosher Salt

1 ½

cup

Butter

Vegetable Oil Spray

as needed

Corn Meal

as needed
Hollandaise Sauce
2

tbsp

White Wine Vinegar

1

Shallot

chopped fine

8

Cracked Black Peppercorns

3

Egg Yolks

3

tbsp

Water

8

oz.

Clarified Butter

Salt to taste

Juice of ½ lemon
Instructions
English Muffins
In a mixing bowl, fitted with dough hook attachment, combine the dry yeast with the lukewarm water and stir until fully dissolved.

Warm up buttermilk so it won't be chilled and add to yeast mixture.

Add all the dry ingredients to the yeast slurry and begin to mix on medium speed until all is combined, 3-4 min.

Gradually add the room temperature butter and continue to mix on medium speed for 7-8 min or until the dough begins to slowly adhere to the hook. It will be loose and tacky to the touch.

Spray a bowl with the vegetable spray and place the dough inside of this bowl so it can proof.

After dough has properly proofed, punch it down and keep in the refrigerator to chill and to make it easier for handling.

Roll dough out to 2cm thickness and cut with a round cutter to desired size.

Pat both sides onto a thinly layered surface of corn meal and place onto a sheet pan.

Allow to proof until tender

Bake at 350F for 10 min.

After 10 min. carefully flip each English Muffin over and continue to bake for an additional 10 min. at 325F or until done golden in color.
Hollandaise Sauce
In a shallow pan reduce vinegar with shallots and peppercorns until almost dry

Combine egg yolks and water in a double boiler, cook while continually whisking in a figure eight motion to incorporate air until mixture reaches the ribbon stage.

Remove from heat and add clarified butter slowly while emulsifying with a whisk.

Add lemon juice, shallot reduction and salt to taste, strain and serve
To Serve
Poach an egg and serve on warm english muffins with Hollandaise sauce and bacon, if desired.
Michelle Tchea
Michelle Tchea is a 4-time bestselling author. Her books include, Building a Perfect Meal, My Little SoHo Kitchen, Signature Dishes (Australia's Best) and Chefs Collective. Her work can be found in other leading luxury travel and food magazines including Travel+Leisure Asia, SMILE, NUVO Magazine and The Telegraph