Sponsored Post: We're celebrating Vinho Verde wines this season. These Portuguese bottles are young, fresh, vibrant, and affordable. It's the perfect wine for all your favorite summer recipes, beach trips, and vacations. It truly is like no other wine in the world.
This Peruvian Grilled Chicken is packed with flavor and served with a creamy green sauce. Add some international flair to your barbecue with this chicken recipe and a bottle of Portuguese Vinho Verde to pair.
This is the year that I've finally embraced my knowledge and love for grilling. I've been cooking up these Lemon Chicken Skewers with Harissa Yogurt Sauce on the regular. This Mango Lime Grilled Chicken is a favorite in our house. And, let's not forget the most amazing of cocktails – Grilled Pineapple Jalapeno Margaritas.
Today, I'm throwing a new recipe into the mix. My friend Angela told me about this amazing peruvian grilled chicken that she makes and it totally peaked my interest. The chicken has all the flavors going on – garlic, soy sauce, cumin, plus it's served with an amazing creamy green sauce that's got jalapeno, cilantro and fresh lime juice. Basically all of my favorite flavors.
To make things easy, I had my butcher quarter a whole chicken for me. Then, I just added it to a large ziploc bag, poured my marinade over it and let it sit in the refrigerator overnight to let all those amazing flavors soak in.
When you're ready to get cooking, throw your chicken onto a preheated grill and let it cook for about 30 minutes, turning once. While it's grilling away, now is the time to prepare that amazing creamy green sauce for your Peruvian grilled chicken. It may be the best part of this yummy dish…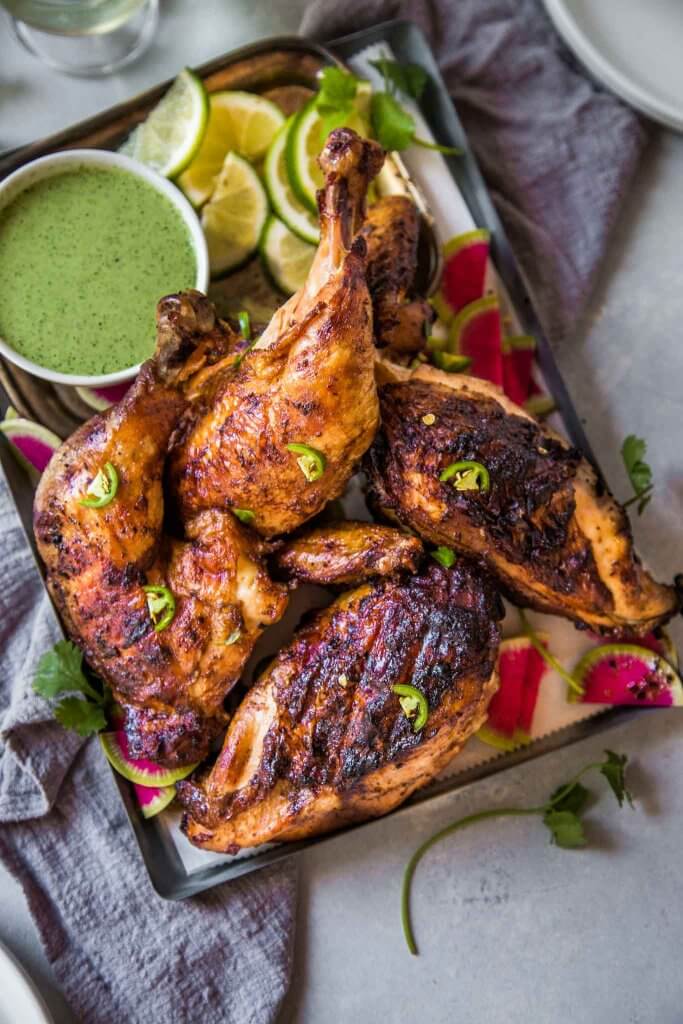 This creamy green sauce is very similar to my beloved Mojo Sauce. But this version is creamy, with a bit of mayonnaise and greek yogurt added in. I will say that mayonnaise can freak some people out. You either love it or you hate it. Rick is a hater of mayonnaise, but he loves this sauce. I haven't told him there's mayonnaise in it yet… What he doesn't know…
However, if you want to leave out the mayonnaise, you can just use more greek yogurt in its place. Or you can swap in some sour cream or mexican crema.
Regardless of how you make it, I promise you are going to be totally addicted to this sauce. It's tangy, spicy, creamy and so delicious. I pretty much drown my chicken in it.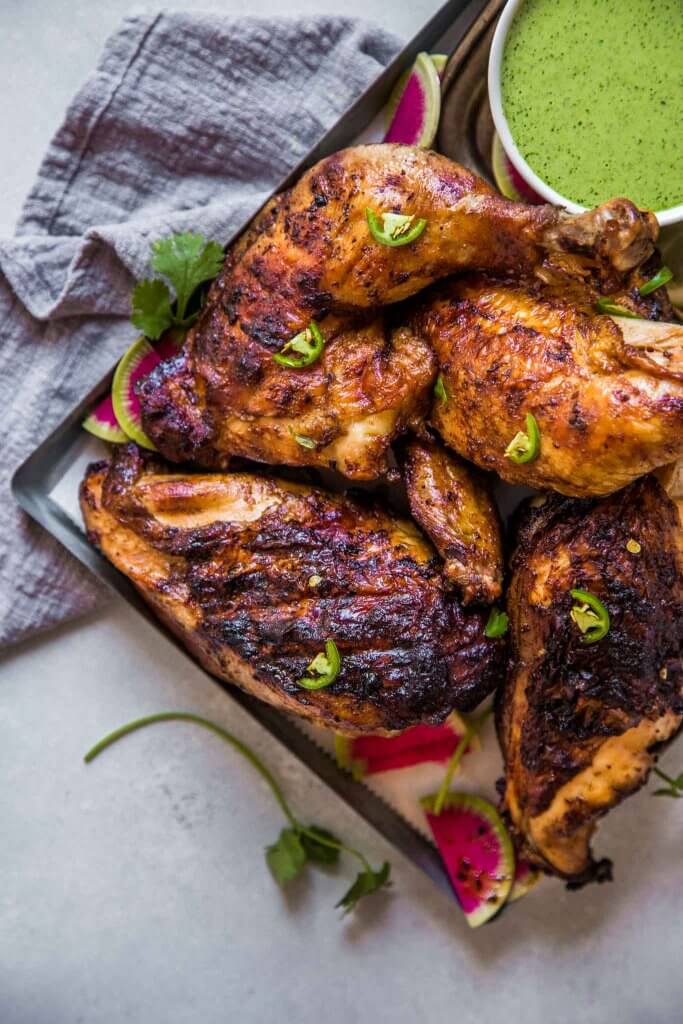 I love this meal because it's quick, casual, unexpected. Also, it's perfect for entertaining because the majority of the work can be done ahead of time, it doesn't need much babysitting and the kitchen stays clean.
Think warm summer nights, on the patio, with good music, and some refreshing wine…
The perfect wine to pair with Peruvian grilled chicken? I love Vinho Verde.
Vinho Verde, like this meal, is unexpected, refreshing, distinctive and light. Many Vinho Verde wines have a light fizz to them, which I really like. They also have a bright acidity with a bit of minerality that really makes them pair with light dishes like seafood or chicken.
See Also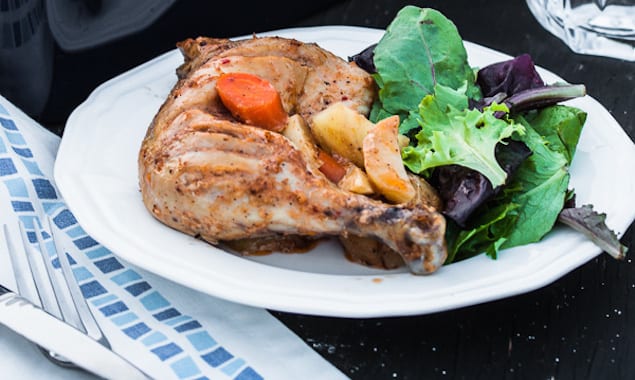 As an added bonus, Vinho Verde wines are super affordable with the average bottle being in the $10 range. Totally justifies buying more than one bottle…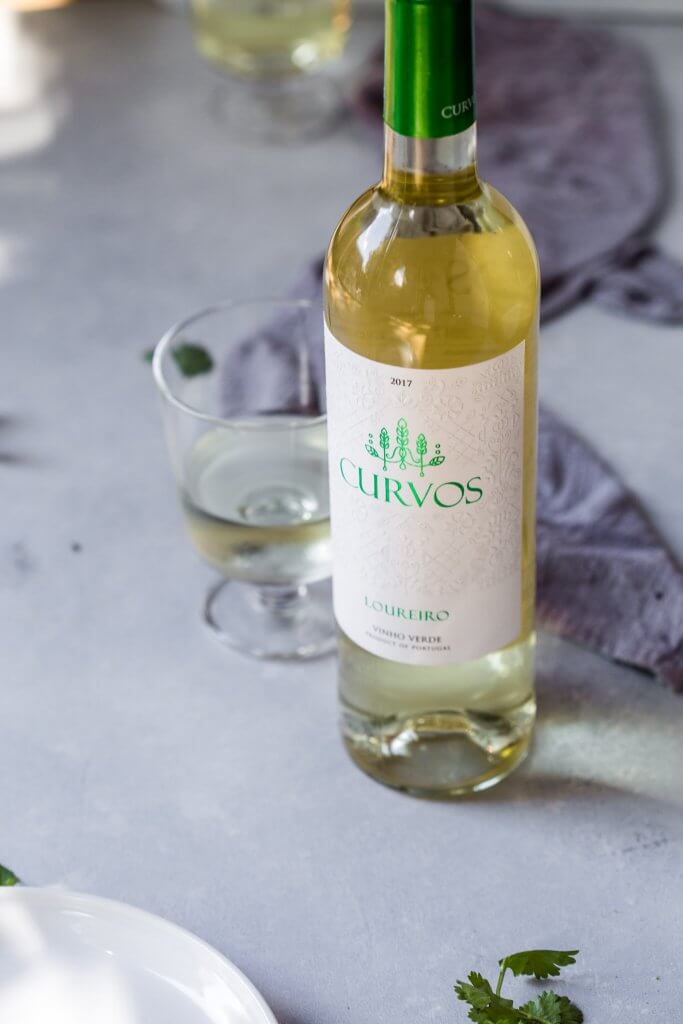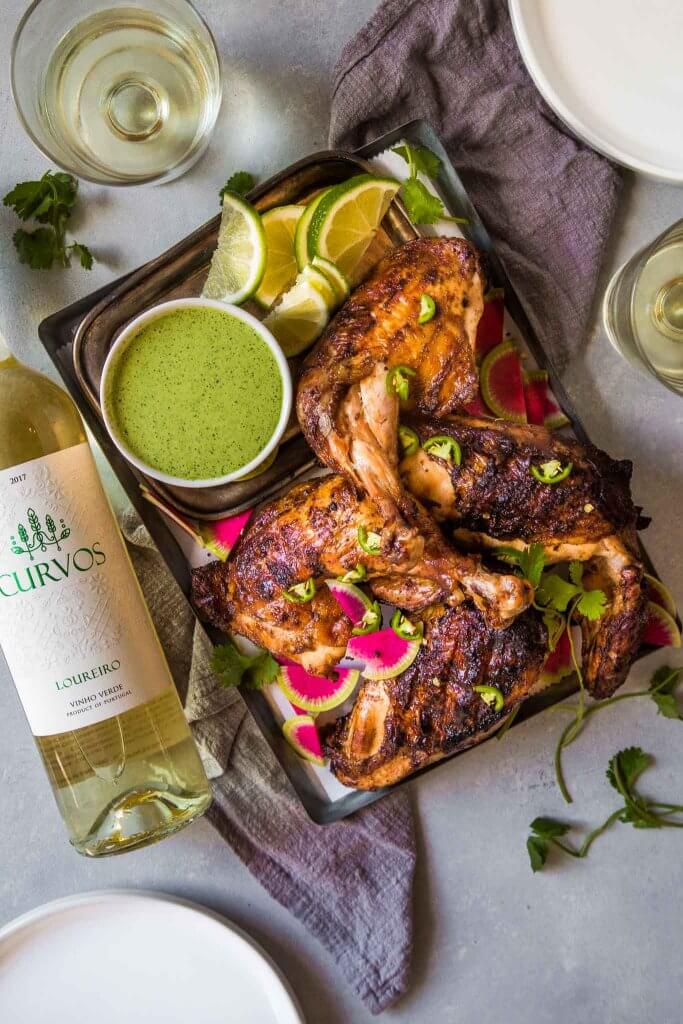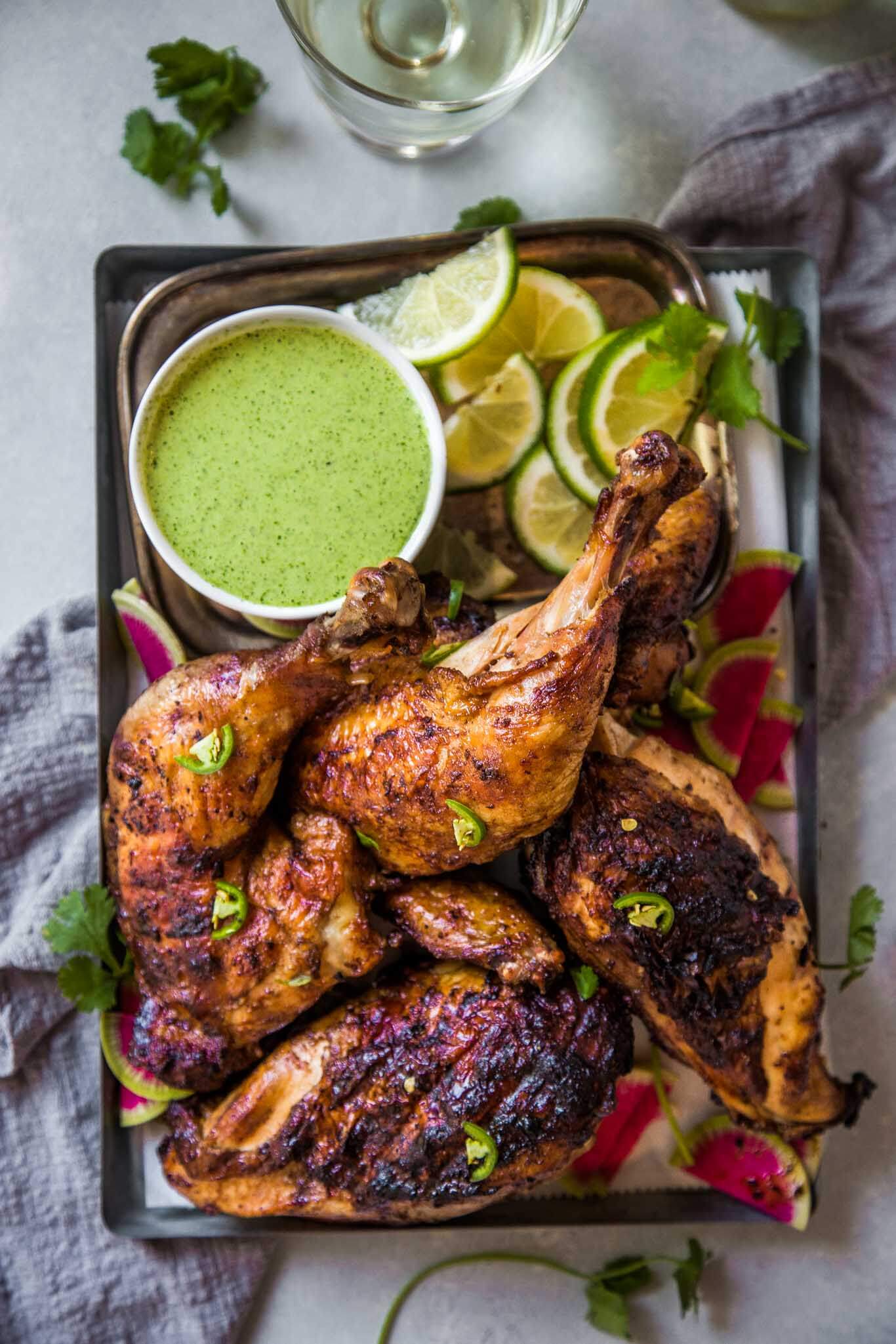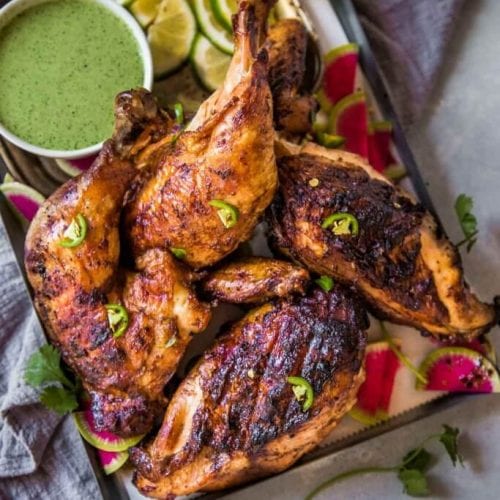 Vinho Verde Wine Paired with Peruvian Grilled Chicken with Creamy Green Sauce
Erin Lynch
Ingredients
CHICKEN:
1

whole chicken quartered

about 3 1/2 pounds

5

cloves

garlic peeled

1/3

cup

soy sauce

2

Tablespoons

lime juice

1

Tablespoon

extra virgin olive oil

2

teaspoons

cumin

1

teaspoon

paprika

1/2

teaspoon

dried oregano

Black pepper
GREEN SAUCE:
3

jalapeños seeded

ribs removed and roughly chopped

1

cup

fresh cilantro leaves

2

cloves

garlic peeled

1/2

cup

mayonnaise

1/4

cup

Greek yogurt

1

Tablespoon

lime juice

1/2

teaspoon

salt

1/4

teaspoon

black pepper

2

Tablespoons

extra virgin olive oil
Instructions
CHICKEN:
Puree garlic, soy sauce, lime juice, oil, cumin, paprika, oregano and a pinch of black pepper in a blender.

Put chicken in a large ziploc bag and add marinade. Place in refrigerator and allow to marinate for 8 to 24 hours.
GREEN SAUCE:
Combine all ingredients except the olive oil in a blender process until smooth. With the motor running, slowly drizzle in olive oil. Transfer to a bowl and refrigerate until ready to serve.
GRILL CHICKEN:
Charcoal: Distribute lit coals along opposite sides of bottom rack, leaving an empty space, about the size of the quartered chicken, in the middle. Allow it to heat to high by fully opening the vents on the bottom and lid of grill. The grill will be ready when you can hold your hand 5-inches above the grill rack for about 3-4 seconds.

Gas: Preheat all burners on high, then reduce to medium-high heat.

Oil the grate of the grill and grill chicken over area with no coals (or over a turned-off burner), skin side down first, covered, turning over once, until fully cooked, 30-35 minutes (adding charcoal to maintain heat).
Notes
If you prefer to cook indoors, the chicken can be roasted in the oven. Preheat the oven to 500 degrees and place the chicken pieces in a 13x9 inch roasting pan, along with 1 cup water. Roast uncovered for 30 minutes, then tent the pan with foil and cook for an additional 15 minutes, until browned and fully cooked.
Erin Rebecca
I'm Erin - a self-taught weeknight cook. I occasionally like to delve into the more complicated recipes, like homemade pasta, Cioppino, and boeuf bourguignon. But for the most part, I work full-time, come home, pour a glass of vino and start cooking away.