Let Alana Lowe and Paul Helzer's video inspire you to some lovely handmade gnocchi with fresh spinach sauce.
By Alana Lowe and Paul Helzer
This piece documents the gnocchi recipe of an Italian friend of Dominique Sarthe.  The spinach sauce was invented deep in the mind of Domi's husband, Cyril Sarthe. Paul and I met the Sarthe's in their hometown of Cassagnabere-Tournas, France, where we spent the month of March WWOOFing on their farm. Being that it was early spring, we planted everything from tomatoes to eggplants to squashes, spinach, lettuces, corn, leeks, basil, parsley, potatoes even peanuts (see our travel blog here).
See Also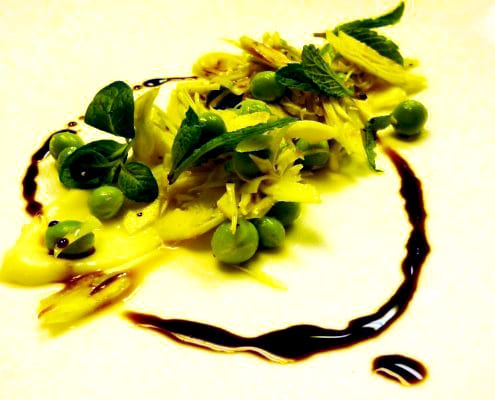 We harvested radishes, leeks, carrots, turnips, parsnips, celery, arugula, and of course, spinach. It was wonderful to eat veggies that were so incredibly fresh. Luckily for us, Domi and Cyril know about good food. Before focusing soley on farming, they had another life as owners of a pizzeria near Toulouse. (To read more about our time in Cassagnabere, go here.)

Gnocchi with Spinach Sauce
Handmade gnocchi with fresh spinach sauce
Recipe Type:
entree, main, pasta, Italian
Ingredients
Gnocchi:
2 lbs potatoes, steamed, peeled and mashed
5 lbs flour
salt
Spinach sauce:
3 bunches spinach, chopped
Bacon
¼ cup white wine
2 cups crème fraîche
Salt
Instructions
Gnocchi:
Combine mashed potatoes with flour and salt
Knead until dough is formed
Roll into log about 4-5 inches in diameter
Cut off 3-4 inches at a time
Roll smaller piece out into long snake, about 1 inch in diameter
Pinch off about an inch at a time
Roll it into a small ball then flatten and fold around your thumb
Place in floured bowl or sheet
To cook the gnocchi, you can boil or sauté:
To sauté, heat olive oil, then place gnocchi in pan, making sure to brown each one on both sides.
To boil, place in boiled water and remove them when they begin to float.
Spinach Sauce:
Sauté bacon
Add spinach
Add white wine, crème fraîche and salt
Blend
Serve over gnocchi
Hope you enjoy!
Alana Lowe and Paul Helzer
Alana Lowe and Paul Helzer own a boutique production company and do all sorts of visual story telling for a living and since they love food, cooking and moving images, shooting food just made sense. In their blog, Cooking by Heart, they document family recipes. They are currently pumped for their new series UNFARMED, in which they'll explore wild, foraged, and otherwise under appreciated uses of various resources - like unexpected sources for natural dyes, wild medicinal plants and herbs, and even dinner.