Vermicelli Vegetable Upma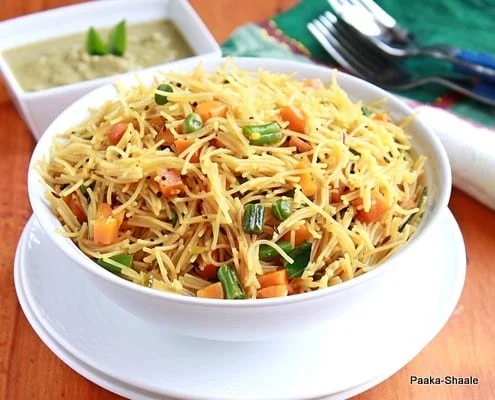 This version of vermicelli is something that requires very little effort but tastes delicious.
By Nandita Nataraj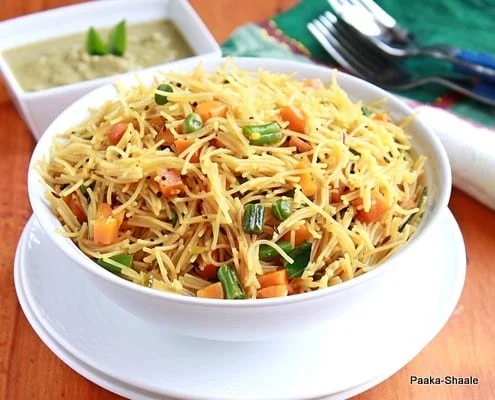 I think vermicelli is the first pasta that we Indians consumed without realizing that it was actually Pasta. Vermicelli is actually a very thin Pasta that is broken into bits and best of all, it is whole wheat and egg free. The beauty of vermicelli is that, it can be cooked in a hundred different ways. You can make sweet milk based puddings to pilafs or a simple dish like this one. You can make a hundred different dishes. Tasting different but delicious each time.
This version of vermicelli is something that I make from time to time. It requires very little effort and it tastes delicious. And best of all, my family loves it. So to me, it is that ultimate comfort food. Since it is made out of whole wheat, I can be assured of whole goodness on my plate.
Vermicelli vegetable upma
Ingredients
Thin, whole wheat Vermicelli- 2 cups
Vegetables like carrots, peas, green beans, potato- 2 cups
Oil- 2tbsp
Salt to taste
Mustard- ½tsp
Cumin seeds- ½tsp
Hing or asafotida - A pinch
Curry leaves- 2 sprigs
Turmeric- ¼tsp
Green chilli- 1, chopped fine
Ghee or clarified butter- 1tsp
Grated fresh coconut- 1 tbsp (optional)
Coriander leaves to garnish
Instructions
Heat the clarified butter in a thick bottomed pan. Add the vermicelli and shallow fry till golden brown and keep aside
Heat oil in the same pan and add the mustard seeds. Once they crackle, add cumin seeds and fry till they are brown.
Stir in the asafotida and curry leaves and fry for a few seconds.
Add the vegetables and fry on high heat for 2min. Add the turmeric, green chilli and salt and continue frying for 3 to 4 min more
Add about two and half cups of water and allow the mixture to simmer for a minute.
Add the fried vermicelli, mix and cook covered for 5minutes.
Stir in the grated coconut and mix well.
Nandita Nataraj
Nandita was born, bred and spread in India, but right now lives in Tanzania where her quest for simple and exotic pleasures of food led to the creation of the blog Paaka-Shaale. She believes that food is not just a means to feed a body. But it is also meant to appeal the mind and satiate the soul.