Vegetarian Tacos with Black Beans and Paneer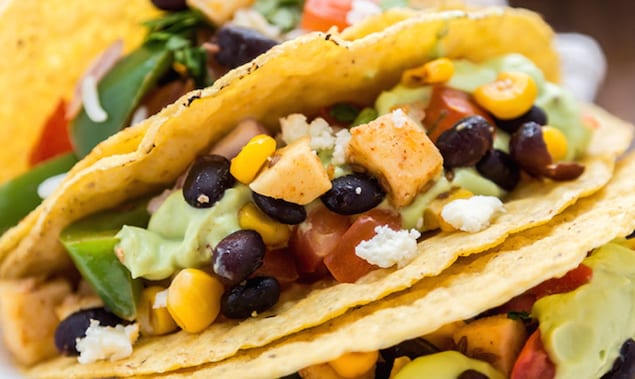 Paneer is sautéed with veggies and beans for a fun new take on tacos and served with rice, fresh salsa, and avocado cream.
By Manali Singh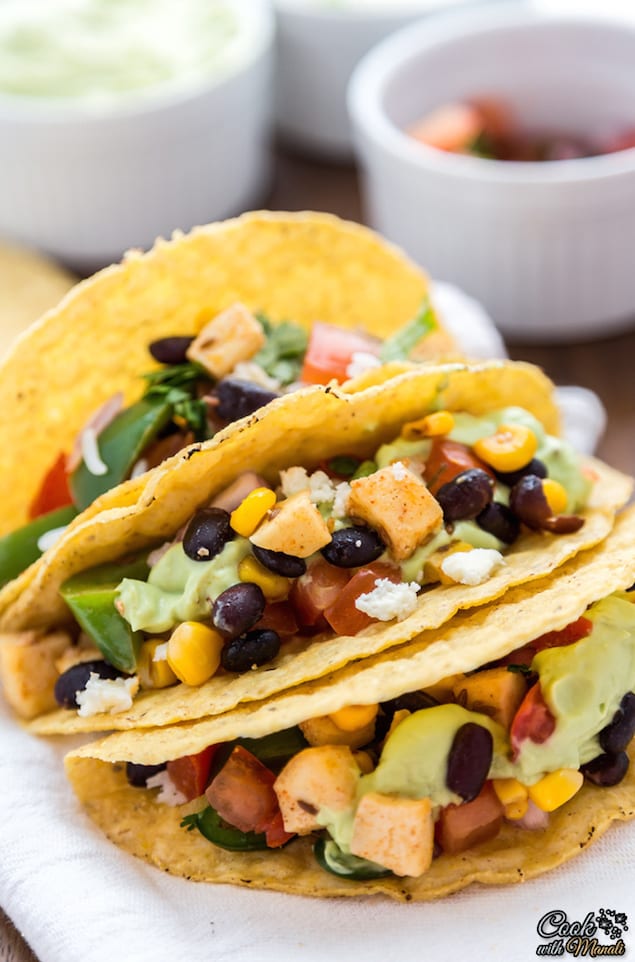 As we all know tacos are a traditional Mexican dish made of a corn or wheat tortilla, which is filled and then folded. The reason I like tacos is because they are so versatile. In a sense they are like Indian parathas, which just like tacos can be filled with anything and everything.
See Also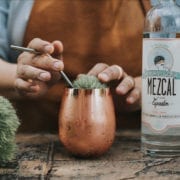 The other day I made these paneer and bean veggies tacos and topped with avocado cream sauce and fresh tomato salsa. It surely made for some fantastic dinner which we thoroughly enjoyed. I like how everyone can create their own taco based on personal likes and preference.

Vegetarian Tacos with Black Beans and Paneer
Paneer is sautéed with veggies and beans for a fun new take on tacos and served with rice, fresh salsa, and avocado cream.
Cuisine:
Indian-Mexican Fusion
Serves:
4 servings, or 8 tacos
Ingredients
Avocado Cream Sauce
1 avocado, big
½ cup yogurt
salt & pepper to taste
1.5 tablespoons lime juice
Rice
1 cup rice
1 tablespoon cilantro/coriander, finely chopped
1 teaspoon lime juice
Veggies
½ cup sweet corn
½ cup black beans, cooked
¾ cup paneer, cut into small cubes
½ green pepper/capsicum, thinly sliced
1 teaspoon vegetable oil
½ teaspoon cumin seeds
juice of half time
¾ teaspoon taco seasoning
salt, to taste
Instructions
Avocado Cream Sauce
Cut and peel the avocado and take out it's pulp in a bowl.
Add greek yogurt to it.
Transfer to a food processor, add lime juice, salt and pepper and pulse till smooth and creamy. Transfer to a bowl and set aside.
Rice
Take 1 cup of cooked rice in a bowl. I used long grain Asian rice, you can use any rice of your choice.
Add chopped cilantro/coriander leaves, some lime juice to it.
Mix till well combined and set aside.
Veggies
Add 1 teaspoon of oil to a pan on medium heat. Once the oil is hot, add cumin seeds to it and wait till the seeds crackle.
Once the seeds crackle and the paneer cubes, sliced green pepper and taco seasoning. Saute for 2 minutes.
Now add cooked black beans, corn and salt to taste. Mix everything together till well combined
To Serve
Place the rice, avocado cream sauce, tomato salsa and the veggies in separate bowls.
Also place the taco shells and let everyone make their own tacos with their choice of filling and toppings!
Manali Singh
Food lover, recipe developer, food photographer and a big time baking addict. I live in Seattle with my husband and share simple and delicious vegetarian recipes on my blog Cook With Manali.