Vegetarian Stuffed Peppers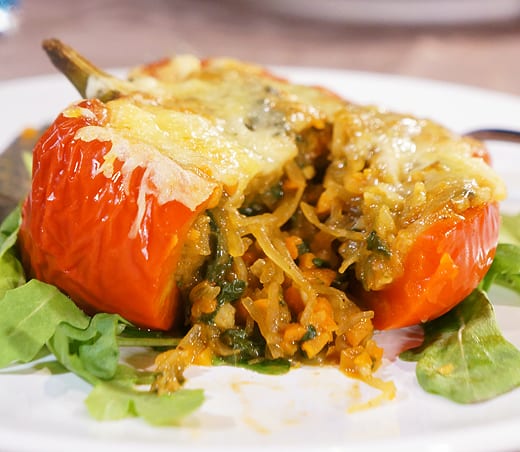 Use these peppers as a veggie-heavy side dish or to satisfy non-meat eaters in your life in a totally non-boring way.
By Ariel Rebel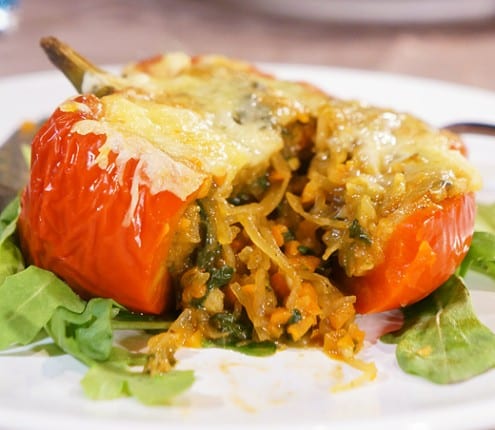 Vegetarian Stuffed Peppers
Use these peppers as a veggie-heavy side dish or to satisfy non-meat eaters in your life in a totally non-boring way.
Ingredients
1 small bell pepper, cut in half length wise
3 fresh garlic cloves, minced
1 cup of cooked spaghetti squash
¼ cup of cooked and coarsely chopped baby spinach
⅓ cup of finely chopped carrots
¼ teaspoon of Smoked Spanish Paprika
¼ teaspoon of dried Savory
2 tablespoons of soy milk
½ teaspoon of soy sauce
½ teaspoon of chili powder
¼ teaspoon of whole green peppercorns, coarsely crushed
salt to taste
1 teaspoon of olive oil
Cheese to melt on top
Instructions
Pre-heat your oven at 350 and line a parchment paper on a baking sheet. Put your sliced bell peppers and brush them with oil. Let to roast in the oven for 30 minutes.
In a medium sauce pan, on the stove top, at MEDIUM/HIGH heat… start by heating a tab of olive oil with the minced garlic carrots and spinach for 4-5 minutes while stirring often. Then add the squash and the rest of the ingredients and let cook for 10 minutes. Keep stirring, remove from heat and reserve.
Once the 30 minutes is done, remove your bell pepper out of the oven and stuff them with your squash mixture. Add the grated cheese of your choice on top and put back in the oven for an extra 20 minutes.
When you see that there is only 3-4 minutes left, crank your oven to broil and grill the top of your cheese till it's brown enough to your liking
Ariel Rebel
Canadian food blogger, model and web designer Ariel Rebel was born in Montreal in 1985. Her love for food started at a young age by looking at her grand mother cooking pie after pie while she was trying to steal some uncooked dough from the counter. Ariel inspiration for recipes comes from her French Canadian roots mix with all her traveling memories and the countless hours she spent running around Montreal to taste all the different culinary cultures. Her passion for cooking big dinners for her friends and family never ceases to increase every year and that's what motivate her to keep learning new skills while experimenting in her kitchen at much as she can. On her blog (ZestyandSpicy.com) Ariel shares with the world her passion for flavorful and healthy recipes while blogging small pieces of her life as a model and a web entrepreneur.