Vegetarian Pad Thai with Peanut Sauce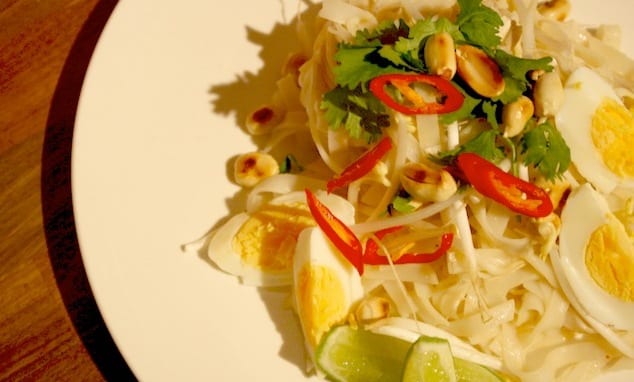 A really simple cheat version of pad thai. Easy for weeknight dinners, and makes enough to have left overs for lunch and dinner.
By Lauren Tangey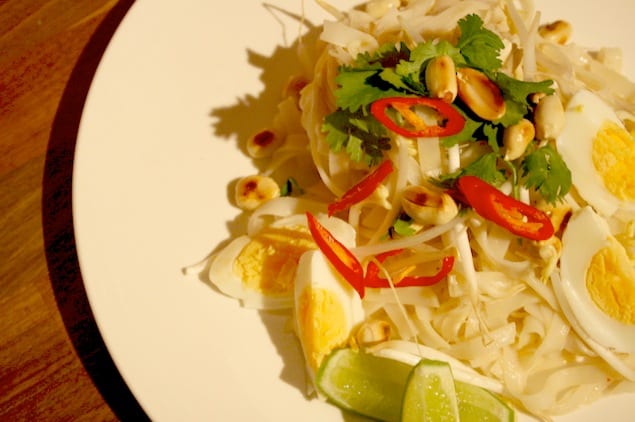 Vegetarian Pad Thai with Peanut Sauce
A really simple cheat version of pad thai. Easy for weeknight dinners, and makes enough to have left overs for lunch and dinner. You could easily bulk this out with either tofu, chicken, fish, prawns, or pork or simply more veg!
Cuisine:
Vegetarian, Asian
Ingredients
300g rice noodles
1 cup raw snow peas, cut on the diagonal
1 cup of bean sprouts
¾ cup of toasted peanuts
1 long red chilli
small handful of corriander, roughly chopped
3 lengths of spring onions, sliced thinly
5 free range boiled eggs, quartered
fried shallots
For the spicy peanut sauce
¼ cup of organic crunchy peanut butter
200ml of coconut milk
juice of a lime
1 heaped tablespoon of good quality red curry paste
1 tablespoon of good quality fish sauce
1 teaspoon of salt reduced soy sauce
1 tablespoon of palm sugar
1 tablespoon of pure sesame oil
Instructions
To make the sauce
Gently fry off the curry paste in a little oil for 3-4minutes until fragrant – be careful not to burn it. Add all the other ingredients, combine, bring to simmer and remove from the heat.
Cook the rice noodles according to instructions.
Quickly blanch the snow peas in hot water, remove and throw them in a large pan, with the bean shoots, peanuts, spring onions and noodles. Pour over the peanut sauce.
Serve, and finish with fried shallots, extra corriander, peanuts, chilli, bean sprouts and the boiled eggs.
Lolly
Food Lover. Food Blogger. Chef. Mother. Lover. Free Spirit. Ever Evolving... Lauren Tangey thinks food is exciting and not to mention versatile. It's time to get back to basics. It's time to get involved in the food we eat.