This healthy vegetarian main features Thai flavors in a traditional Chinese dish.
By Preethi Vemu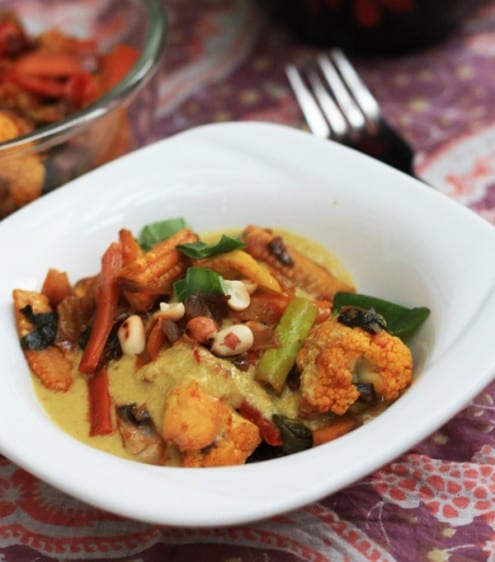 Print
Vegetable Chop Suey with Noodles
---
Author:

Preethi Vemu

Total Time:

1 hour

Yield:

4-6
Description
This healthy vegetarian main features Thai flavors in a traditional Chinese dish.
---
For the Curry paste
Onion – 1 , medium
Garlic – 4-6 cloves
Green chilli – 2
Ginger – an inch piece
Lemon Grass – couple of stalks
Roasted Peanuts – 1/4 C
Basil leaves – a couple [Optional]
For the Curry/Sauce
Curry Paste – 1 C
Coconut Milk – 200 ml
Dry coconut powder – 1/2 C
Chilli Powder – 1 Tsp
Sesame seeds – 1 Tbsp
Poppy seeds – 1 Tsp
Turmeric – 1 Tsp
Cumin powder – 1 Tbsp
Coriander powder – 1 Tbsp
Tamarind paste – 1 Tbsp
Soya Sauce – 1/2 Tbsp
Hot water – 1 C
Salt – To taste
For the Vegetables
Cauliflower florets – 1 C
Red Cabbage, shredded – 1/2 C
Beans , cut lengthwise – 1/2 C
Carrot , cut lengthwise in thin strips – 1/2 C
Baby Corn, cut lengthwise – 4-6 corns
Cherry tomatoes – 1/2 C [Optional]
Red bell pepper , cut in thin long strips – 1 , medium
Yellow bell pepper , cut in thin long strips – 1 , medium
Onion, cut thin – 1 medium
Pok Choy leaves with stem, washed and chopped – two bunches
Turmeric – 1/2 Tsp
Chilli powder – 1/2 Tsp
Cooking oil – 2 Tbsp
Salt – to taste
Chinese/Thai Rice Noodles , flat/round – two handfuls
For the garnish
Coriander leaves, washed & chopped – a handful
Roasted peanuts – a handful
---
Instructions
Prepare the curry paste by grinding all the ingredients together. This can be made well ahead in time and frozen/refrigerated for up to a month.
Heat the cooking oil in a large wok/kadai, and sauté the onions in it. Once the onions are golden brown, add the pok choy leaves and bell pepper pieces. Add turmeric and chilli powders.
Meanwhile, steam the cauliflower florets, beans, carrot , cabbage and baby corn together in a microwave for 5 min. This is only so that the vegetables are cooked before they are thrown into the wok along with the other veggies. Instead of this step, you can directly put these veggies in the wok and steam/sauté it so that they are well cooked.
Add the steamed veggies to the wok followed by the tomatoes, and sauté well till the turmeric and chilli powders are mixed well. Add salt to taste, and cook these on the medium flame till the vegetables are all cooked.
Prepare the noodles per the instructions on the pack. Depending on what noodles you chose, you'll either have to boil them in water or soak them in warm water till they are cooked. Mine were to be cooked using the latter method, and they needed to be soaked in warm water for 10 min. They doubled up in quantity once cooked.
Prepare the curry by sautéing the curry paste in hot sesame oil. Add turmeric , chilli powder, cumin and coriander powders to this and sauté well.
Now add the poppy seeds to this and keep the cooking pan on a low flame. Slowly add the coconut milk and dry coconut and mix well.
The curry would be thick by now, so if required dilute this by adding hot water. Add soya sauce and tamarind paste and mix well. Add salt and cook this on a low flame for 10-15 min.
To serve, assemble the curry , vegetables and noodles, by placing the noodles in the serving plate first, followed by pouring adequate amount of curry and then placing the vegetables on this.
Garnish with roasted peanuts and coriander leaves. Serve this warm as a main course dish.
Prep Time:

30 mins

Cook Time:

30 mins

Category:

Main
Preethi Vemu
Preethi loves tea, animals, food and her Kindle. When she is not busy being a geek, she dreams about seeing her name in print media some day . An avid reader and an amateur food photographer, Preethi lives in Hyderabad, India with her husband who is subjected to all her culinary experiments.