You can serve this as a side dish, or make it a one-pot dinner by mixing in your favorite protein.
By Vicky Cohen and Ruth Fox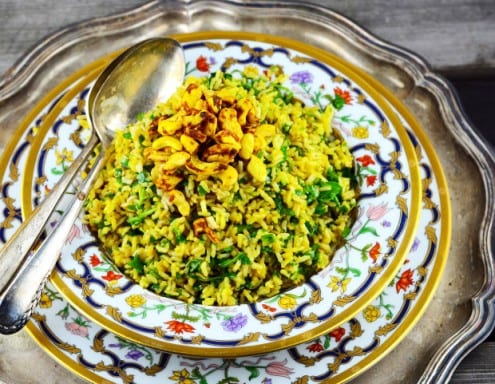 Vegan Spiced Cashew Rice
You can serve this as a side dish, or make it a one-pot dinner by mixing in your favorite protein.
Author:
Vicky Cohen and Ruth Fox
Ingredients
1 tbsp coconut oil
1½ tbsp fresh grated ginger
2 scallions, sliced
1 clove garlic, minced
1 cup long brown rice
2¼ cups vanilla cashew milk
¼ to ½ tsp salt (to taste)
½ tsp turmeric
½ tsp chili powder
¼ to ½ tsp black pepper (or to taste)
? cup raw cashews
½ tbsp soy sauce
½ tbsp agave
1 tsp curry powder
½ tsp turmeric
Pinch of cayenne (optional)
1 cup chopped cilantro
Instructions
In a large, deep non stick skillet, saute scallions and ginger in coconut oil for 2-3 minutes. Add garlic and continue cooking for another minute. Add 1 cup rice and cook for 2 more minutes, stirring constantly
Add cashew milk, add salt, turmeric, chili powder and pepper. Bring to a boil, cover and simmer for 40-45 minutes, until tender (but not mushy) and all the liquid has been absorbed
In the meantime, prepare the cashews: combine in a medium bowl with soy sauce, agave, curry powder, turmeric and cayenne (if using). Toss well
Add to a non stick skillet lightly coated with non stick spray. Cook at medium low heat for 3-5 minutes, stirring constantly and keeping an eye so they don't burn. Let them cook and store them in the freezer until ready to serve (see note)
Once the rice is done and ready to serve, add cashews and chopped cilantro and toss well
Notes
Cashews can get soft after cooking. Storing them in the freezer will keep them firm and crunchy
Vicky Cohen and Ruth Fox
We are two sisters born and raised in Barcelona, Spain, with Sephardic and Middle Eastern roots. We grew up eating the best, most flavorful, comforting home-cooked meals prepared by our mom, who taught us everything we know about cooking. When we moved here to the U.S. we felt it was really important to keep our traditions and background alive, and we've done so by sharing it with everyone we've met throughout the years. After all, what better way to make new friends and share our love and culture than through food, right? Our friends have come to enjoy our food and gatherings so much that are always asking us for our recipes. That inspired us to start a cooking blog called "May I have that recipe" where we share recipes we've created inspired by our multicultural background.