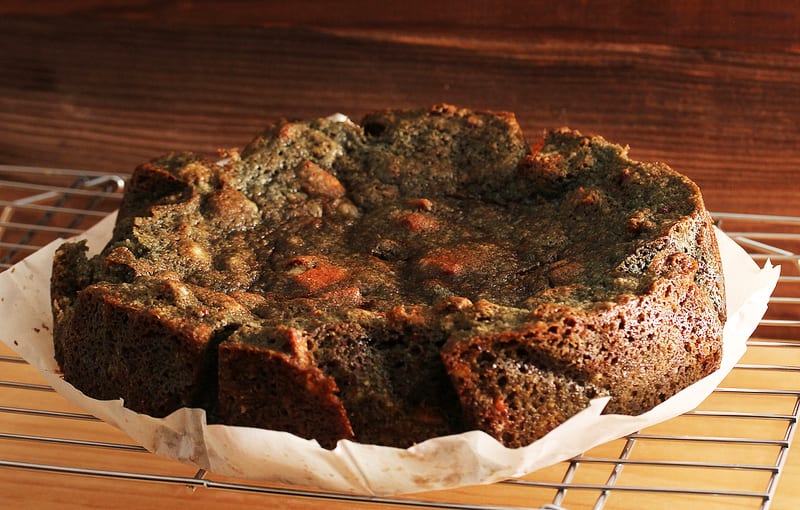 Transforming the popular beverage into a cake might not yield the most beautiful results, but don't be deterred — it tastes delicious.
By Vanessa Pastore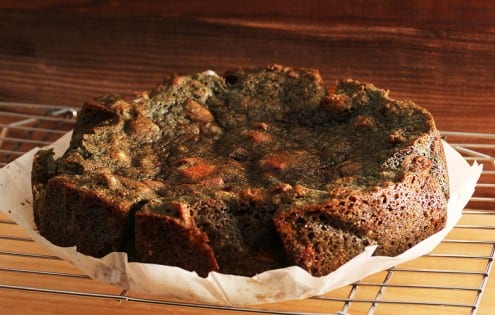 Predominantly, birthday cakes tend to be a chocolate/vanilla, or both sort of an affair. People tend to sit on one side of that fence, though a few of us straddle it happily. When it comes to flavors, I for one, am all for duplicity, or even triplicity. Why stop at two when you can melodiously have three? Last year, when told a friend of mine was having a birthday, I wanted to tailor the cake specifically to what I knew about her. So when my sister in-law's birthday rolled around, I compiled a list of applicable themes, but one stuck out. Sangria cake. It's a tasty beverage, it's got fruit, why the heck not?
Well, for one thing, the final product looks akin to something you'd find in the deepest, darkest depths of the ocean; a sleeping leviathan laying in wait for an errant diver to come within range. Though in this case, you devour it, before it devours you.
Steel yourself for this one, and your bravery will be rewarded. If people are deterred, you'll simply have more for yourself. Suckers.
Sangria Cake
Transforming the popular beverage into a cake might not yield the most beautiful results, but don't be deterred -- it tastes delicious.
Ingredients
1.5 cups Flour
½ cup Almond meal
1 tsp Salt
1Tablspoon Baking powder
½ tsp Baking soda
¾ cup Coconut oil (melted)
1 and ¼ cup Sugar
1 cup Red wine
½ cup Coconut milk
2 tsp Vanilla
Freeze dried fruit (Peaches, strawberries, pear, apple- whichever you like)
Instructions
Preheat your oven to 350°F
Combine your flour, almond meal, salt, baking soda, and baking powder in a small bowl.
In a large mixing bowl, add your sugar, melted coconut oil, wine, vanilla, and coconut milk, and stir until well combined.
Add your flour mixture to the wet mixture in batches.
When just combined, stir in your freeze dried fruit.
Pour into a 9 inch cake pan that's been greased or lined, and bake for 30-40 minutes; or until an inserted toothpick comes out mostly clean.
Vanessa Pastore
Vanessa Pastore is a part time baker, blogger, and all around passionate about food. A vegan of 13 years, she has become obsessed with farmer's markets, international markets, and anything she can get her hands on. Everything is a potential ingredient, and every ingredient is a potential baked good. When she's not baking or blogging, chances are, she's thinking about it.