Vegan Kale and Basil Pesto
This pesto is so packed with vitamins and minerals – your body will be humming along nicely. Flexible and tasty, this pesto can be frozen and thawed for pasta, pizza, sandwiches, and much more.
By Robin Runner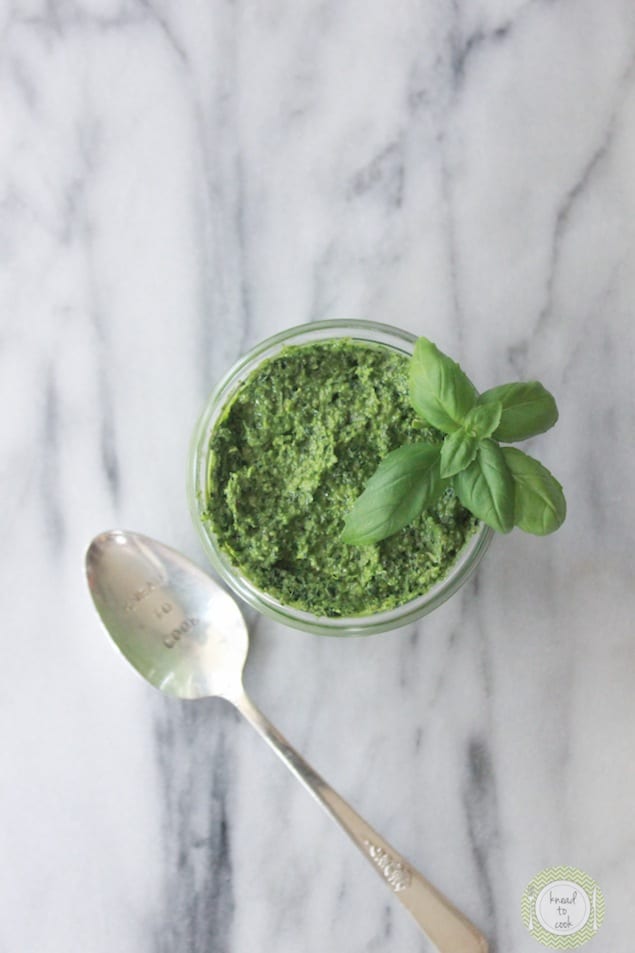 This pesto is so packed with vitamins and minerals – your body will be humming along nicely and when you eat lots of color (remember science and photosynthesis?) – that comes from the sun, that energy and glow will happen to you. Since becoming a vegetarian – consuming more and more vegetables has changed my skin texture and it now has a glow plus I have a ton of energy. Back to the recipe at hand… this recipe can be made solely with basil or a combination of basil, kale and spinach – whatever you like. Totally flexible and totally tasty. Also refrigerates or freezes beautifully. Plus how easy is this dinner… process it in your food processor or Vitamix and keep it in the fridge till you boil your pasta. Ummmm hello easy weeknight dinner. Also spreads great on crackers, acts as a dip for veggies or a spread on your sandwich, top your favorite protein, in soup… the ideas are endless.

Vegan Kale and Basil Pesto
This pesto is so packed with vitamins and minerals – your body will be humming along nicely. Flexible and tasty, this pesto can be frozen and thawed for pasta, pizza, sandwiches, and much more.
Ingredients
2 cups of kale (I used dinosaur)
1 cup of fresh basil leaves
½ cup of walnuts
4 -6 cloves of garlic (depending on how much you love or hate it)
2 tablespoons of Nutritional Yeast (I used Bob's Redmill)
Olive Oil
Salt
Pepper
Instructions
Into your food processor or Vitamix, add your garlic and pulse until it breaks down into really small pieces. Then add your kale/spinach/basil or whatever mixture you're using, walnuts, Nutritional Yeast, salt and pepper. Process until chopped up nicely.
Through the spout, drizzle olive oil, while the machine is running to blend the oil into the mixture. Avoid being heavy-handed here. I add and watch to see how the pesto looks. Add more if it needs it, if not, stop.
Taste and adjust salt and pepper. The nutritional yeast will add a nutty/cheese flavor to the pesto without dairy. It is also packed with B vitamins. (Also great on popcorn.)
Spoon out the pesto into an airtight container and refrigerate or freeze until needed. A little pesto goes a long way on pasta so start with a tablespoon or so and add more until you get to the amount you prefer. Always add it to drained, hot pasta – giving it a good toss to incorporate.
Robin Runner
Robin Runner is the blogger behind www.kneadtocook.com. She grew up around two of her greatest inspirations, her Italian grandmother and her aunt. Both believed in farm to table foods, purity in nature and love as the main ingredient for anything on their menu. Today, Robin is a strong advocate of farming and buying local ingredients, as well as composting to help repurpose food scraps into rich soil for our garden.