Crusted with walnuts and made soft with bananas incorporated into the batter, this vegan coffee cake is about to become best friends with your next cup of joe.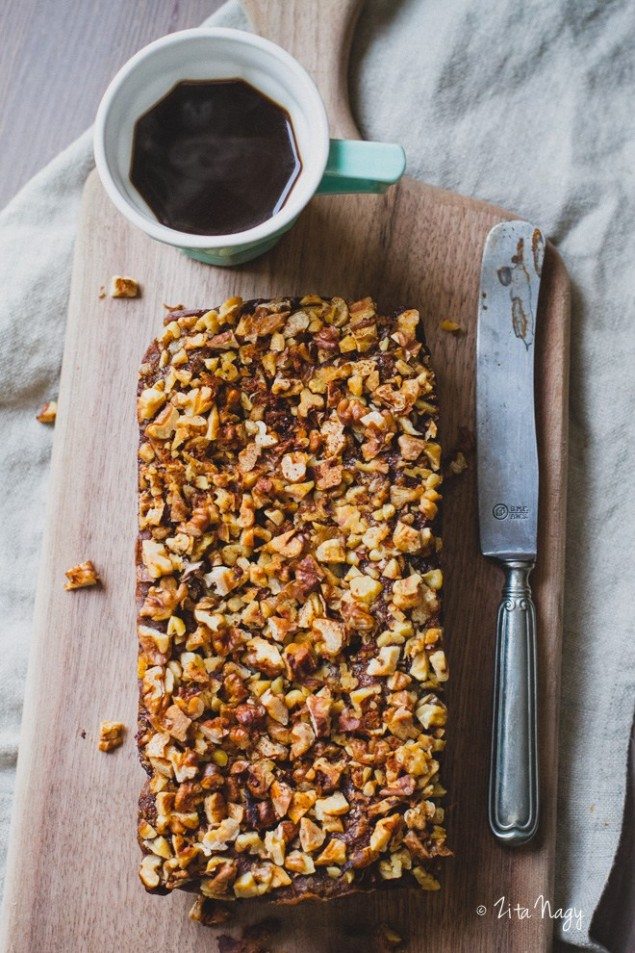 Me and coffee? Yes, we have a good relationship… thank you for your question. If there is something like social smoker, I assume there is something like social coffee drinker. I am one of them. I never drink coffee to wake myself up, I never drink coffee early morning on an empty stomach. I drink coffee – usually after lunch and a few times a week – because I love the taste of it and I love the feeling and ritual around it.
I remember I started loving the taste of coffee when Ivan and I were backpacking around Morocco. Although we drank as many cups of mint teas as we could, we also had many coffee lattes. I don't know what the Moroccans' secret is to make so creamy and dreamy coffee lattes but it was amazing. Maybe the way they cook the coffee or the quality of milk… I don't know but I haven't had so tasty coffee lattes since then!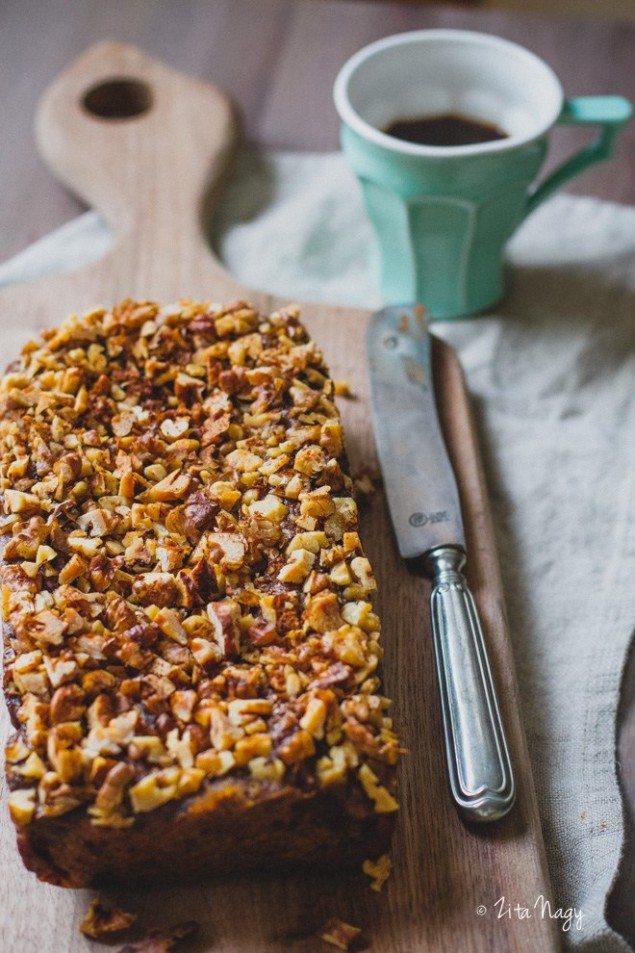 A couple of years later my taste has become more sophisticated and I'm interested in the quality of coffee too. I also became vegan so I usually drink my coffee with almond or oat or rice milk. This is how I like it: great coffee + non-dairy milk, plus a bit of cane or coconut sugar. If I go out I like to drink coffee at one of the many specialty coffee shops in Budapest. As this article says: "It seems like a new specialty coffee shop opens in Budapest on a weekly basis, which isn't a bad thing – the fierce competition only results in better baristas, better service, better facilities, and, of course, better coffee." Coffee has a culture now in Budapest, it is very trendy to have a cup of hot deliciousness at one of the popular places – that are also great meeting points or working/study places.
If I drink coffee at home I like to try different kind of blends for example from www.gourmesso.com that has Nespresso compatible pods that come in 25 varieties – which differ in flavour and intensity – of which most are Fair Trade certified. This selection gives me the opportunity to have that feeling and ritual that I like to have when drinking coffee. And it is always great to have a slice of cake with your coffee… like this walnut coffee cake which has a slightly coffee taste and also moist because of the bananas and crunchy because of the chopped walnuts on top.
Print
Vegan Coffee Cake
Crusted with walnuts and made soft with bananas incorporated into the batter, this vegan coffee cake is about to become best friends with your next cup of joe.
Author:

Zita Nagy

Category:

Baking
– 2 bananas (peeled and mashed with a fork)
– 1 and 1/4 cups walnut meal (ground walnut)
– 1 and 1/4 cups white spelt flour
– 1/2 cup coffee
– 1/4 cup rice milk (you can use any non-dairy milk)
– 6 tablespoons maple syrup
– 3 tablespoons coconut oil
– 2 tablespoons ground flaxseed
– 6 tablespoons water
– 3 and 1/2 teaspoons baking powder
– 1/2 teaspoon salt
– 1/2 teaspoon vanilla powder or 1 vanilla bean (split and seeded)
– 1/2 cup roughly chopped walnut + 3 tablespoons coconut sugar
Instructions
In a small bowl mix together the ground flaxseed with the water to make a "flax egg" – let the mixture sit for a 6-8 minutes until thickened. Line a 23 cm (9 inch) long loaf pan with parchment paper. Preheat the oven to 180C (356F).
In a bowl combine the dry ingredients: spelt flour, ground walnut, baking powder, vanilla and salt. In another bowl mix together the ricemilk, the coffee, the coconut oil, the maple syrup and the mashed bananas. Add the flax egg and pour these wet ingredients mixture into the dry one, stirring until just combined.
Pour the mixture into the loaf pan, sprinkle the top with the chopped walnut and coconut sugar and bake it on 180C (356F) for about 60 minutes. It's ready when the cake tester (or toothpick) comes out clean but the cake will be very moist (because of the coffee and bananas).
Zita Nagy
Zita's love for cookbooks and delicious food started at the age of 9. Whenever she went home from school her little brother and she would wait for mom to make dinner for them. Until the dinner was ready, she was turning the pages back and forth and was staring at photographs of amazingly looking dishes in mom's cookbooks to kill her appetite somehow. She couldn't have known then, that she would be collecting cookbooks after reaching adulthood and would still be, just like in her childhood, staring at awesome photos of delicious dishes. The only difference is that she does the cooking now. She loves traveling, going to the organic market and browsing foodblogs. Her vegetarian food and travelblog is Zizi's Adventures.