You'll be surprised by the taste of these quick, one-pot Vegan Cauliflower Sloppy Joes. They're a healthy, gluten free, crowd pleasing dinner that's ready in under 30 minutes.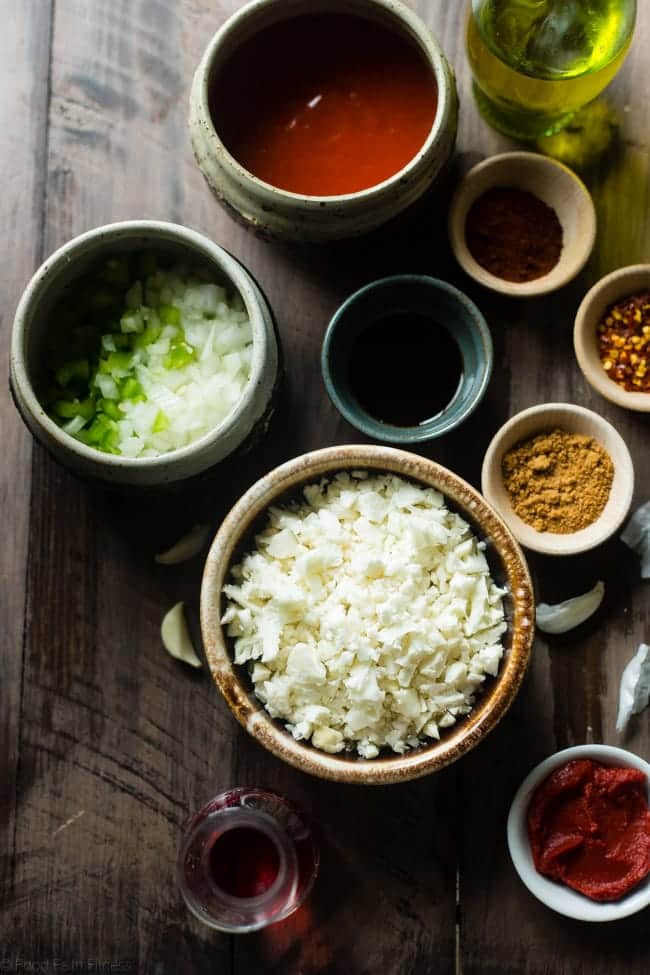 Vegetables instead of meat in your vegan sloppy joes? Just like the paleo Shepherds pie, You're going to think that you don't like it. You're going to think that it's way too crazy, wayyyy too trying-too-hard-to-be-healthy-secret-veggies and definitely WAYYYYY something that your mini-yous (kids) and random men that share your home (your husband. I hope) will NOT EAT.
Like, in a KAZILLION YEARS. Not ever. NOPE. ZERO CHANCES.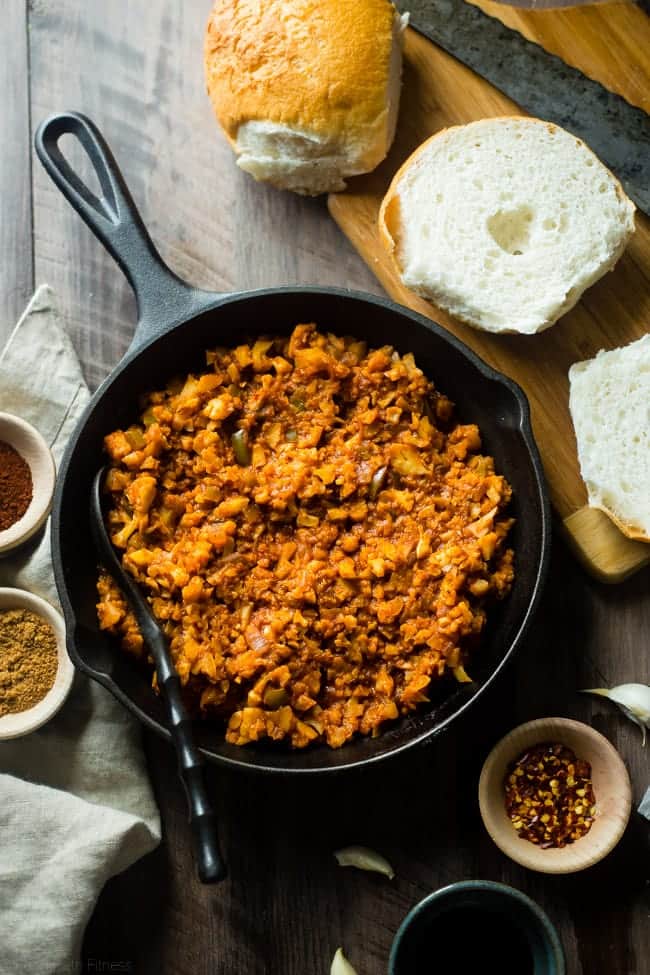 Untilllll you feed it to your "very meat and meat (no potatoes, just meat)" husband and he actually WANTS to bring the leftovers of meatless sloppy joes to work to share with his co-workers to show off how his wife turned cauliflower into something snazzy and jazzy and just all around purely delicious.
They are so easy to make! You can basically take your favorite meat sloppy Joe recipe, and sub in ground cauliflower instead of ground beef! Many other recipes use things like lentils, but I think the cauliflower is the best, as it has the least taste. It's the easiest way to trick your family into eating these!
Now. These are MESSY.
SLOPPY joes friend. No sloppy? It ain't a Joe.
In my mind, a sloppy joe is all about the messy-saucy-drippin'-down-your-face moment that happens when your teeth sink into the tender, fluffy carby-delicious bun and then SQUISH into the tender, slightly-spicy and a little-bit-sweet, creamy center. If I don't need to have AT LEAST 1 whole roll of paper towel next to me when doing a little bun-bite action, why even bother calling yourself a sloppy Joe, you know?
That vegan sloppy Joe recipe would ACTUALLY be called "a bun full of LIES and DISAPPOINTMENT."
See Also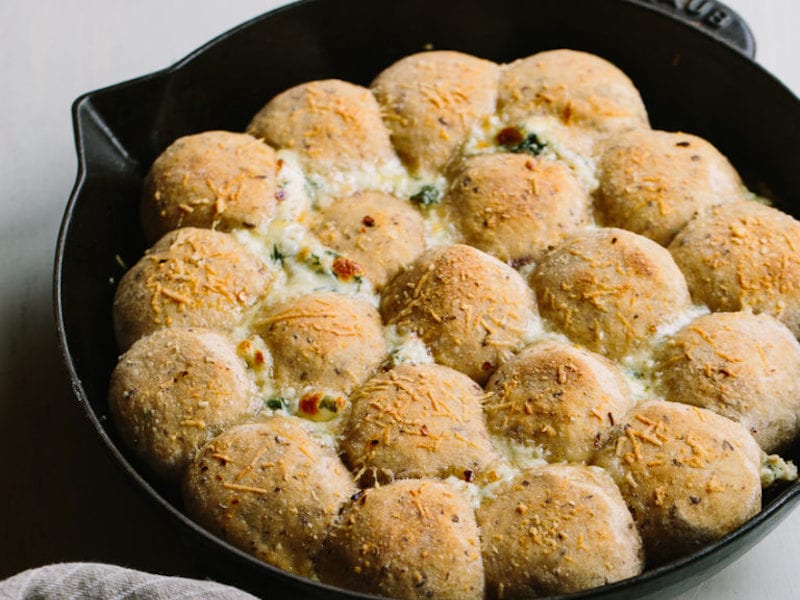 I clearly have strong feelings about what IS and what ISN'T goodness between two layers of tender, soft bread. I feel like you do too though.
So, saucy, ultra-messy, totally-uncivilized-looking-caveman-style-eating goals? We are going ABOVE and BEYOND with these vegan sloppy joes.
You could E-V-E-N take your caveman dreams to the PEAK of prehistoric-ness by making your own Worcestershire sauce (you faaaancy) AND putting the cauliflower in a vegetarian lettuce wrap.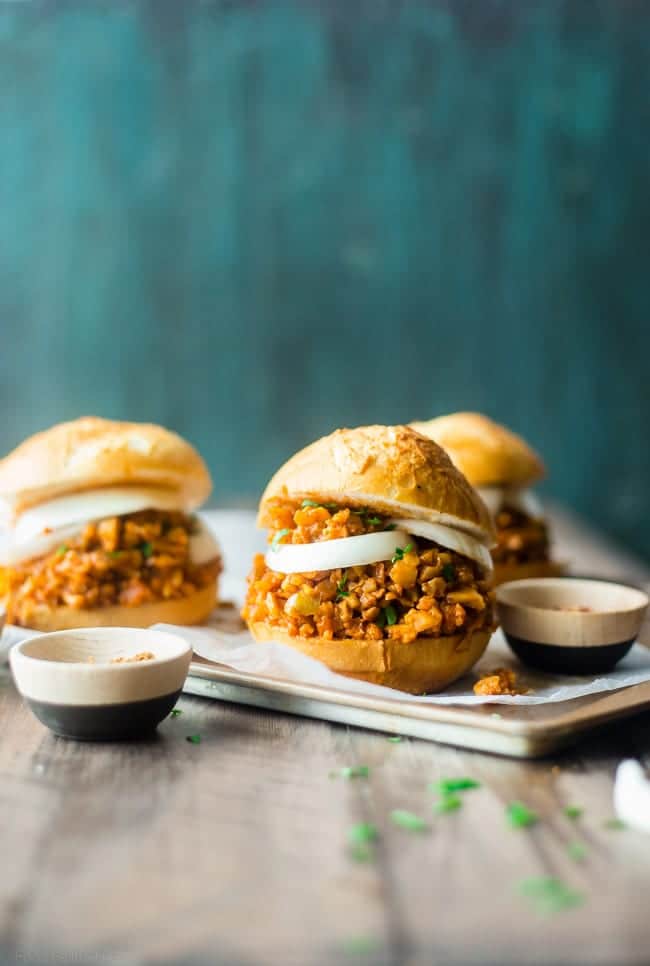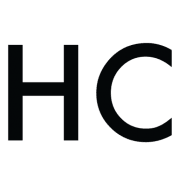 Taylor Kiser
Taylor is the blogger, recipe developer, photographer and general mess maker behind the blog "Food Faith Fitness." She is a Christian who is constantly trying to learn how to keep Christ at the center of her daily life. Taylor is also a health and fitness enthusiast who loves creating delicious recipes, with a healthy spin. However, Taylor also believes that moderation is key, so sometimes it's ok to just go and eat a cookie!