Turkish pide, often hailed as pizza, is made two ways with different fillings. Learn about the favorite street food and try this recipe no matter where you are.
By Samantha Ferraro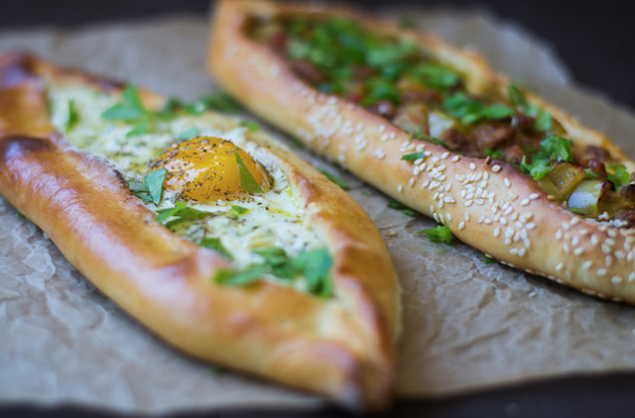 Pide is also known as Turkish pizza. We saw it all over the streets of Istanbul. Bright colorful pictures of elongated meat filled pies. They called it "pizza" and I was surprised that an Eastern country was selling pizza. I don't remember eating that when I was little.
So truth be told, we didn't have Turkish pide. Instead we stuffed ourselves full of borek, baklava and kofta. Not that that was a bad thing, we ate very, very well. And honestly (and ignorantly), the word "pizza" was the last thing I wanted to have when visiting a country such as Turkey. I would walk by the vendors and they would ask us if we wanted pizza. No, I'm in Turkey, I don't want pizza…do you have kofte?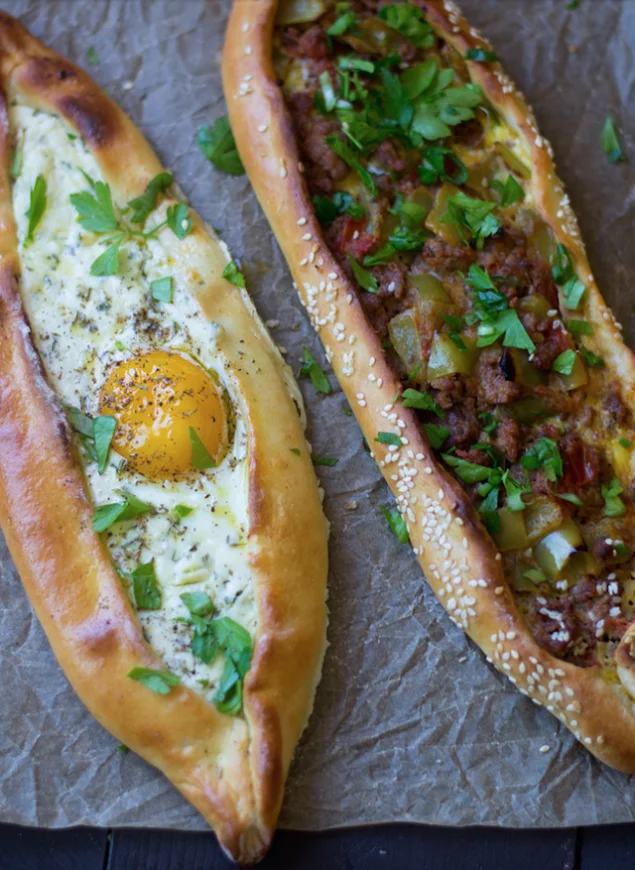 And finally a week goes by as we are flying back to the States and it is then that I realize the significance of pide. I look up my bucket list of food items I wrote down for the trip, making sure we crossed off as much as we did. And what's on there…Turkish pide. Oh why? It is perfect comfort food. A popular treat and I missed out. I missed out…why? because I was too ignorant to eat pizza in Turkey. So like the borek and kofte, I attempt to revive moments we missed out on and remake flavors and memories at home in good ol' Cali.
I am still oogling over that plump yolk. However, it was the meat filled pide that was more popular (or one I noticed more) in the native country. For fun, as you can see, I made 2 different fillings. One has a simple cheese mixture and topped with a perfectly soft yolk. And here's a tip: When cracking the egg yolk into the small well of your pide, you may want to consider either using a smaller egg or removing some of the white from the egg. If it is too big, the egg white will spill over. Taste wouldn't be effected, just for aesthetics. The other filling was my favorite. Chopped meat sautéed with peppers, tomatoes and paprika.
Print
Turkish Pizza
Turkish pide, often hailed as pizza, is made two ways with different fillings. Learn about the favorite street food and try it with this recipe no matter where you are.
Author:

Samantha Ferraro

Yield:

4

pizzas

1

x
Category:

Main

Cuisine:

Turkish
Dough
2/3

cups

warm water

2

cups

flour + more for kneading

1 tsp

yeast

1/2 tsp

sugar

1

egg

1/4

cup

full-fat Greek yogurt
Pinch of salt
Meat Filling
1/2

lb

chopped beef

2

Anaheim peppers

1

large tomato, chopped

1

onion, grated (or chopped very finely)

1 tsp

smoked paprika

1/2 tsp

Turkish red pepper (or regular red pepper)

1

Tb tomato paste
Salt and pepper, to taste
Olive oil for drizzling

1

Egg + water for egg wash
Cheese Filling
1

cup

full fat ricotta cheese

1/2

cup

crumbled feta

1

Tb olive oil
Few sprigs of fresh mint and thyme, leaves removed and chopped

1

Tb lemon zest
Salt and pepper, to taste

1

whole egg per pide (smaller eggs if possible so whites don't pour over)
Toppings:
Chopped parsley
Sesame seeds
Olive oil
Zaatar
Instructions
First, make the dough. In a large boxing bowl, add the water salt, yeast and sugar. Mix lightly with a fork to get all the yeast in the water and allow to rest for about 10-12 minutes until the mixture begins to get foamy.
Then add the egg and yogurt and mix to incorporate well. Then using a dough attachment, slowly mix in flour until a ball of dough forms.
Transfer dough onto a lightly floured surface and knead for a few minutes until the dough is smooth and not sticky. Place in a bowl and allow to rest while you make the fillings. At this point, pre-heat the oven to 425 degrees F.
To make the meat filling, add a tablespoon of butter drizzle a bit of olive oil in a large skillet and add chopped meat. Use a spatula to break it up and saute until just about cooked all the way. Then add green peppers and cook for 2-3 minutes, until they begin to soften. Add chopped tomato, grated onion, smoked paprika, Turkish red pepper (or regular red pepper) and tomato paste. Stir everything together and cook on medium-high heat until the liquid evaporates and vegetables are soft. Season with salt and pepper and taste for seasoning. Remove from heat and allow to cool.
To make the cheese filling, in a bowl add ricotta cheese, crumbled feta, olive oil, chopped mint and thyme, lemon zest and salt and pepper. Stir to combine and taste for seasoning.
Once dough has rested and risen to about double its size, cut the dough into 4 equal portions, rolling each into a ball. (2 will be meat filled and 2 will be cheese).
Use a lightly floured rolling pin to roll out one of the dough balls to about a 9 inch long oval and about an 1/8 inch thick (not too thin). Spoon in the meat filling, leaving a border around the pide to fold in. Use your hands to shape it to a long oval shape, crimping the ends. Then gently place on a parchment lined baking sheet.
Brush egg wash over the border and sprinkle with sesame seeds if desired. Use a small spoon to drizzle a bit of egg mixture over the meat mixture. Bake at 425 degrees F for about 15 minutes, or until crust is golden brown.
For the cheese pide, use a spoon to spread the filling, also leaving a border around and pinching the ends in a long oval shape. Brush the border with egg wash and sprinkle with sesame seeds if desired Bake cheese pide for 6-7 minutes first, then remove from oven and use the back of a spoon to make a small well in the center. Add your egg and place back in the oven and continue cooking for another 9-11 minutes or until crust is golden brown and egg is cooked.
When done, allow to cool slightly before cutting. Garnish with extra chopped parley, zaatar and a drizzle of olive oil.
Samantha Ferraro
Samantha Ferraro is the food blogger and photographer for The Little Ferraro Kitchen. Samantha comes from a diverse background and is originally from Brooklyn NY, until she turned to the island life and moved to Hawaii. Now Samantha blogs about world cuisine recipes made easy in Southern California with her Italian husband and their dog Hula. When she's not blogging or making a mess in the kitchen, you can find her traveling the world for recipe inspiration.