PARTNER POST — TrySwedish Thursdays is a culinary collaboration between TrySwedish, West Sweden, and Gothenburg. Discover the edible delights of the land.
Perched on the shores of Lake Vänern, Läckö Castle is a stunningly well-preserved icon of West Sweden. Besides the unique lodging accommodations and lively events, the grounds are home to a producing garden and a talented crew of cooks. Be sure to try the recipe for Swedish quick bread, too.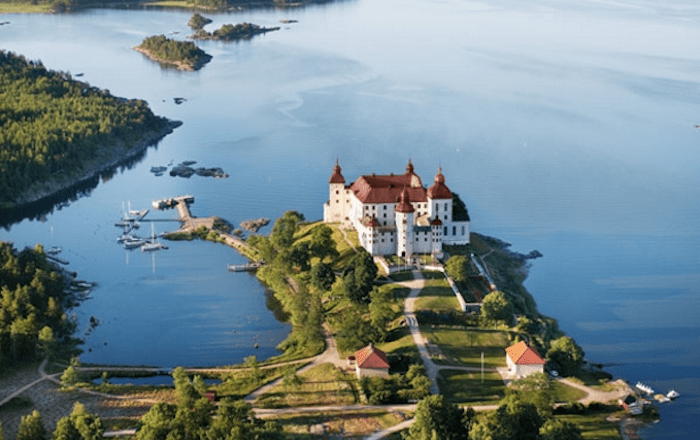 To find out the favorite foods served during a Swedish winter, we spoke with Läckö Slott's Chef Katrin Ljungblom. Katrin has the large, but fun, task of running the Hvita Hjorten Restaurant. The restaurant serves excellent meals for all occasions, made with the produce of the castle's garden and from local vegetable growers, the fishermen of Lake Vänern, and nearby farmers or hunters. These local goods are cooked in a traditional Scandinavian or European style and presented in a rustic style. You will find no awkward fine dining rituals at Hvita Hjorten Restaurant. This is the restaurant to eat at if you want to have a true taste of the land in a setting that lets the ingredients shine in a natural way.
During warmer weather, Chef Katrin and the team use the castle garden to grow special varieties of herbs and vegetables which are not available in the local markets. With their limited menu, the team is able to change the menu each day to feature what is in season, fresh, and exciting. For a culinary travel looking for a taste of West Sweden, this is a must-try. As Katrin said, "If our fisherman comes in with pike perch, that is what we serve, the next day it can be burbot or salmon. Local hunters deliver roe deer, elk, fallow deer and wild goose in season. All other meat is organically produced by local farmers".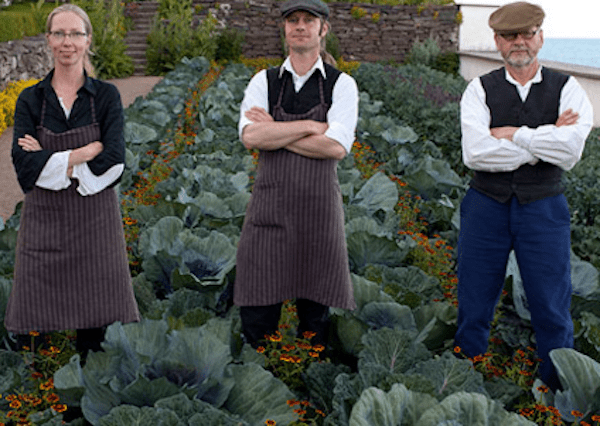 During the cold months of West Sweden, it may seem like the menu would be rather bare, but that is not the case. Highlighting beautiful root vegetables, leeks and cabbage, the menu retains fresh flavors year round. Using preserving methods, the team has lacto-fermented vegetables from last year to feature on the winter menus. To complete your cozy stay, the menu compliments the feelings of winter with soups, slow cooked stews, deep flavors, and warm loaves of bread with freshly churned butter. Keeping the menu simple is the name of the game and it works beautifully to exemplify the best local flavors.
Just like preserving vegetables, the kitchen at Läckö Slott is proud to make everything from scratch, including their stocks. "We make stock from root vegetables and bones of whatever we have available; elk, venison, beef etc," says Katrin. And while the waters of West Sweden are crisp and cool, the local fish is at its best, especially burbot and vendace roe, mentions Chef Katrin.
While sourcing the best ingredients is always a fun challenge for the team at Hvita Hjorten Restaurant, Chef Katrin admits that her favorite part of winter in West Sweden is visiting small towns for a fika coffee break with freshly baked buns.
One of Katrin's favorite breads to enjoy on a cold winter day, perhaps with a warm cup of coffee is below. With walnuts, dried cranberries, and jam, it is a sweet delight. Give it a try!
Print
Easy Swedish Bread
Author:
Prep Time:

25 minutes

Cook Time:

1 hour

Total Time:

1 hour 25 minutes

Category:

Bread

Cuisine:

Swedish
6.7 ounces

oats

17 ounces

1 pound 1 ounce wheat flour

3.4 ounces

flaxseed

3.4 ounces

sunflower seed

2 teaspoon

baking soda (bicarbonate)

1 teaspoon

salt

13.5 ounces

yogurt

1.7 ounces

dark sirup (molasses)

1.7 ounces

lingonberry jam (or a jam of your choice)

3.4 ounces

dried cranberries (or any other dried fruit (optional))

6.7 ounces

walnuts
Instructions
Preheat oven to 180C or 350F.
Combine all the ingredients together by hand or with a dough hook to create an even textured mixture. Be careful not to over-mix.
Use a pan that can hold 2 liters of water or a 2 quart baking dish. Grease the pans, place dough in the pan and bake for 1 hour or until the center of the bread reads 97C or 206F on a thermometer
Let the bread rest for at least three hours inside a linen towel, it gets better after a day.
Eat it with lots of butter and cheese.