An indulgent, swoon-worthy appetizer from Christina Soong-Kroeger.
By Christina Soong-Kroeger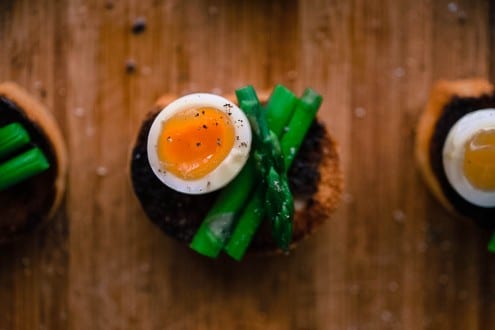 Sometimes food is swoon-worthy.
You know what I mean.
Your teeth sink into a dish and the minute the food reaches your tastebuds you see shooting stars. Your pulse quickens, and you forget your name. The conversation fades away, the lights dim and the world is reduced to the food in your mouth.
Every sense — sight, sound, hearing, taste, smell — is focused only on your object of desire.
You breathe deeply, savouring the exquisite fleetingness of culinary bliss. You nod slowly and thoughtfully, all at once grateful and humbled. And you lick your lips, whimpering just a little.
It's a bit like falling in love.
In October I visited Dubai and enjoyed high tea at Raffles Hotel there. One of the sandwiches was a rolled white bread sandwich with a quail egg, a baby sprig of asparagus and a dash of truffle oil. The combination was so sublime I couldn't contain a spontaneous groan of pleasure and I immediately noted it down in my 'Things to Cook' list on my Ipad.
The other day while shopping at the Adelaide Central Market I spotted some quail eggs.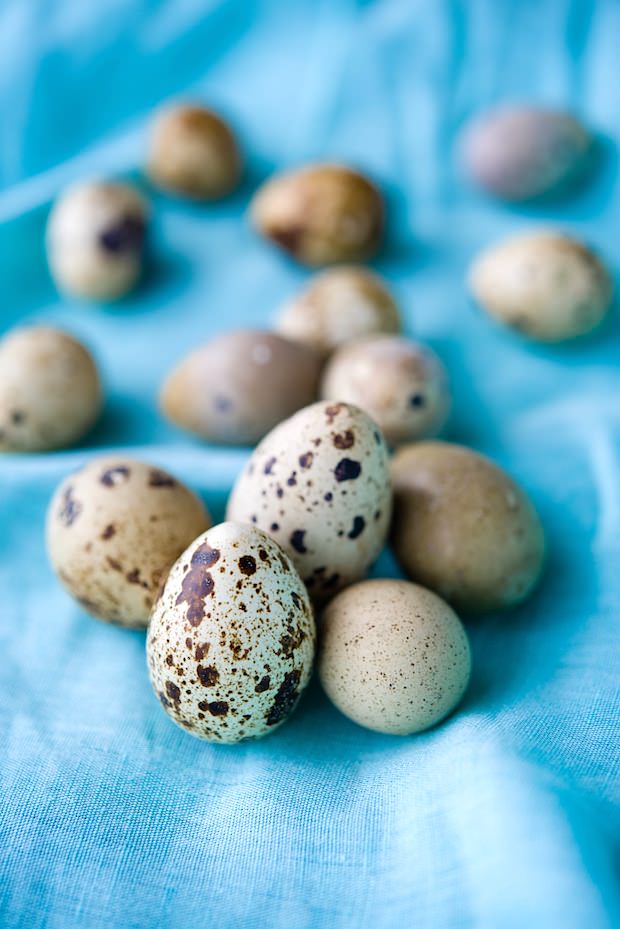 So I snapped up some delicate aspragus spears and a bruschetta stick. At home I matched them with my trusty jar of truffle paste bought from The Mushroom Man.
This was the result.
The bruschetta was crisp and crunchy on one side and soft and fluffy on the other with the truffle paste generously scraped across the toasted side. The delicate quail egg was perfectly soft-boiled while the asparagus was young, tender and cooked al dente.
It's the moments like this — when everything comes together so blissfully — that make cooking and eating such a pleasure.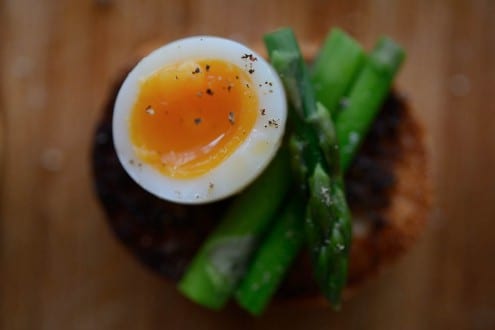 Print
Truffle, Quail Egg and Asparagus Bruschetta
An indulgent, swoon-worthy appetizer
Author:

Christina Soong-Kroeger

Prep Time:

10 mins

Cook Time:

8 mins

Total Time:

18 minutes

Yield:

4

1

x
1

dozen quail eggs

1

White Bruschetta

1

bunch thinnest asparagus you can find, trimmed and cut into

two

inch pieces
Half a jar of truffle paste
Salt & pepper
Instructions
Boil 3 cups water in a saucepan.
Gently place quail eggs in and cook for exactly 2 minutes 30 seconds.
When timer rings remove eggs immediately with a slotted spoon and then plunge into cold water to stop the cooking process.
Add asparagus to boiling water and cook for 1 minute.
Remove asparagus with slotted spoon and plunge into cold water. Drain and set aside.
Meanwhile, slice the bruschetta into 1cm slices and place under hot grill.
Grill for 3-5 minutes under high, until bruschetta is nicely and evenly toasted.
Remove to chopping board and spread with truffle paste.
Roll quail eggs gently on the kitchen bench to crack and then carefully peel, rinsing under the tap to remove all shell fragments.
Cut into half and then arrange half an egg on top of the bruschetta with three pieces of asparagus.
Season with freshly ground pepper and sea salt if desired.
Christina Soong-Kroeger
Christina publishes The Hungry Australian - a collection of recipes, reviews and stories about food - and is a regular contributor to Sumptuous. Her writing has appeared in the China Daily and That's Shanghai while her photography regularly appears on Foodgawker, Tasteologie and Photograzing. After eating her way around Shanghai, London, Hong Kong, Leeds and Melbourne, she now calls Adelaide, South Australia, home again.