Executive Chef Dan Gilmore's supremely comforting shank of pork is served with pickled huckleberries or blueberries and glazed carrots.
By Michelle M. Winner – Photo by Kurt Winner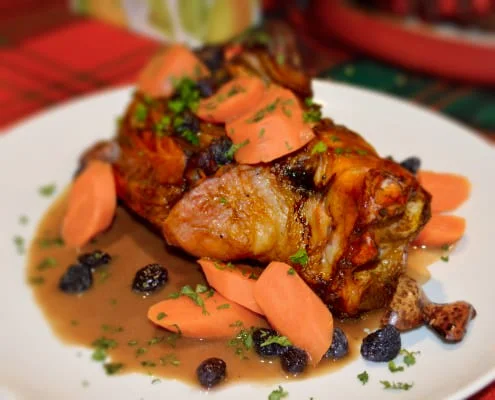 Print
Hunt Club's Confit Pork Shank With Maple Glaze
Executive Chef Dan Gilmore's supremely comforting shank of pork is served with pickled Huckleberries ( in season) or blueberries and glazed carrots, in a very old-world restaurant established in 1909 in Seattle's Sorrento Hotel called Hunt Club. Chef says, "This dish takes a couple of days to prepare, but has a serious effect on guests. It is well loved by the guests at the restaurant as well as our General Manager thereby earning a permanent place on our ever-changing menu. First the shanks need to be brined overnight. Then it is dried & seared. At this point the shanks are slow cooked in duck fat and allowed to cool in the fat. The last step for the shanks involves softening the fat, removing the shanks, and heating them in the maple glaze. A special occasion meal to be sure."
Author:

Executive Chef Dan Gilmore

Prep Time:

24 hours

Cook Time:

4 hours

Total Time:

28 hours

Yield:

4

1

x
Ingredients needed to brine the shanks :
4 cups

water

1.5 cup

Brown Sugar

¾ cup

Kosher Salt

1

ea Yellow Onion, sliced thin

6

ea Garlic Cloves, crushed

¼ cup

peppercorns (whole)

4

branches Rosemary—about

6

" each

2

Tbl. Mustard Seed

2

ea Cinnamon Stick

5 cups

Ice
Cooking the Shanks:
About

8 cups

rendered duck fat.
(Lard can also be used – easier to find & much less expensive)

6

ea garlic cloves

4

ea rosemary branches
Maple Sauce :
8 cups

Chicken Stock
(low sodium if store bought)

1 cup

maple syrup

1

ea yellow onion, rough chopped

2

ea carrots, peeled & rough chopped

6

branches (or so) English Thyme
Pickled Huckleberries:
1

lb Huckleberries, fresh or frozen

1qt

. Red Wine Vinegar

¼ cup

Kosher Salt

¼ cup

fresh mint, chopped
Instructions
Brine the Shanks:
Heat all ingredients until hot (except ice) and sugar/ salt dissolve completely. Stir to make sure and pull from heat. Add ice to accelerate the cooling time and place in refrigerator until cold. When the brine is cold add the shanks. Refrigerate overnight.
Cooking the Shanks:
Heat oven to 275 degrees
Heat fat in pot until melted.
Remove shanks from brine and pat dry with a kitchen towel.
In a large sauté pan & using a bit of melted fat, sear shanks on all sides until a rich color is achieved.
Place shanks in a Dutch-oven just big enough to fit all four shanks. Nestle rosemary & garlic amongst the meat & then carefully pour melted fat to cover. Do not fill pan any further that one inch to the top.
Cover Dutch-oven and place in oven. Cook for about three to four hours. Shanks are done when they are fork tender.
Very carefully remove pot from oven and carefully remove lid. Place entire pot in refrigerator uncovered overnight.
Make the Maple Sauce:
Place all ingredients in a pot. Cook until reduced by half.
Strain through a strainer making sure to press as much juice from vegetables as possible.
Make the Pickled Huckleberries:
Place huckleberries & mint a clean 2 qt. glass container.
Heat vinegar & salt to a boil.
Allow vinegar to cool slightly & poor over huckleberries. Allow to cool & cover. These will keep refrigerated for quite a while.
To assemble the dish:
Warm fat until it is possible to remove the shanks without tearing them to pieces. Place the shanks into a large sauté pan and ladle sauce on top. Heat gently while continuing to turn shanks and baste the tops. Once shanks are warm and starting to glaze place entire pan in hot oven. Allow the shanks to finish glazing. Pull pan to stove to & add about a cup or more of huckleberries. Don't be shy—the acid will cut the sweetness & fattiness of the entire dish. Adjust seasoning of the sauce & serve either family style or individually plated.
Michelle M. Winner
Michelle was born with a fork in her hand. As a culinary travel writer and confirmed foodophile she delights in the world-wide discovery of new flavor profiles, spices, salts and herbs. Based in one of the world's foodie meccas; Portland, Oregon, not far from "Pinot Noir Heaven" Michelle shares culinary travel and chef's recipes. Her photography has appeared in Saveur Magazine and she has contributed culinary travel articles to Forbes online, WSJ online, Business Insider, Condé Nast Digital Media, Islands magazine and many others. A confirmed globetrotter, she still keeps her bags packed and fork in hand (well . . . except through airport security.)