PARTNER POST: Check out these easy entertaining tips for all your summer activities complete with charcuterie and pâté. This is a sponsored post in collaboration with Les Trois Petits Cochons.
Take your next charcuterie board to a delicious new level with elegant Triple Cheese Gougeres. It's the perfect setup for your next garden party.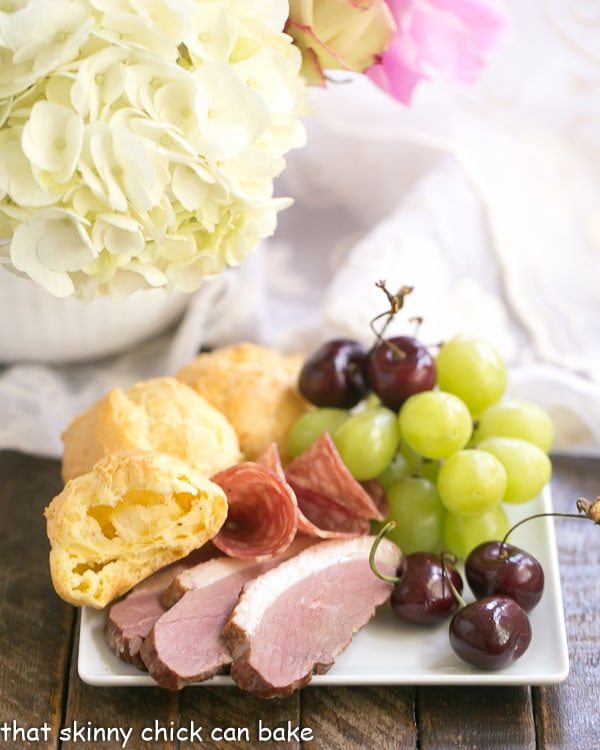 I remember stirring pâte à choux dough with my mom's trusty wooden spoon in my childhood home. Years later, I think of those lessons my mom shared when I make a savory version of cream puffs like these sublime Triple Cheese Gougères.
We've had a deluge of rain this spring. The grass is lush and green and our yard is full of fragrant blossoms. Siberian irises, peonies, rhododendrons, allium and more. It's the perfect time of year to drape the patio table with a linen cloth and have a garden party.
I was thrilled to get a fabulous delivery from Les Trois Petits Cochons, which translates to The Three Little Pigs. They are known for their award-winning all natural pâté and charcuterie. Starting as a small charcuterie shop in Greenwich Village, New York in the 1970's, they now supply specialty French meats and more from coast to coast. Their small-batch products ensure high-quality results. Plus, their cured meats are organic with no nitrates or nitrites added.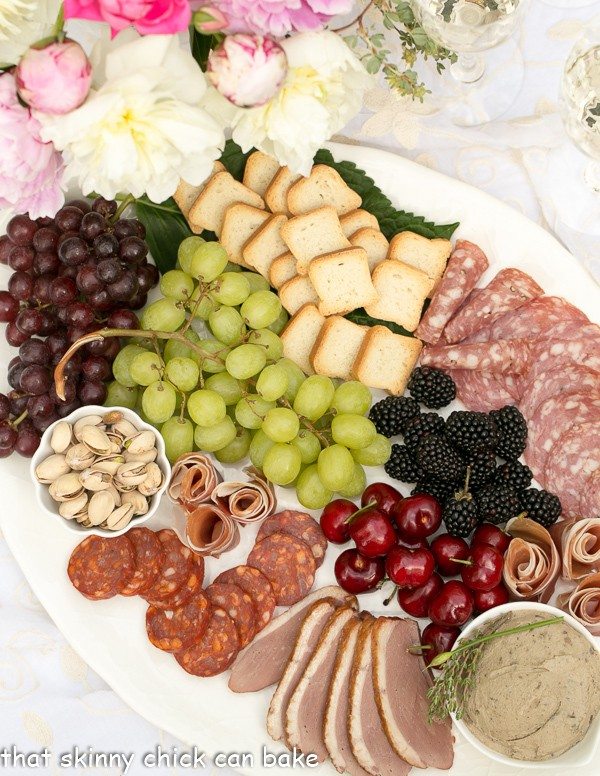 Once my array of meats, pâtés, and condiments arrived, I began planning my charcuterie board. Grapes, blackberries and fresh cherries were in my refrigerator and I had a stash of salted pistachios for a little crunch. Then I planned to bake up some triple cheese gougères flavored with Gruyere, sharp cheddar and blue cheese to add to the table, along with a bottle or two of wine for this adults only garden party.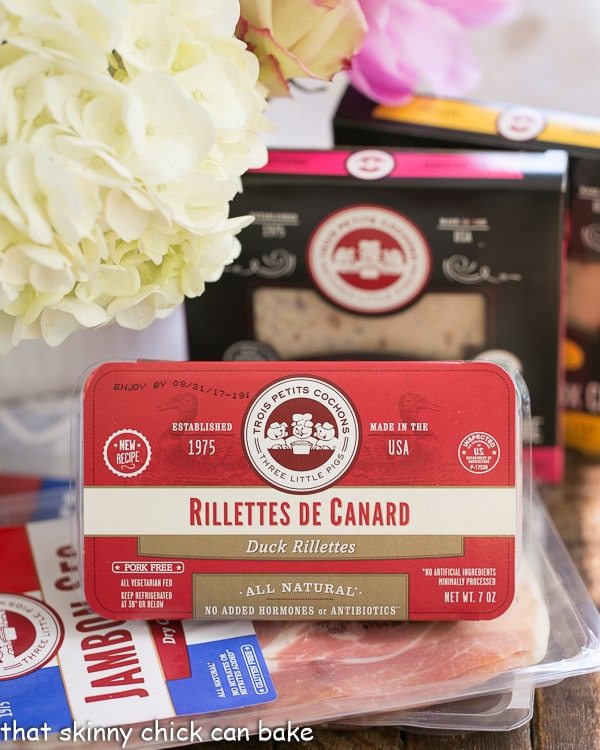 Gougères are an elegant appetizer with a base of pâté à choux, or cream puff dough. I make cream puffs as my mother taught me, mixing the batter on the stove top with a wooden spoon. The addition of cheese, some dry mustard and a pinch of cayenne pepper make these savory cheese puffs a treat to remember! I typically make my gougères with Gruyere alone but upped the ante with a trio of flavorful cheeses. The flavor was complex and unforgettably delicious! There was no room on my charcuterie board for any chunks of cheese so a tray of these elegant cheese puffs was a delightful addition to the table.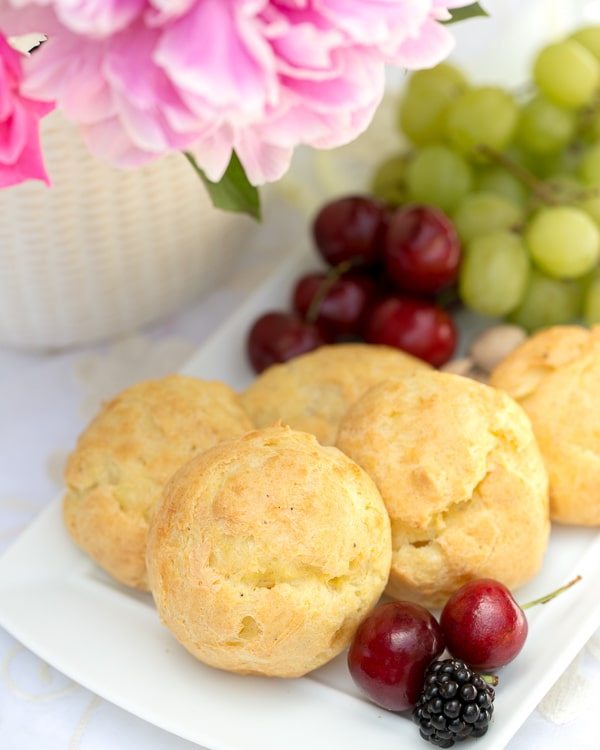 Tips for A Charcuterie Board
Start by selecting quality cured meats and pâtés. Vary the spiciness, appearance, and type of meat. With Les Trois Petis Cochons, the options are fabulous and top notch. Smoked duck brisket, cured French ham, sausage, salami plus a chicken liver pâté worked well.
Add some toasts, baguette slices and/or crackers.
Fresh and dried fruits complement the charcuterie well. Grapes, berries, cherries, dried apricots, and figs are wonderful additions. I like some crunchy nuts for textural variation.
Add some condiments like Dijon mustard, cornichon, and pickled peppers.
A regional cheese would also be lovely or bake up some triple cheese gougeres!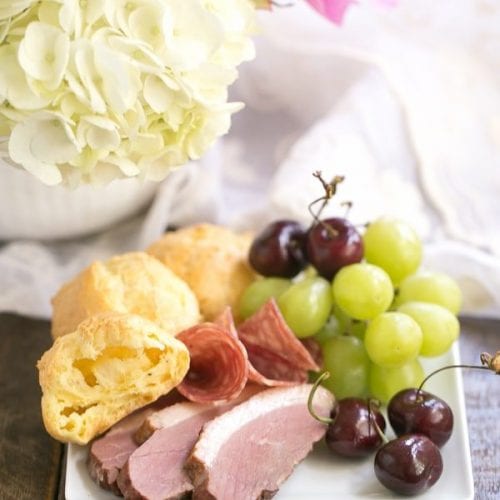 Triple Cheese Gougeres and a Charcuterie Board
Liz Berg
Take your next charcuterie board to a delicious new level with elegant Triple Cheese Gougeres. It's the perfect setup for your next garden party.
Ingredients
1

cup

water

½

cup

butter

½

teaspoon

salt

¼

teaspoon

pepper

1

cup

flour

4

eggs

½

cup

grated sharp cheddar

¼

cup

plus 2 tablespoons grated Gruyere

¼

cup

crumbled blue cheese

1

teaspoon

dry mustard

Pinch

of cayenne pepper
Instructions
Preheat oven to 375º.

Bring water, butter, salt and pepper to a boil in medium saucepan. Remove from heat.

Add flour and mix well with wooden spoon. Add 4 eggs, one at a time, mixing in well before adding the next. Stir in the cheeses, mustard, and cayenne.

Drop by tablespoonfuls onto parchment-lined baking sheet. Bake for 30-40 minutes until firm and golden.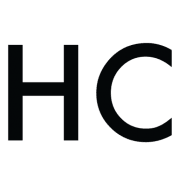 Liz Berg
My mom was an amazing cook, but she wasn't much of a baker. When my sisters and I yearned for a sweet treat, I turned to our trusty BH&G cookbook and zeroed in on the dessert tabs. My love of baking began in my childhood kitchen. I married a chocoholic and together we had 3 children with plenty of sweet teeth. I started my blog in 2010 to chronicle my baking journey.