Trillium Cafe's Dungeness Crab Strudel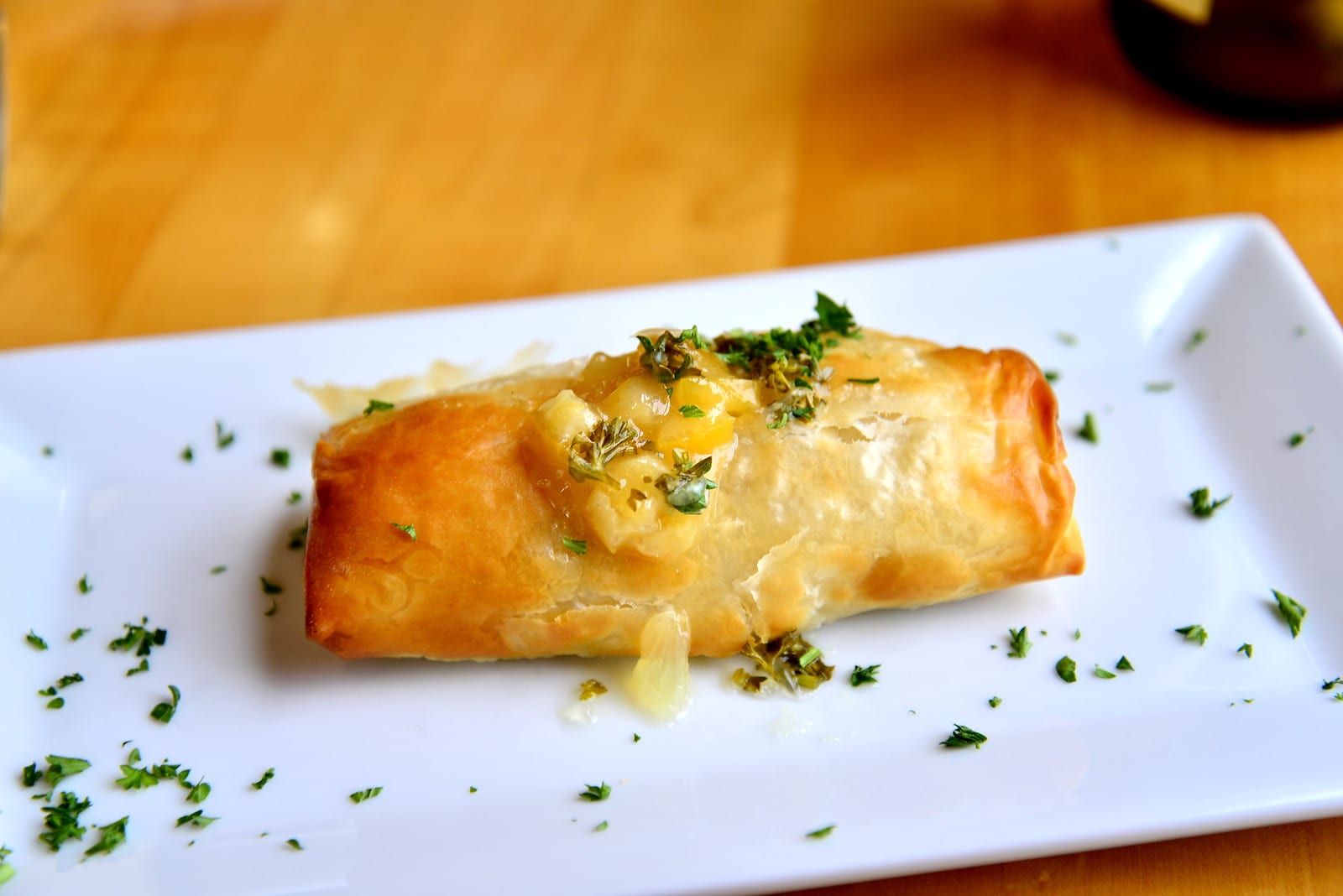 Served with Meyer lemon marmalade, this Dungeness crab is wrapped in flaky pastry for the perfect savory strudel appetizer.
By Michelle M. Winner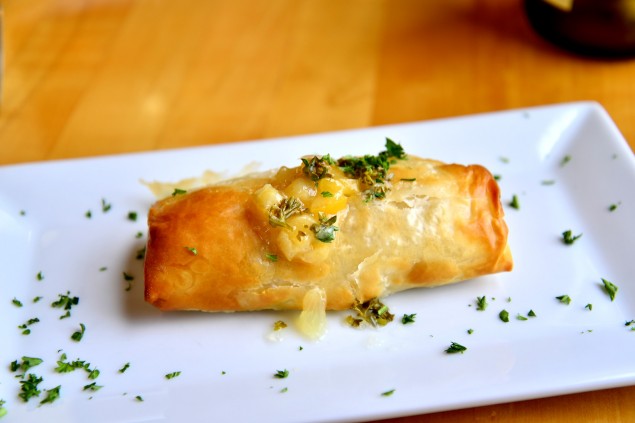 Trillium Cafe in Mendocino, California is one of those places that as soon you enter, you already know your meal will be great.  Our table overlooked the garden growing many of the plants and flowers used in the food. To most, that speaks to the care that goes into every dish here.  I love crab, especially the Dungeness variety. I ordered a Dungeness crab strudel with Meyer lemon marmalade. It was pure heaven; the crab was fresh, a little sweet and the lemon was the perfect foil to the delicate crustacean. Trillium Cafe hit all the marks for me, and I highly recommend you paying them a visit for a truly memorable lunch or dinner.  Now here's the best part: I have the Dungeness crab recipe to share with you.  Just be sure to get only the freshest crab possible from your local fish monger.

Trillium Cafe's Dungeness Crab Strudel with Lemon Marmalade
Lush Dungeness crab meat, Meyer lemon and Phyllo dough create the perfect savory and tender strudel you can taste at "Mendo's" Trillium Cafe or make yourself.
Ingredients
1 package of phyllo dough, thawed
2 lbs of fresh Dungeness Crab Meat
1 cup Onion, finely chopped
½ cup Celery, finely chopped
½ tsp dry mustard powder
¼ tsp Cayenne pepper
1 egg
½ cup mayonnaise
2 tsp grated lemon peel
½ cup chopped parsley
½ cup plain bread crumbs
salt & pepper
Store bought or homemade Meyer Lemon Marmalade
Instructions
Pre-heat oven to 400 degrees.
Sauté onions and celery for 5 to 10 minutes.
Add spices and sauté another minute.
Let cool.
Place crab, onion, celery and spices in a bowl with remaining ingredients, combine.
Lay out 3 sheets of phyllo dough, brush each individual sheet with melted butter, layering them until you have 3 or 4 layers of phyllo dough.
Place ½ cup filling in dough, and fold ends in, and roll up like a burrito.
Bake for 12 minutes, or until the top is lightly brown. Slice and serve.
Michelle M. Winner
Michelle was born with a fork in her hand. As a culinary travel writer and confirmed foodophile she delights in the world-wide discovery of new flavor profiles, spices, salts and herbs. Based in one of the world's foodie meccas; Portland, Oregon, not far from "Pinot Noir Heaven" Michelle shares culinary travel and chef's recipes. Her photography has appeared in Saveur Magazine and she has contributed culinary travel articles to Forbes online, WSJ online, Business Insider, Condé Nast Digital Media, Islands magazine and many others. A confirmed globetrotter, she still keeps her bags packed and fork in hand (well . . . except through airport security.)