Michael van der Kroft is the talented chef and co-owner of Tres in Rotterdam, a sexy 12-seat top dining counter restaurant that displays what curiosity and creativity mixed with a firm conviction for local and quality produce can become. The chef's life story is dark and stormy, but today he cooks at one of the Netherlands most exciting gastronomic experiences. Here's how he came from nothing to become a world class chef.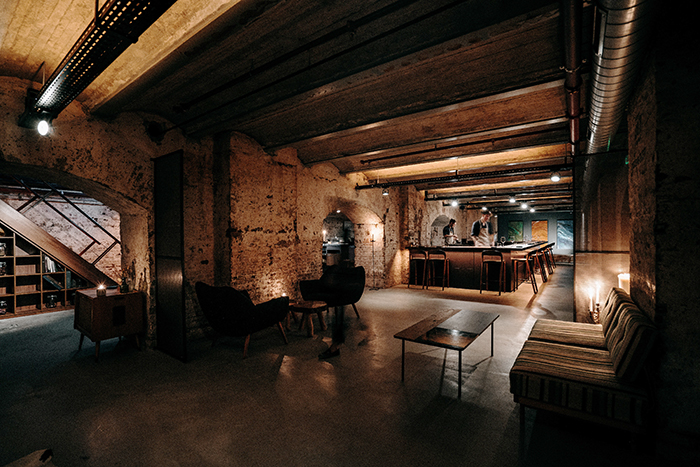 Imagination is defined as the faculty or action of forming new ideas, images or concepts of external objects not present to the senses. Curiosity is a strong desire to know or learn something. These are words that define Michael van der Kroft. They are great ways to describe his source of inspiration for what he cooks at Tres, but when he was a child dealing with what addictions can do to a family, imagining a different path in life and having a strong hunger to learn new things basically saved his life.
The self taught chef is now responsible for one of the for sure most interesting restaurants in the Netherlands, work that has led him to become one of 2023's candidates for the top 100 list of The Best Chef Awards. At Tres, Michael turns curiosity into research that results in science and technique that he uses to represent the Netherlands through the four seasons. He imagines flavors and combinations more so than trying to reminisce or recreate the ones from his childhood, and that's understandable when you were brought up between problems and addictions and abandoned to live with your grandparents who then also gave up on you as a teenager.
Yes, looking back is not a thing for Michael van der Kroft. He looks ahead instead, into the unknown, he looks beyond, into the imaginary, and there he finds unique and intense dishes with which he defines Tres' ingenious culinary offer with what he would humbly describe as a "simple" vision of making the most out of seasonality and local produce that in reality is way deeper than that. He's truly creating a unique, new and very personal spin on Dutch gastronomy.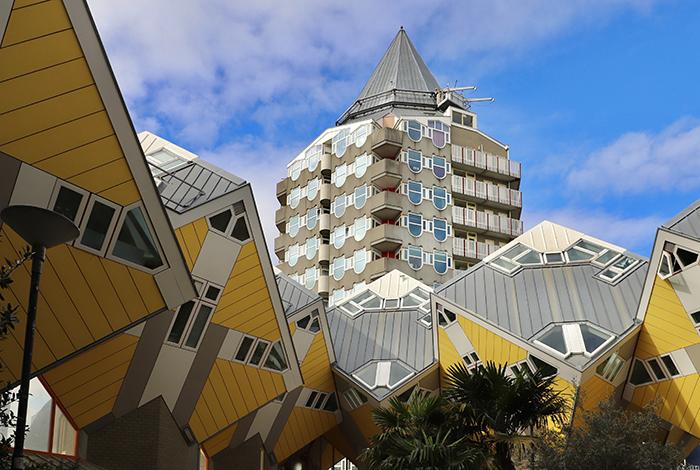 From Nothing To…
One of the main things that sets fine dining apart from every other type of restaurant is how personal these projects are to their chefs. I write this because some people might think: Why do I need to know about this guy's childhood to understand his restaurant? Is it necessary? Well, the good thing is that if you just want to enjoy a wonderful dining experience, you really don't. You can just go to Tres, or any other restaurant in that league, and enjoy every dish for what it is. But isn't it better to stand in front of a Van Gogh-painting when you know more than what your eyes can see? For many food lovers the backstory and the personal or intellectual side of the experience add on to it. It's like another layer of seasoning that stimulates something beyond our five senses.
In Michael's case, the past is dark. One that he almost never speaks of and that he seems to have left behind and now just lives on as a cautionary tale. He was a child of a broken home and abandoned when he was just four years old. As it happens sometimes, that terrible moment happened again and again as he was left to live with other family members until he got to his grandparents. That was where he had his first contact with the kitchen.
"My parents suffered from addiction so I moved to different places until I ended up with my grandparents just outside of Rotterdam. My grandfather was always cooking and I was always there, so I was like: I like cooking. That motivated me to take some related classes in mid school, but that got interrupted when I was also abandoned by my grandparents when I was a teenager. For some people it's a sad story, for me it's just my life. I don't feel sad about it. I just make the most of it. And look where I'm now," he explains.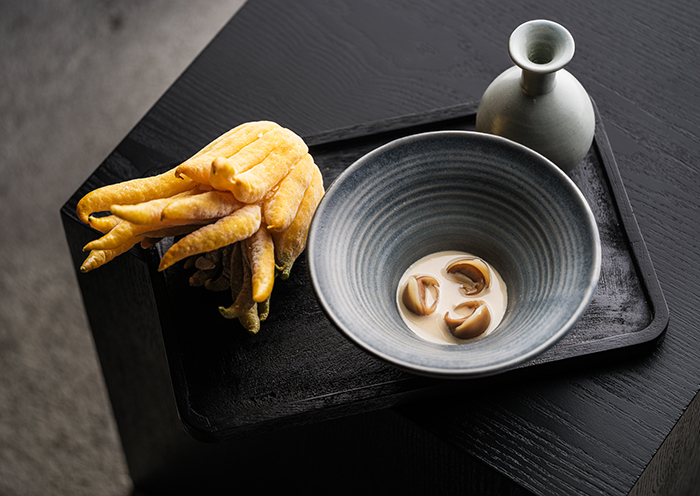 The Breakthrough
Shock can be effective sometimes. Michael was a rebellious sixteen year old on holiday with his grandparents in Barcelona, and during that trip his family had enough of his ways and left him there. He saw himself in the streets of Spain with no money and no way to go back home and after four days finally got in contact with his grandfather who offered him a way back. The only thing was that he had to move out when he got back to the Netherlands.
Michael tells: "From the age of 16 I was on my own. And I didn't have the right friends but at least they accepted me for who I was and took me in with them. Then I got in trouble. That was the point when I had to change my life. It was not a big thing yet, but it could turn into it. In the Netherlands there's this thing when you are under 18, like a minor, where they will drop your charges and I was about to turn 18 so I knew I had to redirect my energy into something else, something good, and I chose cooking."
This decision gave the young chef a purpose, a goal and a challenge that he started to enjoy. His focus shifted from trouble into learning and from bad behavior into trying to be the best cook at whatever kitchen he was working in. He did it and did it fast. Every time he felt like he had nothing else to learn at a restaurant, he jumped on to the next one, all until he found a job at an Italian restaurant named Tosca.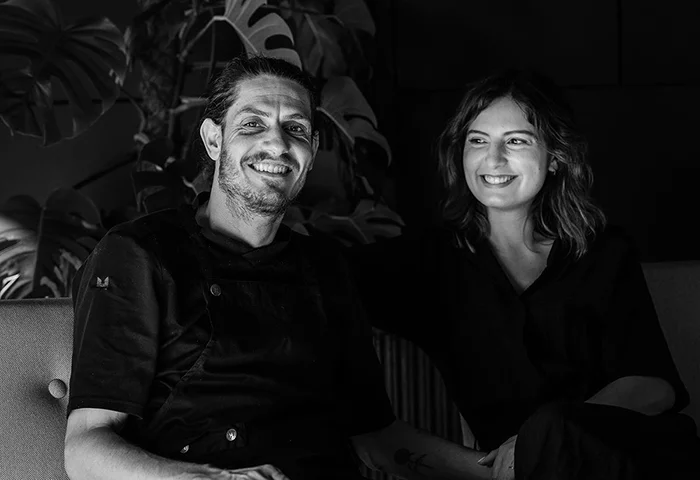 The Dish That Started It All
Michael remembers the moment when he actually started to leave his troubled ways behind and started to take cooking seriously. He was working at Tosca, an Italian-Mediterranean casual restaurant where his chef told him for the very first time that he could really cook. The compliment came with a challenge that would result in a dish he serves today at Tres.
"The chef told me «Ok, you can cook. But cook something that is you. Start buying Michelin starred chef books and go to good restaurants, see what else cooking can be and give me that dish that is you». It took me 6 months to present my dish. To this day we still have it in the autumn menu. A shallot crème with mini chicory, a cepes sauce and different types of kale," Michael explains.
For Emy Koster it's a very emotional dish. She runs the service at Tres, is in charge of the wines and is Michael's partner in business and in life. She explains that the first time she tried that dish, years ago, she finally understood how someone can get emotional during a meal to the point of tears. 
"I tasted it when we put it on the menu two years ago. And I was eating at the bar because I was supposed to pick the wine. He was also serving it with a duck prosciutto on the side, that you could use after to scoop up all the sauce. Scarpetta. I tried it and he was looking at me like "So, you like it?"  And I got emotional. I just started to cry and I couldn't focus on what was happening. He had to make it for me three times in total, before I could focus on what I was actually eating." remembers Emy.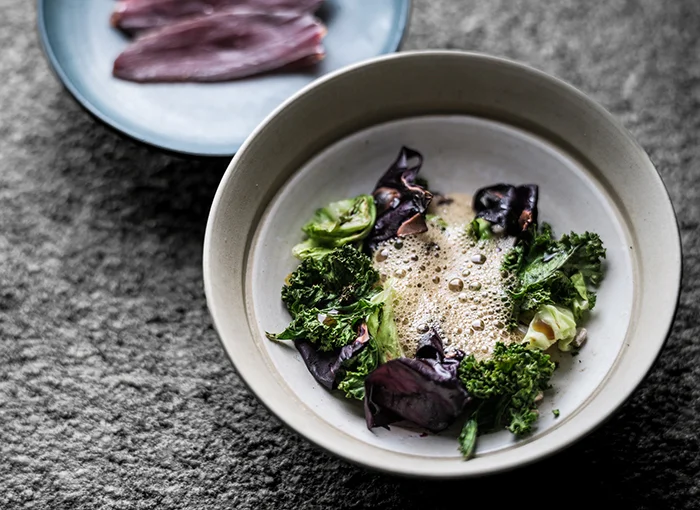 The Science of Tres
Someone creative can imagine things, have a vision and get inspired, but if that person doesn't have the tools to bring all that to life, it dies. For Michael Van der Kroft being a self taught cook meant having to put extra work into learning and discovering techniques that would allow him to bring his dishes and flavor combinations to reality. After the death of his grandfather, he made a promise to himself to be the best chef he could be.
"At that point I told myself that I was going to give everything to do good. When you know how to cook but you don't know the science, you get stuck. I went back into the science part because I always wanted to understand what was happening. When you start to understand things, cooking becomes science. I wasn't a stupid guy, I just didn't like school and made some stupid mistakes. At this point I was ready to make the right decisions and books were my best tools."
Here is where the real essence of what's happening today at Tres started. Michael's obsession for research and information are now very obvious in his style of cooking, with very intricate and laborious types of preparations that usually start in the hyper-technologic lab inside of Tres. The dining experience happens mostly in a 12 seat bar, but during the meal, you're also asked to go into different stations in the kitchen and to the lab to have some dishes and bites. The lab visit is a party for the freaky foodies of the world. A capsule of knowledge that makes you understand just a few of the techniques that they used to distil, ferment, cure, dehydrate or cook what you ate just minutes before. Van der Kroft and his team are experts in using koji as well as fermentation, pickling and other similar techniques to give character and flavour to each dish. And they pretty much have to because they don't use salt, at all. They take flavour from the ingredients and enhance it with technique.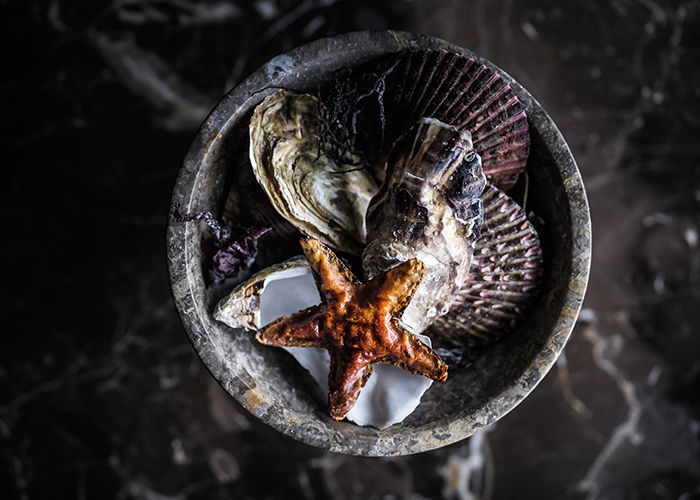 The Netherlands Through Seasons
Most produce-driven upscale chefs are very adamant about what they can do with a piece of fish, great seasonal vegetables or any of the meticulously selected ingredients that they get. Usually, for them, less is more. But when you have a personality like Michael Van der Kroft, cooking a langoustine to perfection and adding salt and a nice sauce just isn't enough. It's as if he found pleasure in making things complicated and intricate for himself, and as long as the result keeps being as delicious as the menu that I tried, he can keep doing so.
"My style is all about flavour. Just like I want to be surprised when I go out to eat, I want to surprise my guests. Then I'm happy. I think that that's the key to having a great experience in a restaurant, and it doesn't happen very often. When we create a dish at Tres we start with the technique, but always in direct relation to how to get the best flavour."
His goal is to represent the Netherlands through each season. With that in mind he and his team have created four different menus, four worlds that show a different side of him and his country. The winter menu, for example, is a season where he highlights the sea with produce like dutch shrimp, lobster, smoked eel and crab. The spring is all about the lamb. The summer brings vegetables, fruits and even some insects, that they use for their flavor profile more so than for the shock factor in preparations like the garum of grasshopper. Last but not least the fall is all about the forest. Rabbit, duck, deer, mushrooms… This is how Michael truly translates his country to the bar of his incredibly cool restaurant and what it means for him to be a produce-driven, seasonal restaurant.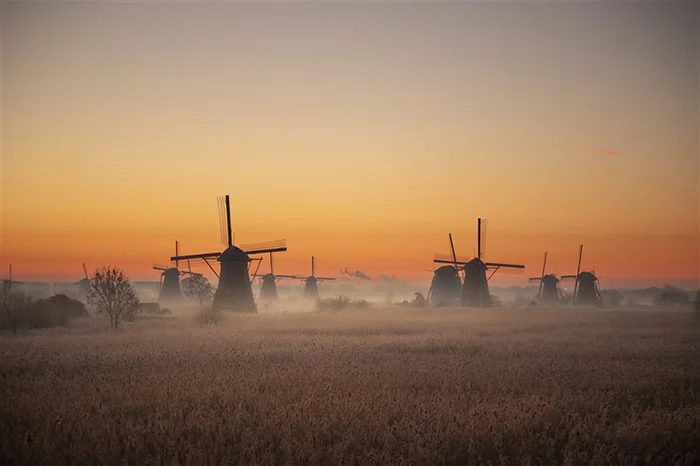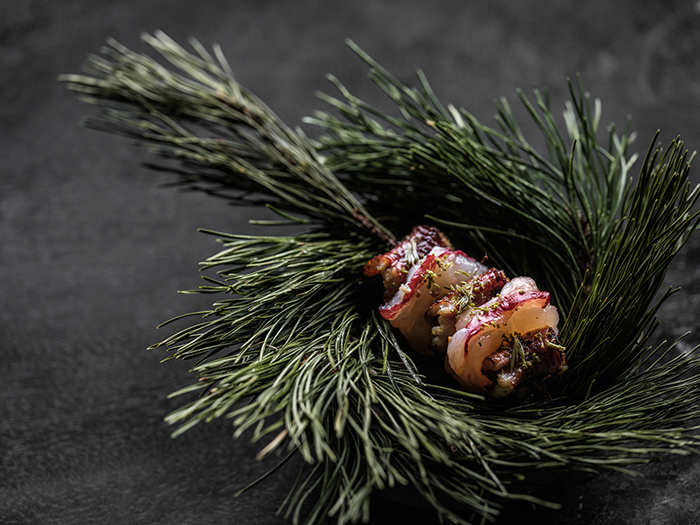 The Dishes (Of Winter)
The menu starts upstairs, right near the entrance with a glass of Champagne and different snacks. A starfish made out of milk is the first bite. Filled with a paste of quince, smoked turbot roe emulsion, preserved green gooseberry in sea lettuce, parsley oil and brushed with shrimp water to add the ocean essence to it. It's a clear message: winter is the season of the sea at Tres. Next comes a black currant leaf glazed with the juice of its own berries and topped with a crab caramel, followed by a shrimp eclair topped with caviar. Delicious.
It's time to take the stairs down into the basement. The first stop is a kitchen island where Michael presents a tray with all the (local) produce he'll use that night to create the menu. Aged turbot, oysters from Zeeland, caviar from Eindhoven, lobster, yuzu and buddha's hands citrus from a Dutch producer that has spent the last 18 years creating his farm and growing fruits and vegetables that are hard to find, koji and more. He then leads guests to the next area of the kitchen to have one of those Zeeland oysters, in tempura with inoculated barley. On to the 12 seat dining counter to get wines presented by Emy and more wonderful dishes: tortellini made out of only squid, with no pasta followed by two intense bites of cuttlefish with a pumpkin "XO".
The next dish deserves an article of its own and not surprisingly is one of Michael's signatures. A pear cooked for two days, glazed with broad bean tamari, black garlic gel and sauce from tomato and bell peppers. A perfect example of everything I wrote before about his ways. About imagining crazy combinations and about getting astonishing flavours out of elaborated preparations through technique. This truly is one of the best dishes of my life and my mouth waters as I remember what it was like to eat it. Stages of different, intense flavours layered by complementing textures, and it all comes from a pear. Unforgettable.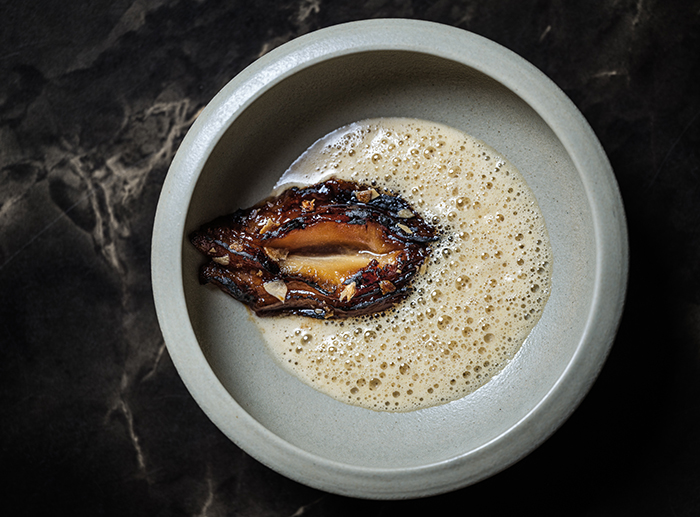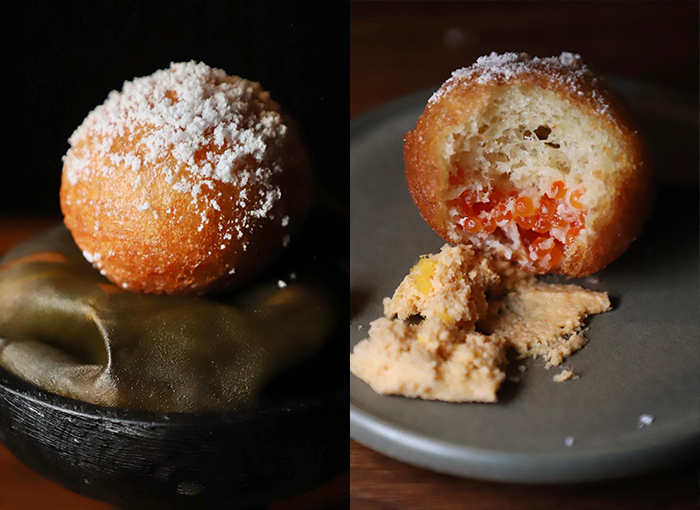 The sea of the Netherlands keeps splashing into the bar of Tres with more dishes. A fully edible mussel that's not a mussel made from blackened lacto koji reduction and mussel juice reduction is next followed by another of my favourite dishes, a savory take on the traditional oliebol, filled with a salty surprise and with a side of trout 'nduja to spread. Pure heaven. Each dish is presented in a very precise and beautiful way, like the lobster with egg yolk, or the yakitori of eel and lobster, another dish that guests take in the kitchen. 
It's time for the dry aged turbot, with a rich white asparagus Beurre blanc that's so good, it needs a special serving of bread on the side, this one equally good: an addictive brioche feulletée with seaweed. To end the savoury side of the menu, a monkfish liver soufflé with crab caramel, marinated sea lettuce and daily picked crab, or is it a pre-dessert? 
If you're looking for a super sweet dessert, you have to wait for the next day and get a stroopwafel in the market. At Tres the desserts are still wonderfully connected to the sea, in look and flavor. Starting with the millefeuille made out of preserved sea lettuce, blackened amazake and pickled watermelon rind and gloriously ending with a red sfogliatelle that comes hidden in the shell of a lobster tail. Lobster tail pastry filled with a lobster caramel, mousse of rose and red gooseberries and a praline of peeled walnuts and Dutch caviar. 
All this is my evidence and my way of proving that Tres is onto something and that Michael Van der Kroft is not just a great chef that likes to "cook seasonal and with local produce". He's creating a new, powerful and exciting way to enjoy and taste the Netherlands through the seasons and by doing so he is living proof of what it really means to succeed coming from nothing.
Tres, Vijf Werelddelen 75, 3071 Rotterdam, Netherlands, www.tresrotterdam.com