A legendary hotel, just a scenic 90 minute drive from the hustle and bustle of Los Angeles, provides an impeccable sense of luxury.
Nestled in the hills of the Ojai Valley, and a beautiful 90 minute drive from Los Angeles lies Ojai Valley Inn, a legendary luxury hotel that has been a destination for angelenos seeking serenity in the unique Mediterranean micro climate 750 ft above water since the 1930's.
A Spanish style hacienda that has been expanded in phases since its inception, the hotel today feels like entering a world completely of its own. As soon as you enter the driveway, you are transported away from any normal stress, and beyond the petty problems of the real world. If you don't feel relaxed here, at least it's not because you're in the wrong place.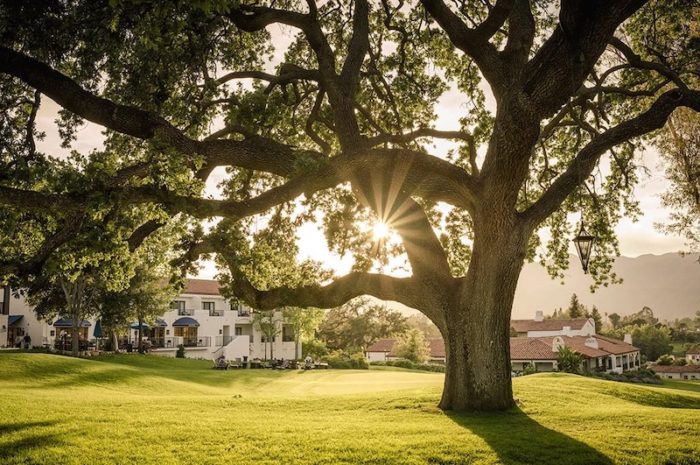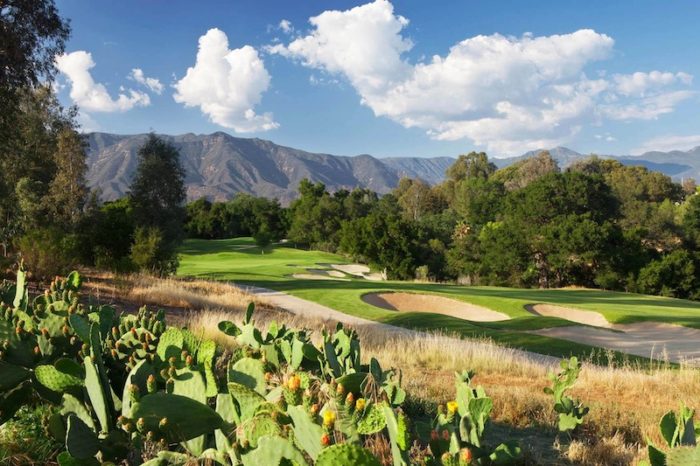 Situated on 220 flowing acres of gorgeous nature, this is a hotel that has something for almost every flavor. From hitting the links at one of the prettiest golf courses in California to playing tennis and pickle ball, going horseback riding – or renting a bicycle for a 15 minute ride into Downtown Ojai to discover great shops and restaurants, there's plenty to do for anyone who wants some activity out of their vacation. And since the property is so big, even a walk around one of the many small winding roads at the hotel becomes a wonderful exploration of the lush surroundings.
For the art aficionados, Ojai Valley Inn features an on-site Artist Cottage and Apothecary, where you can take painting, pottery, and other art classes to ignite your creativity. Additionally, the hotel regularly showcases the work of local artists, creating an atmosphere that celebrates the rich artistic heritage of Ojai.
If you're only here to chill, fear not, because the hotel also offers total relaxation for those who just want to lounge by the pool and be pampered by the attentive staff. There's no rush anywhere, but the service is swift and discrete, leaving you to fully focus on just enjoying yourself. For a truly indulgent experience, visit Spa Ojai, where you can enjoy a wide range of rejuvenating treatments and unwind in the serenity of its peaceful surroundings.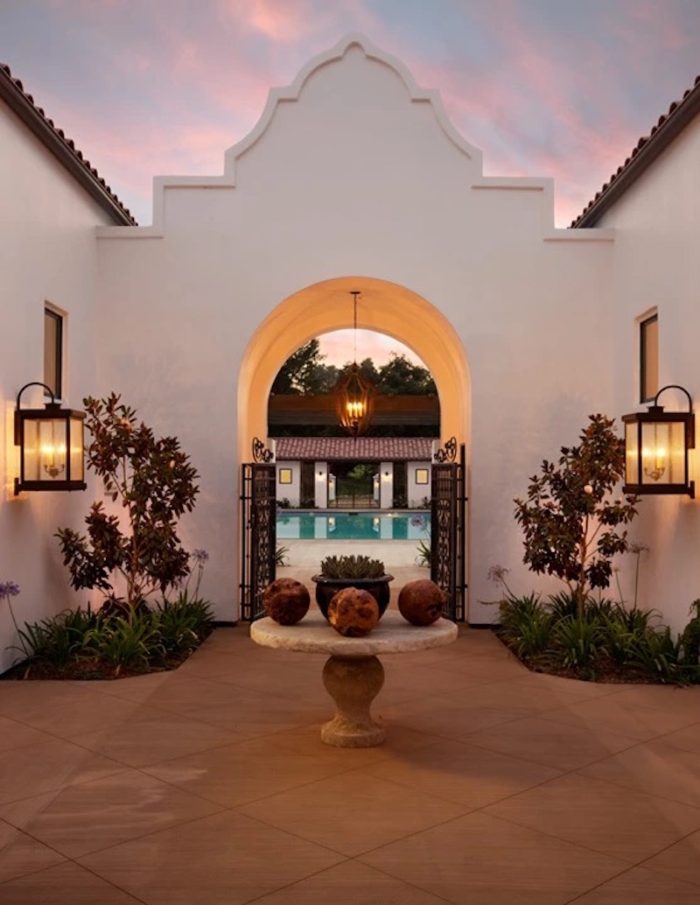 When it comes to food, you may want to start by peeking into Libbey's, the resident espresso house and market. Grab a quick coffee, browse the selection of books and gift items, or if you REALLY need to – hook up to the wifi for a quick work session. But honestly, now that you're here, try to disconnect and just enjoy some time off.
The Ojai Valley Inn: The Pearl of Southern California
For breakfast, head over to
Oak
, the more casual restaurant at The Ojai Valley Inn. This mainly outdoor patio restaurant serves lunch and dinner too, but we love their breakfast in particular. Try their incredible waffles, their healthy omelet options or perhaps their spicy baked Mediterranean eggs with a side of bacon. Absolutely delicious.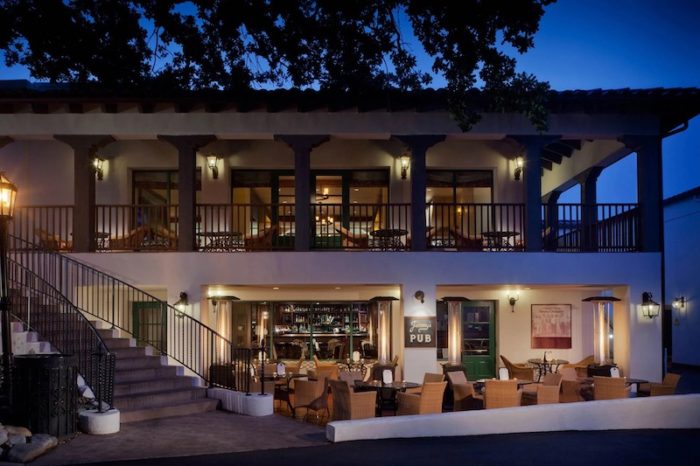 A lunch favorite is Jimmy's Pub, a fun sports bar with a wonderful outdoor dining terrace overlooking the 13th hole. Grab a freshly baked pizza, a light salad or try one of their grain bowls.
For dinner, we're partial to Olivella, the flagship restaurant at The Ojai Valley Inn. This beautiful restaurant boasts grand seating indoors, and some incredible vistas from patio. The food at Olivella is modern Italian, with many twists on classics like carpaccio and spaghetti bolognese.
The menu is a set 3 or 4 course meal which will take you through antipasti, pasta, main and dessert – and you won't be leaving hungry, that's for sure. The menu is accompanied by an extensive wine list, and if you can snag a table outside – the pairing will be complete with a pink sunset of epic proportions. As the sun sets over the valley, the warm glow of the outdoor fireplaces creates a cozy ambiance perfect for intimate conversations or simply relaxing with a glass of wine.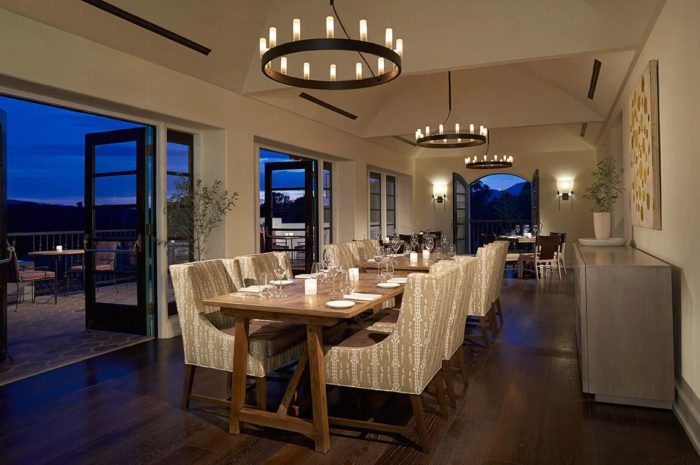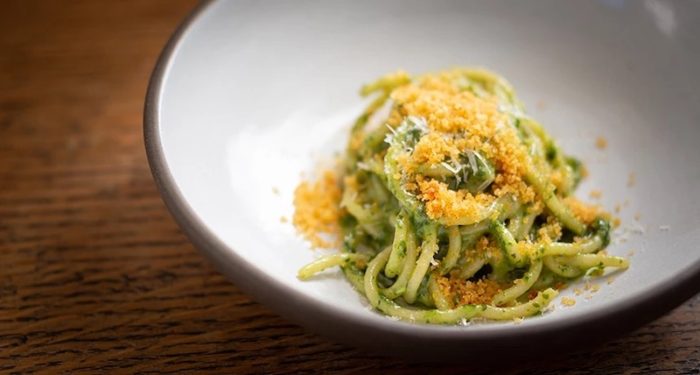 After a good night's sleep, try to get up early to see the morning fog dissipate across the valley. It's another beautiful sight, and one that will make you promise yourself to come back to paradise as soon as possible. But before you leave, don't forget to explore the Ojai Valley itself. Known for its spiritual energy and natural beauty, Ojai is home to various hiking trails, scenic overlooks, and parks that are worth discovering.
One popular hiking spot is the Shelf Road Trail, which offers panoramic views of the valley below. For a more leisurely stroll, visit Meditation Mount, a peaceful spot perfect for quiet reflection and soaking in the breathtaking scenery. And if you're interested in local history and culture, a trip to the Ojai Valley Museum will provide you with a fascinating insight into the area's past and present.
If you're looking to do some shopping while in Ojai, make sure to visit the famous Ojai Certified Farmers' Market on Sundays. Here, you'll find an array of fresh, local produce, artisanal goods, and handcrafted items that showcase the best of what the region has to offer. You can also explore the many boutiques, galleries, and shops that line the charming streets of Downtown Ojai, offering a delightful mix of unique finds and treasures.
The Ojai Valley Inn and the surrounding area provide an idyllic escape from the city's chaos, where you can unwind, connect with nature, and immerse yourself in the captivating beauty of Ojai. With its luxurious accommodations, warm and genuine service, and a plethora of activities to choose from, your stay at this legendary hotel will be an unforgettable experience that will leave you longing to return.
The Ojai Valley Inn
Website
905 Country Club Rd, Ojai, CA 93023
Note: Ojai Food + Wine
This year, the Ojai Valley Inn turns 100, and as part of the celebration is continuing its legacy as a leading culinary destination with the debut of its first-ever Ojai Food + Wine festival–a four-day event featuring more than 50 top chefs and 100 wineries from around the world, from the legendary Chef Alice Waters and Chef Dominique Crenn to Chef Jon Yao and Chef Daisy Ryan. From October 26 to 29, 2023, attendees can expect an all-star Michelin and James Beard awarded lineup along with future legends of the culinary world. Over the course of four days, Ojai Food + Wine will hold over 40 world-class events including a Grand Tasting at The Farmhouse on Saturday and Sunday, featuring 15 chefs each day and more than 100 wineries throughout the weekend with a spotlight on regional California wineries. Enthusiasts of food and wine can gain exclusive access via one of three ticket packages now at ojaifoodandwine.com.