Traveler's Recipe – Two Great Duck Ravioli Recipes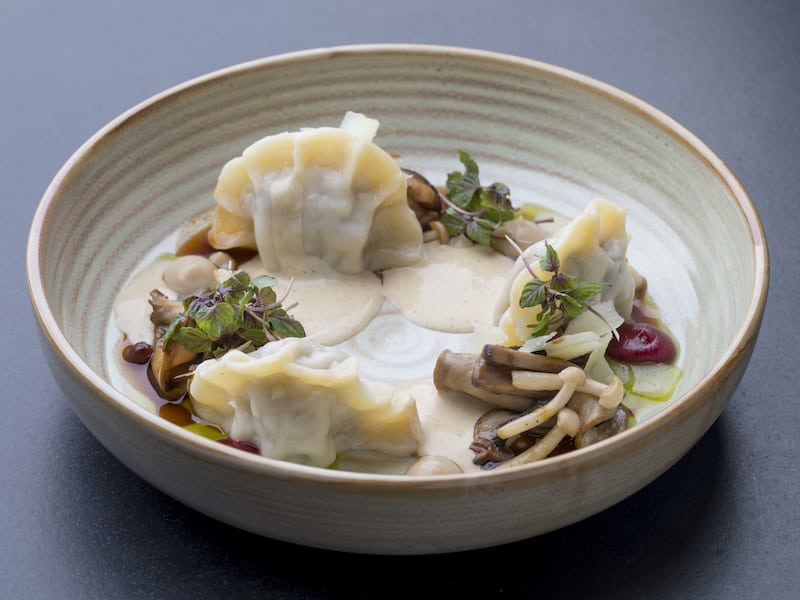 Dumplings are unanimous with Polish cuisine. But with a sudden surge of great Polish chefs breaking the mold and setting the culinary bar very high, modern interpretations of traditional Polish recipes are making a come back. Try these great duck dumplings or ravioli, for example.
On a recent trip to Poznan, I was looking for delicious Polish dumplings and had a chance to have two great duck 'dumplings' aka ravioli from two chefs with varying philosophies in the kitchen.
Chef Krystian Szopka heads up Piano Bar and Restaurant in the very trendy shopping building Stary Browar. A little high-brow for locals but delightful for tourists with the exchange rate. Expect a long lunch with excellent food by a very talented chef. You can not go wrong with everything and anything you order here. A lot of local produce is used like wild mushrooms and local duck prepared by Chef Krystian.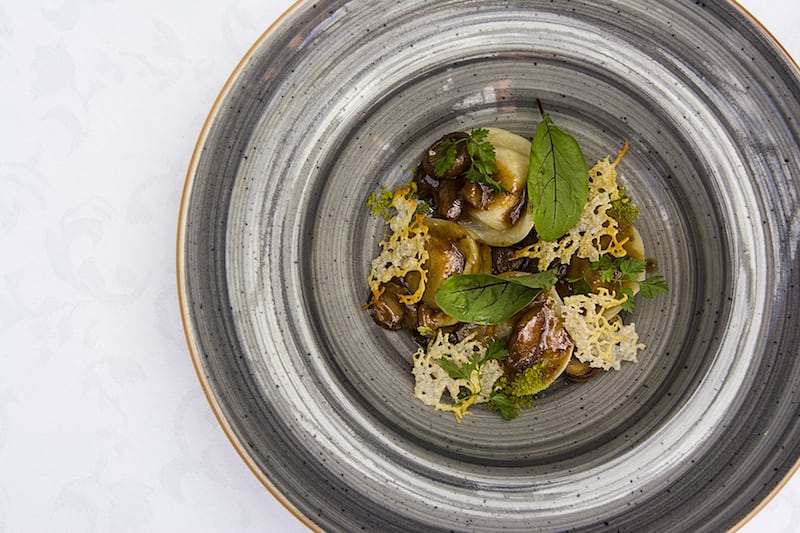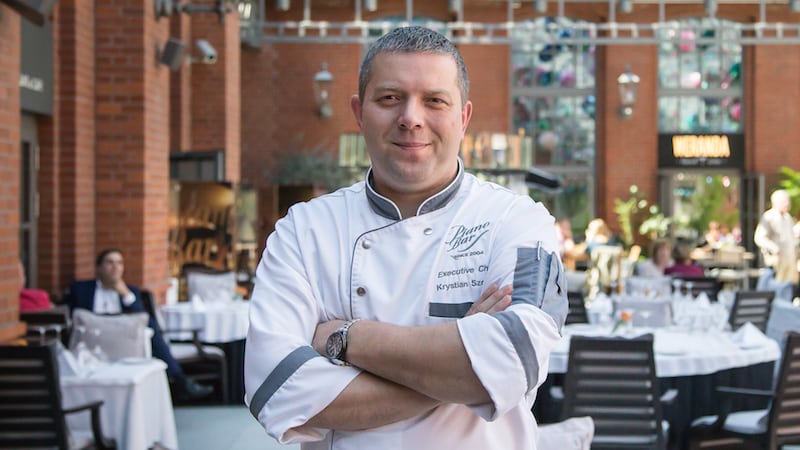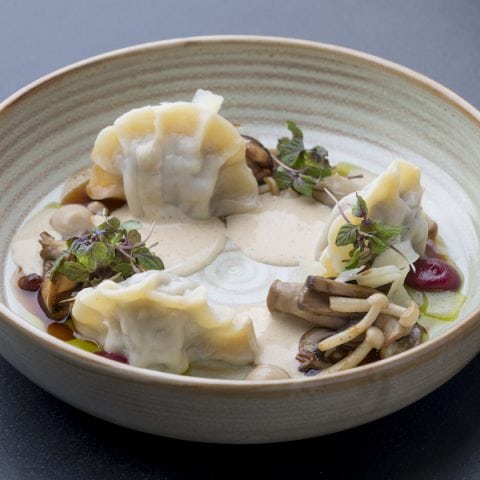 Chef Krystian's Duck Dumplings with Boletus Sauce from Piano Bar and Restaurant
Ingredients
Dough
1

egg

250

ml

of water

5

g

of salt

50

ml

of olive oil

250

g

semolina flour

250

g

of wheat flour T450
Duck Filling
2

ducks

2 kg piece

0,2

kg

of apples

0.2

kg

carrots

0,2

kg

parsley

0.1

kg

of dried plum

0.2

kg

of onion

salt

Pepper

Marjoram

Thyme
Add the following to the minced meat:
0,2

kg

of butter

100

ml

duck sauce

salt

30

g

chopped parsley

Pepper
Sauce:
The base of the sauce with cooking bodies is 300 ml

Boletus

hats 200 g

Shallot 50 g

Orange juice 150 ml

30

ml

cream

Orange peel

salt

Pepper

Parsley

Oil 15 ml
Instructions
Dough
Bring the water to boiling. Sift the flour into a bowl with egg, salt and olive oil. Pour over boiling water. We make 5 minutes by hand or to obtain a smooth consistency. Wrap in foil and hide in the fridge. Prepared dough is enough for about 35 dumplings.
Duck Filling
We clean the duck. Rub with spices. Cut vegetables and apple into thick cubes. Mix with plum and herbs. We stuff the duck. Put in a container or bowl. We cover the remaining vegetables with the duck. Close the container and store in the refrigerator for 24 hours. The next day we bake in the oven at 150-160 degrees for about 2 hours. Meat must freely go to the bone.

After baking, the meat is separated from the bones. Place the remaining elements with bones in a pot. Pour water over and simmer for 3 hours. Then, strain and reduce to the consistency of the sauce.

Mix and divide the whole into 35-g portions. Roll the dough, cut out the 9-cm diameter, apply stuffing and close. We glue the edges thoroughly. We put on the flakes sprinkled with flour so that they do not stick. We cook when the sauce is ready.

We chop the shallot into cubes and fry in oil. Add the mushrooms, fry them, water the sauce and orange juice. Add chopped orange peel. Stew all and reduce by 50%. Watered with cream and reduced to thicken the sauce. Season with salt, pepper and parsley.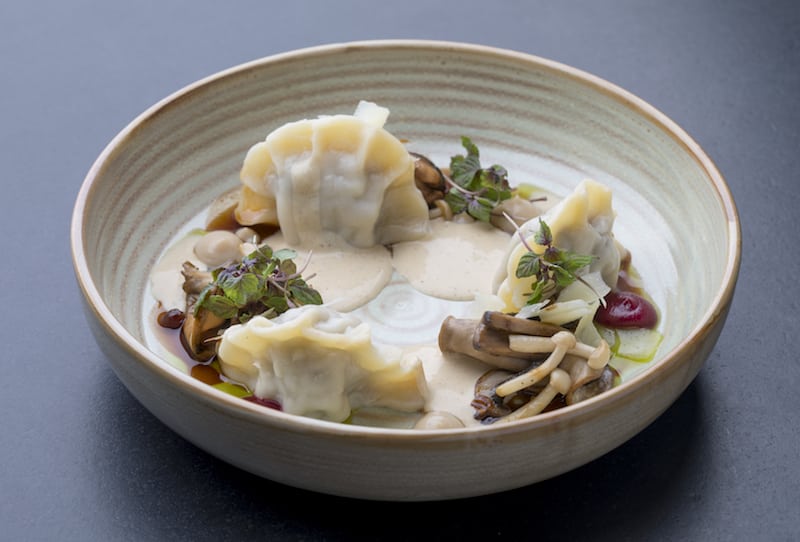 r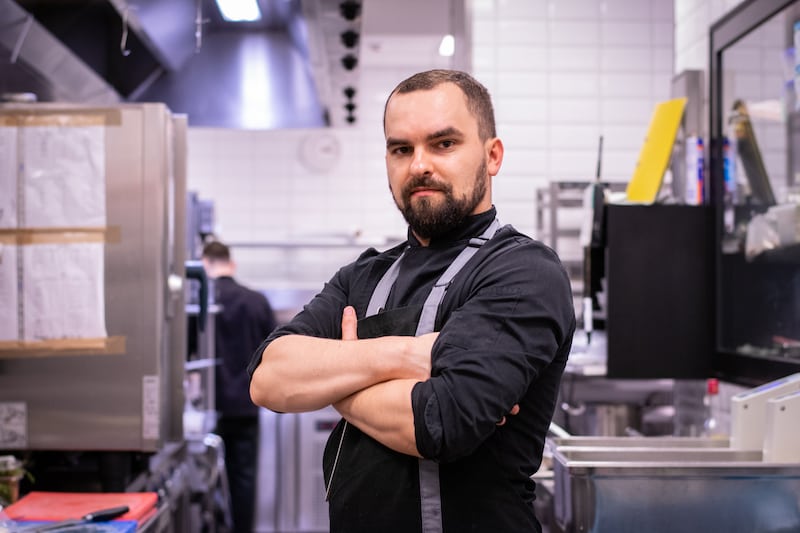 Mlynska 12 in Poznan is one of those places you visit if you are celebrating something special. With more than 9 different food and wine concepts – Whisky Bar, Cigar lounge, Wine cellar with more than 150 labels and even a automated wine room, Mlynska 12 is setting the dining bar very high in Poznan, Poland.
Although Mlynska 12 is a little posh but in a good way… no snobs allowed but definitely a place to be seen, the concept dining store should be on every travelers bucket list when in Poznan.
Recipe from The TIME Restaurant in Mlynska 12 by Chef Adrian Pilarczyk
P.S. You really must check out the Roof-top bar lead by cocktail master, Karol Rybicki for the best cocktails overlooking the great city of Poznan
Ravioli with duck:
– Foie Gras
– Mushrooms
– Shallots
– Roasted butter
– Asiago
Stuffing for dumplings: Whole ducks (3 pieces) are divided into portions, salted (10 g of salt per 1kg of meat) and left for 24 hours in a cold store. Prepare the confit method for 3 hours at 130 degrees with garlic thyme etc. We chill and peel the meat. We remove membranes, bones, etc., and chop the meat.
Proportion of stuffing: 2.5 kg of confit meat, 0.5 kg of mascarpone, 0.15 of dried mushrooms 0.5 kg of mushrooms, 0.5 kg of shallots, 0.1 kg of garlic, 0.2 kg of parsley.
Fry the mushrooms, shallots, garlic and foie gras and crush them into pieces. Season with salt and pepper. We form balls 20 g, 3 dumplings per serving.
Dough: 9 yolks, 690 g of Farina flour, 150 g of boiled water / 1 tablespoon of salt / 2 tablespoons of oil. Make a flexible dough using a kitchenAid mixer for a thickness of 6-7 mm. We cut large circles, put on stuffing, and make "classic" dumplings. We put them on paper, so that they present the seam. We freeze and protect against drying. We serve 3 dumplings on a plate for portions. Cook in a bun at least 8 minutes!
Michelle Tchea
Michelle Tchea is a 4-time bestselling author. Her books include, Building a Perfect Meal, My Little SoHo Kitchen, Signature Dishes (Australia's Best) and Chefs Collective. Her work can be found in other leading luxury travel and food magazines including Travel+Leisure Asia, SMILE, NUVO Magazine and The Telegraph