Pea soup is a hearty, warming winter meal and one of the signature dishes of the Netherlands.
By Ena Scheerstra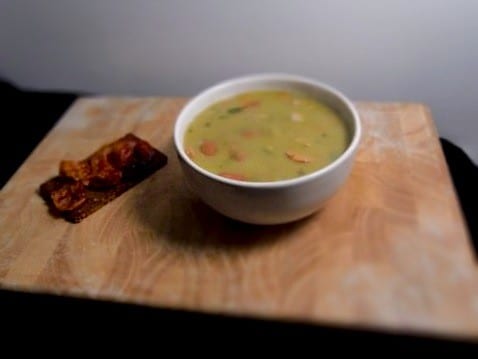 Pea soup, also called "snert", is one of the signature dishes of the Netherlands. It is traditionally eaten in winter, either prepared at home or bought at a stand on a (Christmas) market or next to the rink when ice-skating. That it is a winter dish becomes clear when looking at the ingredients and the consistency of the soup. For many people the thicker, the better… if your spoon can stand up in it, it is a good soup. I like my soup a bit thinner and generously filled with meat and vegetables. When the weather is cold, this is the hearty, warming meal you want to have when you come home to get warm again. But even in spring, when you were slightly over optimistic due to the beaming sun and went out without a coat, it is very nice to come home to a nice, damping hot bowl of pea soup. So spring is already started, but you still have a reason to cook up a pot of pea soup.
The soup is made from dried green peas (preserved in summer) or split peas (green peas with their husk removed), winter vegetables (celeriac, carrot, leek, onion, potato) and lots of meat (basically any cheaper piece of pork you like, for example shoulder chop, ribs, sausages, belly, Dutch smoked sausage and smoked bacon). Everyone has their own version and regards other versions as inferior.
Pea soup is made in big amounts, at least 3 liter. The flavour will be impaired if you make less. Ideally you make pea soup the day before eating it, because the taste will get much better when the flavours can soak into each other for a while. Take care with reheating though, because this is such a sturdy soup, it can burn very easily. Use very low heat on the stove and stir regularly, place the whole pan in a low oven or, for 1 or 2 portions, use the microwave. Pea soup freezes really, really well so store the amount of soup you will eat in a few days in the fridge, make portions from the soup you will not eat on short term and freeze them to enjoy later.
Pea soup is traditionally served with baked bacon (usually "katenspek", cooked and then smoked bacon) on rye bread accompanied by mustard. It is also possible to put some meat from the soup onto the rye bread, or cheese and/or butter. Rye bread is a Dutch speciality as well, coming in two varieties. The one from Friesland and Groningen (provinces in the north of the Netherlands) is made from broken rye kernels, no yeast is used, its texture is quite crumbly, its colour dark and it is quite sweet due to the long preparation time (starch is converted to sugar).  It is very difficult to make this bread at home, the ingredients are hard to get and the preparation is lengthy and requires special equipment. Since this is the rye bread I prefer, I buy it at a bakery. It is not only very nice with bacon, cheese or butter, but also with jam or honey.
The one from Noord-Brabant and Limburg (provinces in the south of the Netherlands) is made from rye flour, yeast or sourdough is used, the texture is quite firm, the colour light and it is slightly acidic. Since the process resembles normal bread baking and the ingredients are quite easy to find, you can make this bread at home. This bread resembles German and Scandinavian rye bread.
Print
Traditional Dutch Pea Soup
---
Author:

Ena Scheerstra

Total Time:

14 hours 30 minutes

Yield:

6

1

x
Description
Heartwarming, sturdy one-pot meal soup.
---
400 g

(

14 oz

) dried green peas

2

L water

2 tbsp

salt

250 g

(

9 oz

) smoked bacon (on one piece)

500 g

(

18 oz

) pork trotter or ribs

2

potatoes, cubed

1/2

celeriac, cubed

2

leeks, sliced in rings

4 tbsp

celery, chopped (or use green of celeriac)
pepper

1

Dutch smoked sausage
Rye bread
Mustard
---
Instructions
Rinse peas, remove bad ones and soak in 2L water with salt for 12 hours.
Bring the peas with the soaking water to the boil and simmer for about 2 hours until tender and cooked. Add the bacon and pork trotter after 1 hour.
After the 2 hours, take out the meat and pour of the cooking liquid. Use a masher to mash the peas, I prefer them fine but you can also leave some chunks.
Pour the cooking liquid back and put the meat back in. Also add in the potatoes, celeriac, leeks and celery.
Season with salt and pepper, and add some more water if the soup is too thick.
While stirring, bring soup back to a simmer and cook until vegetables are tender.
Meanwhile heat the smoked sausage (follow instructions on packaging) and slice.
Take out the bacon and slice. The sausage and bacon can be served on the side, or can be put back in the soup.
Take out the pork trotter, serve on the side, or slice off the meat and put back in the soup.
If preparing in advance: refrigerate everything and prepare smoked sausage when serving.
Serve in big bowls with slices of rye bread, that can be topped with the bacon or the sausage, and some mustard.
Notes
You can also make this soup with split peas (dried green peas with their husk removed), these don't need to be soaked.
Pea soup is best made in large quantities, so preferably double this recipe. Pea soup can be kept frozen for a few months.
Prep Time:

12 hours

Cook Time:

2 hours 30 mins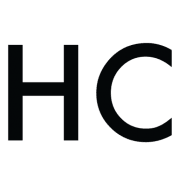 Ena Scheerstra
Ena Scheerstra has a lifelong love for food and cooking, starting to collect cookbooks at age 10. She spends most of her free time on cooking and everything food related. She is a strong believer of honest food, produced sustainable and sourced locally, and cultures her own vegetables on her balcony and in her small allotment. Her blog is very internationally orientated, reflecting the variety of food she cooks, but on Honest Cooking she is focusing on showing the world the wonders of Dutch food.