Brady Evans with her own twist on the classic Spanish mix of potatoes, eggs, and onions in delicious layers.
By Brady Evans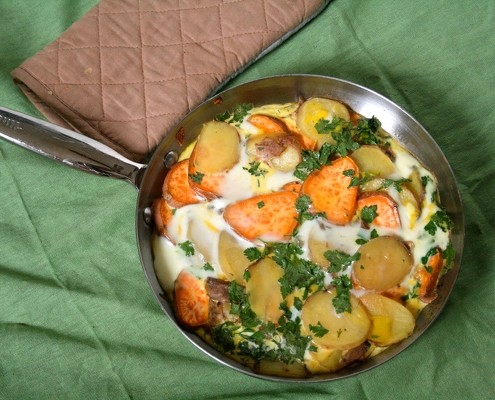 A Twitter friend came to the rescue on this one.  I was up extra early due to the time change (6:45am) and my comrade was up extra early to her infant child.  I was craving a breakfast and sent out an S.O.S. for a potato egg bake.  She led me to her blog.  And I found exactly what I was looking for there.
Eggs and potatoes are a delicious combination and while my husband was a little skeptical of the addition of sweet potatoes, he was pleasantly surprised.  I served this as an easy breakfast because it is delicious warm or room temperature.  It would also make a great side dish for dinner.

Potatoes, eggs, and onions in delicious layers
Ingredients
7 Red Bliss potatoes
2 small sweet potatoes
1 sweet yellow onion, thinly-sliced
¼-cup (100 mL) olive oil
6 eggs, beaten
2 -4 Tbs. parsley, chopped
kosher salt
½ lemon
Instructions
Preheat oven to 350 degrees.
Heat olive oil in a large skillet over medium heat.
Add onions and fry until tender and slightly browned.
Meanwhile bring a pot of water to boil and place cleaned potatoes in a steamer basket.
Steam potatoes 10 minutes then dunk in cold water to stop the cooking process.
Slice potatoes thinly.
Beat eggs with parsley, salt, and lemon.
Add potato slices to frying pan with onion, making sure potatoes lay flat.
Pour beaten eggs over top.
Cook 20-25 minutes or until eggs are set.
Let cool before slicing and serving.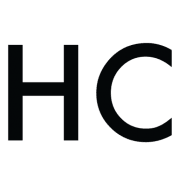 Brady Evans
Brady Evans is a cook who specializes in stretching cooking boundaries towards a more healthy lifestyle. She loves making recipes with unexpected ingredients and share her passion for cooking through her very successful and mostly-vegetarian blog, Branny Boils Over.