Tomato, Zucchini and Olive Focaccia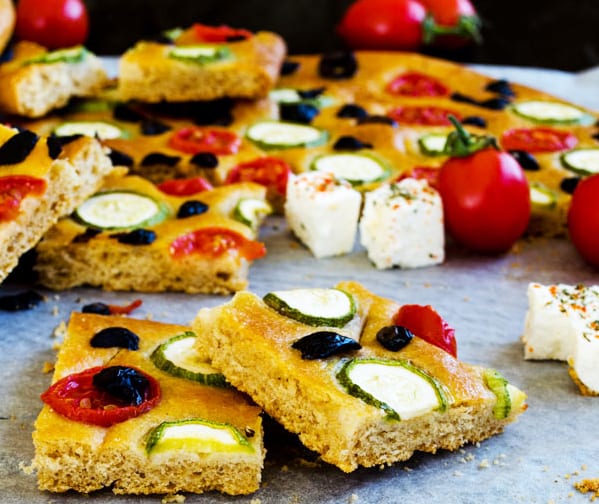 Zucchini is the star of this bread, but be sure to use a high quality olive oil when baking any focaccia.
By Zerrin Gunaydin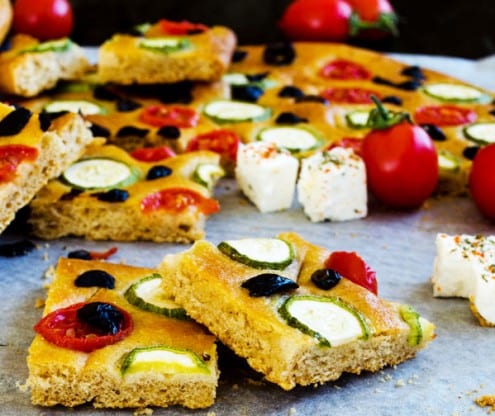 You can quickly prepare a picnic basket with this focaccia bread and some cheese on a Sunday and enjoy it with your loved ones outside. It perfectly accompanies soups and stews too. Since this bread has zucchini and tomatoes on the top, you don't have to prepare a side dish to serve with meat dishes. Zucchini and Tomato Focaccia Bread will be enough to meet your vegetable need.

Tomato, Zucchini and Olive Focaccia
Zucchini is the star of this bread, but be sure to use a high quality olive oil when baking any focaccia.
Ingredients
Dough:
3 and ¼ cups whole wheat flour
1 cup lukewarm water
1tbsp dry yeast
1 tbsp sugar
1 tsp salt
½ cup olive oil
1 egg
Topping:
2 yolks
4 tbsp olive oil
4 zucchinis, cut in rings
10 cherry tomatoes, cut in rings
½ cup black olives, sliced
Instructions
Sift flour in a large bowl.
Mix water, sugar and yeast. Pour it into the bowl.
Add in salt, olive oil and egg. Combine them very well.
You can add extra water or flour to have a non sticky soft dough.
Cover and wait it for 40 min to rise.
Preheat oven to 190C.
Line 2 oven trays with parchment paper.
Divide the dough into two and place each into trays.
Flatten them by pressing with your hands.
Make small lines on loaves with a knife or your fingers.
Cover them with a wet towel and wait for another 30 min.
Mix yolks with olive oil and brush loaves with it.
Place zucchini and tomato slices on loaves gently pressing on them.
Toss black olives on it.
Bake for 30 min.
Drizzle a little olive oil over it before serving.
Zerrin Gunaydin
Zerrin Gunaydin is a food blogger living in Turkey. She loves to share recipes mainly from Turkish cuisine on her blog Give Recipe. Zerrin is trying to inform people around the world about Turkish cuisine, which has a very large repertoire with its various kind of dishes.