This vegetarian Spanish-inspired stew is loaded with protein, fiber and antioxidants.
By Jill Nammar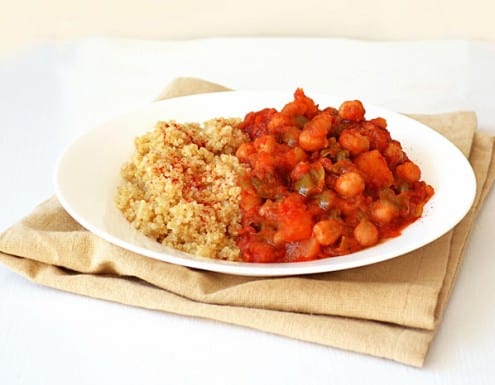 Tomato, Chickpea and Potato Stew with Toasted Quinoa
This vegetarian Spanish-inspired stew is loaded with protein, fiber and antioxidants.
Ingredients
For The Stew You'll Need:
1 large onion, chopped
2 bell peppers, chopped. I used a red and green one.
1 lemon, one lime, or one small orange. Zest some of the citrus fruit of your choice and reserve the zest.
1 small chili pepper, diced (optional, see notes)
3 baking potatoes, peeled and chopped
2 16 ounce cans of chickpeas, or bean of your choice, rinsed and drained. Black beans or white beans are good choices too.
2 26.46 ounce boxes of Pomi Chopped Tomatoes or two 28 cans of quality chopped tomatoes.
1 teaspoon of ground paprika
1 tablespoon of smoked Spanish paprika, plus more for sprinkling
1 tablespoon of dried oregano
A few saffron threads, crushed between your fingers (optional)
Drizzle of honey or pinches of sugar to balance the acid in the tomatoes
Olive oil for cooking and drizzling
Sea salt to taste
Serving Suggestions: red chili flakes, flaky sea salt or gray celtic sea salt, my toasted quinoa, rice, crusty bread
For The Toasted Quinoa You'll Need:
1 cup quinoa, rinsed
2 cups water
Olive oil for cooking
Sea salt to taste
Instructions
In a small pot, over medium heat, toast the rinsed quinoa in a little olive oil until it's fragrant and starts to make a crackling sound, about 3-5 minutes.
Carefully add two cups of water and salt to taste. Bring to a boil.
Cover and reduce the heat to low. Simmer for about 15 minutes or until the quinoa is done. Set aside.
Preheat the oven to 350. In an oven safe pot or Dutch oven, saute the bell peppers, onion and chili pepper with salt and olive oil until tender.
Once the vegetables have softened, add the potatoes, chickpeas, tomatoes, paprika, oregano and honey. Adjust the salt. Cover and bring to a boil.
Remove the pot from the stove top, place it in the 350 degree oven and cook for an additional 30-45 minutes or until the potatoes are soft. Mash some of the potatoes with the back of your spoon to thicken the sauce.
Squeeze a little of lemon, lime or orange juice over the top of the stew. Stir in the reserved zest. Drizzle some olive oil over the top, sprinkle with smoked paprika and any of the other serving suggestions.
Serve over toasted quinoa and enjoy!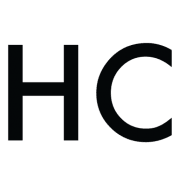 Jill Nammar
Jill has been cooking and serving meals for most of her life. As she was growing up, he parents owned a restaurant and an ice cream parlor where she became immersed in food. The kitchen is truly her comfort zone. Jill's recipes are influenced by France, the Mediterranean and Morocco, and often the bright flavors of Southeast Asian cuisine, too. She cooks to inspire others to whip up flavorful food in their own kitchens. Each recipe has a notes section with helpful tips, techniques and secret ingredients to follow. Taste and see how easy it is to create delicious meals.