An ode to Claes Bech-Poulsen, the man behind the sharp photo lens that has perpetuated food art and star chefs from all over the world.
By Rasmus Palsgård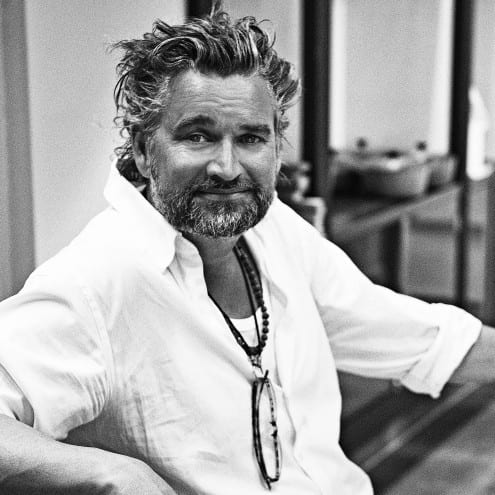 In a world ruled by trends, things come and go quickly and only the best survive. Photographer Claes Bech-Poulsen knows this rule only too well, having spent the past 25 years capturing the best chefs, well-known celebrities and most prominent business people in their elements. Bech-Poulsen, who turned 50 this year, is still driven by this fascination with those who seek 'the ultimate'; passionate people. People who, like him, have dedicated their lives to the pursuit of perfection.
"I spoke with my mother about it just recently when we were driving together. It must have been because my parents took me out to spend time in nature. It gave me an early ability to visualize sceneries."
Claes Bech-Poulsen sits on a bench in Fælledparken, Copenhagen, next to the 2-star Michelin Restaurant Geranium, where he's shooting photos for a signature cook book about to be released. He wanted some fresh air to clear his mind while trying to recall the reason for his entrance into the world of photography. The now 50-year old, youthful Dane has photographed almost all top chefs in the world, including Ferran Adrià, Thomas Keller, Alain Ducasse and Rasmus Kofoed. Furthermore, he's snapped portraits of the Danish Royal Family and the Schleck-brothers, just to name a few.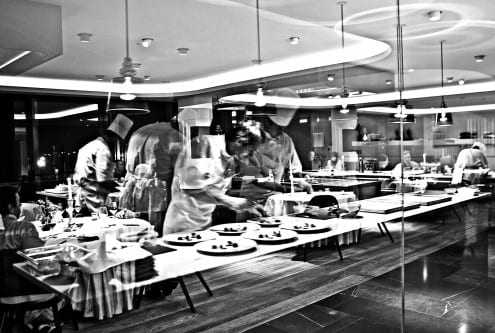 It's impossible to ignore the fashion sense of the esteemed photographer when in his presence. He sits with cool ease in a pair of stylish baggy shorts and a white shirt with the top three buttons undone to show a wooden pearl necklace, and with his messy, silver-grey mane he looks like a rock star having a break before his next performance.
"I'm very passionate about clothing and appearance, which is not that weird as I'm working in a world of aesthetics. It is a part of my personality. I use my eyes, and I am good at finding the distinct details. I like this casual luxurious look, and I don't own a tie. Maybe I'll have one when I grow up," he considers.
For a professional of his caliber, Claes Bech-Poulsen entered the world of photographing relatively late; it wasn't until his early twenties that he got a great opportunity to enter the profession. His sister was an intern at a Danish national newspaper and that gave him the opportunity to play with professional cameras and gadgets – culminating in the two siblings deciding to go on a photo trip to Venice during the big city carnival, Carnevale di Venezia.
"This event was so visually amazing that you almost couldn't believe your own eyes. We got up early in the morning, took photos of the street sweepers and later on the beautiful scenery of extraordinary dresses and classical music in the streets. That seriously excited me", he says.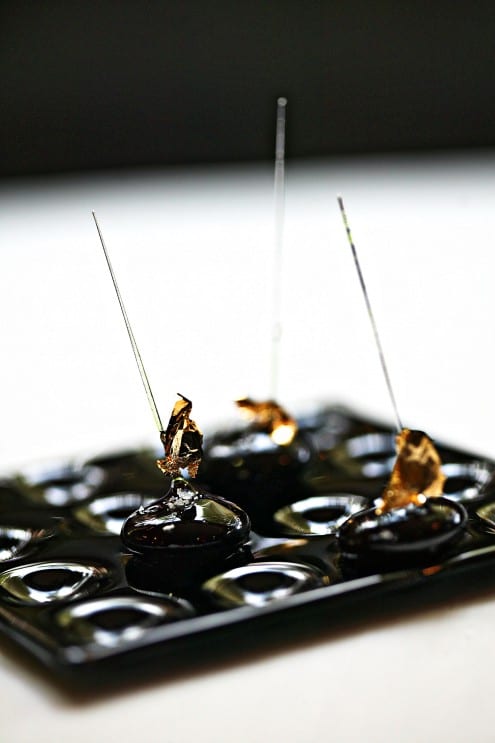 When returning to Denmark, the young self-taught photographer sold his photos from the carnival to a restaurant in Odense, the third largest city in Denmark. Though this was an indirect way into the culinary world, it was meant to be that he would end up there, as Claes Bech-Poulsen is a true foodie, a passion that began in his childhood.
"My mother was a stay at home mom until my siblings and I were teenagers. Then she started working and I was left in charge of the cooking. I was hungry all the time, so I wanted dinner to be ready in time and had to make it myself. It was probably not art but I think it was pretty decent food."
At the age of only 18 he met his wife, who also had a huge passion for cooking. Spending time with his friends and family has always been centered around cooking and the enjoyment of great food.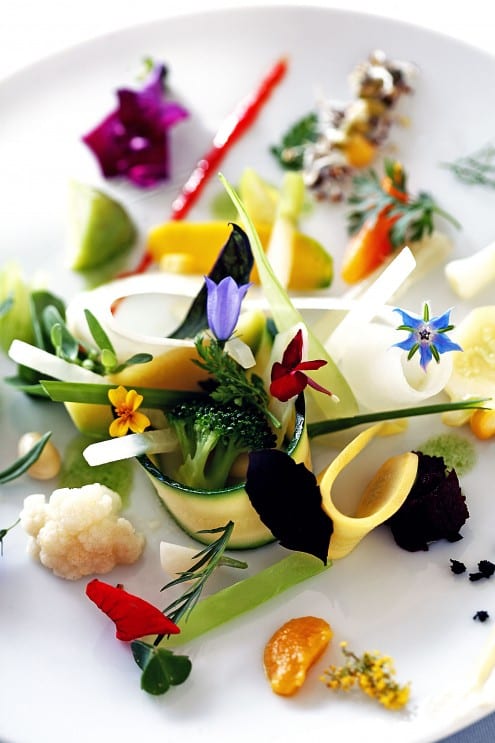 This culinary love and photography was united in 2000, when he met German Ludwig Brechmann, the owner of the gourmet inn Munkebo Kro in Denmark. Ludwig Brechmann could see the rising standard of Danish cuisine but felt there was a lack of quality literature on the subject. After discussing this, Claes Bech-Poulsen became the photographer of a new book on the best restaurants in Denmark.
"Ludwig arranged it very quickly that Bent Christensen (the author) and I took a tour through Denmark in Ludwig's '66 Rolls Royce Silver Class as a part of the whole scenery. So during a period of two years I got to know all the best chefs and restaurateurs in Denmark."
Since then, Claes Bech-Poulsen has been a part of no less than 25 book projects on gastronomy. Not only as the photographer, but as well as the man behind the ideas of the books from beginning to end.
Shortly after the release of "The Best Danish Restaurants", Claes Bech-Poulsen and Bent Christensen came up with an idea for a new star project entitled "One day at…", and due to a flamboyant mixture of both ambitions and self-confidence they strove only for the best, – succeeding and suddenly entering elBulli, the former number one in the world for four years in a row just before Noma took over the title. "To meet Ferran Adrià and to see the whole scenery of the restaurant was a mind-blowing experience. I was shooting from early morning till late night. Two worlds was going on there with a warm, comfortable laissez-faire atmosphere in the dining room, and a completely organized, laboratory-like machinery of dozens of chefs working with huge perfection. It was a perfectly orchestrated theatre as much as a restaurant."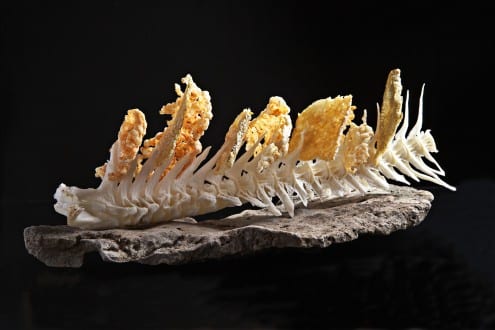 After "One day at elBulli" similar books portraying Mugaritz, Per Se and The French Laundry were created. And if this wasn't enough, quite extraordinary literary work was made in between as Claes Bech-Poulsen and Bent Christensen decided to create a book including all three-starred Michelin restaurants in Europe.
"It was a culinary odyssey and very extreme tour through Europe. Imagine how much you would usually look forward to and prepare yourself for a visit at just one three-starred restaurant; we visited up to one restaurant per day, five days in a row. At a point I had to put my foot down when one of the co-travelers suggested too visit two restaurants per a day. It was too much for my senses and simply disrespectful to the restaurants. Additionally it was pretty hard work, even though nobody wants to hear you cry when you're dining at a three star restaurant. And I didn't. I loved every moment."
Respect for his surroundings and clients is something Claes Bech-Poulsen seriously cares about, and it's no secret that he's become friends with most of the people he has photographed throughout the years. One would think it could challenge the professional approach, but Claes Bech-Poulsen sees no difficulties.
"This mix of professional relationships and friendships works simply because I have no trouble respecting the people I work with."
And this is important in illustrating his work-philosophy. It's all about getting close to the clients in order to make the perfect photo. He explains the importance of being able to sense the person he's photographing to make him or her feel comfortable in the situation. When they do it's much easier for them to relax, and that's where true, great photo is snapped.
On that note Claes Bech-Poulsen sees himself as a talented judge of character but sometimes even he is challenged. "When I was in Monaco to portray Alain Ducasse at his three-starred Le Louis XV it was like having an audience with a king. We had only few minutes to shoot and we had to follow some clear guidelines. Though he was friendly and polite during the whole session, you don't feel that you get that close to him. It was a funky experience but we ended up with some nice photos, and back then I really appreciated my suitcase of experience."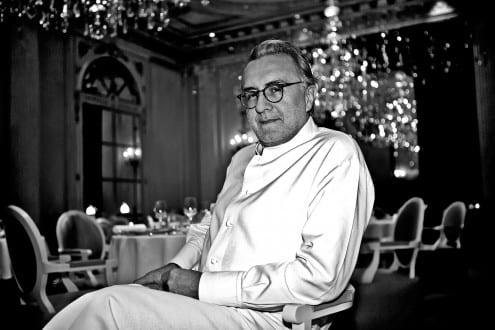 Another example (without mentioning any names) is from France as well. If the book about the three-starred restaurants in Europe should have some weight, all restaurants had to be represented. And at this French restaurant the photo shoot was going according to plan, but then something happened. "Suddenly the restaurateur didn't want his restaurant to be portrayed in the book. From one moment to another he meant that nobody except his star chef, Ferran Adrià and Pierre Gagnaire were able to cook properly, and therefore he didn't want his restaurant to a part of the book. Or, we could do a book just about him."
"What to do? He went away with his head chef at his heels, though shortly hereafter returning as a little schoolboy and we went on taking the photos, almost hand in hand. I don't know what his head chef did to him, but the quick turnaround was quite amazing. I have met a few manic types during my career," Claes Bech-Poulsen concludes.
With his great experience, harmony between Claes Bech-Poulsen's passion for gastronomy and his collaborations with top chefs is quite obvious, but as both human and photographer he's also driven by the fascination of people in general, for whom perfection is simply the benchmark.
"It doesn't matter to me if I'm photographing an athlete, a chef or an actor, as long as their eyes are burning with passion and the quest of achieving the best are in hand. It's easy to see who has it and who doesn't. To work with such dedicated personalities makes my job a true pleasure."
And whether Claes Bech-Poulsen is doing a job for a top restaurant or a high-end brand, he's very aware of his function as a photographer. It's not about coming up with some fancy new story about a world famous restaurant through exaggerated photos to please himself as an artist.
"When you're working at this level everything down to the smallest detail has been considered. Even down to the color of the toilet paper. The story is already there and my noble job is to be the extension of their work by bringing their story further out through my photos," he says.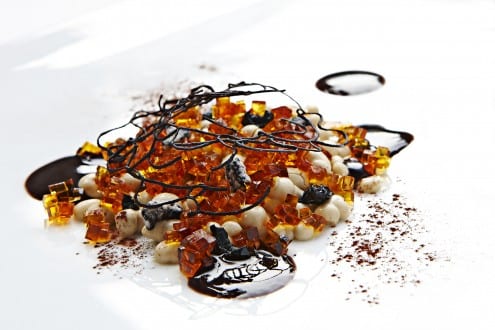 Storytelling is the essence of Claes Bech-Poulsen's work; his mantra. To tell the story through portraits in the right surroundings that brings out the right mood and impression of the person.
When he shoots photographs for a book like "One day at…" or a photo series, he does it the "rock 'n' roll way" as he terms it. The term covers his way of working; he wants to be there without being noticed by the people around him. "I like to be the fly on the wall. I don't use a lot of different gear, which means that I can crawl around the floor shooting from a lot of different odd angles, for instance in the kitchen. I prefer not to instruct the people I´m shooting, because if I do, they tend to get locked and confused."
Rock'n'roll therefore means a simple ad hoc approach, where there's room for a situation to develop. He doesn't use tripods or several lamps during his sessions because he wants a natural look. Neither does he do a lot of research on earlier works on a given restaurant due to not being influenced by something that's already made. This relaxed approach is often only successful due to his wealth of experience.
"Thomas Keller (no introduction needed) has a tenet that he lives by: "If you know your craft to perfection, you have time to make art." I like to think the same way about photographing."
Three points of advice for aspiring photographers:
How do you capture a person's true personality when photographing them?
– It's all about getting the person to relax and be comfortable. They have to be in a state of mind where they're themselves. If you seem relaxed your portrait person will probably feel the same way. Trust is a keyword.
How do you visualize a good photo?
– You have to find a story to tell and bring it into your photos. Be prepared and aware of what you want, but keep space for improvisation.
Are there any no-go's in photography?
– Being rude and selfish. You are better off treating people how you want to be treated. It's simple; behave yourself.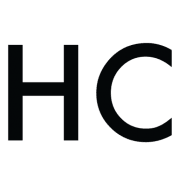 Rasmus Palsgard
Rasmus Palsgård is Danish journalist by profession living in Copenhagen. He is one of the leading food and wine writers in Denmark contributing to the leading media in Denmark. Rasmus Palsgård is the Danish chairman of the sustainable restaurant list 360 Eat Guide. He also a passionate home cook and in 2016, he was one single mistake away from winning the Danish edition of MasterChef.