The kids call these pizza bread and pizza crackers and love them warm straight out of the oven.
By Sawsan Abu Farha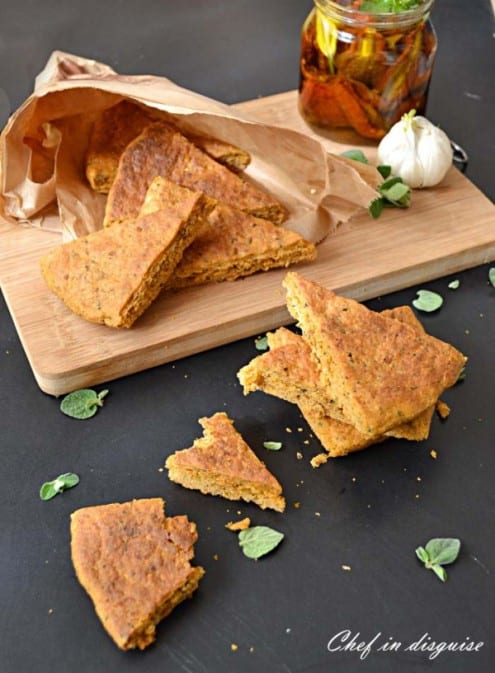 Tomato and Basil Flatbread
The kids call these pizza bread and pizza crackers and love them warm straight out of the oven.
Author:
Sawsan Abu Farha, adapted from Savoring Every Bite
Ingredients
1 teaspoon yeast
¾ cup warm water
1 teaspoon sugar
3 tablespoons olive oil
½ cup sun-dried tomatoes, chopped *
3 cloves garlic, minced
1 teaspoon dried basil
1 teaspoon dried oregano
1 tablespoon tomato paste
2 ¼ cup white wheat flour
1 teaspoon salt
Garlic oil or plain olive oil for brushing and sea salt for sprinkling on top
Instructions
Combine the yeast, sugar and warm water in a large bowl or stand up mixer with dough hook attached. Allow to sit for about 10 minutes. (if the yeast does not foam and bubble then it has gone bad and you need to discard it and start over with new yeast)
* If the sun-dried tomatoes were not previously marinated, soak them in hot water for about 5 minutes to soften.
Add in the drained sun-dried tomatoes, garlic, oregano and basil stirring to combine.
Mix in the flour and salt and knead by hand or dough hook until smooth, about 10 minutes by hand, 5 minutes by mixer.
Place the dough in a well-greased bowl and allow to sit for one hour, slightly covered with plastic wrap or a towel away from any drafts.
Preheat oven to 400 degrees. When dough has risen, divide in half and flatten to about ¼ inch thick either in a round shape or rectangle.
Brush the top with olive oil and sprinkle on the salt.
If you plan on making crackers cut the rolled with the pizza cutter of knife into little squares.
Bake for about 15-20 minutes until brown and crisp.
Notes
If you like your crackers to be extra crisp, warm the oven to 220C then turn it off and place the crackers in it on a baking sheet and then leave them in the closed oven until it cools down completely. The sesame crackers can be stored in an air tight container for weeks, they also freeze well.
Sawsan Abu Farha
Passionate food explorer Sawsan Abu Farha lives in Jordan and enjoys mixing east and west in her kitchen aiming to get the best of both worlds.Juggling work, motherhood, blogging and a passion for food and food photography, she shares her journey in her blog "Chef in disguise".