This recipe is a version of the original Natillas, complemented with caramelized pineapples on top that give an extra point of sweetness and texture.
By Cinta Farnos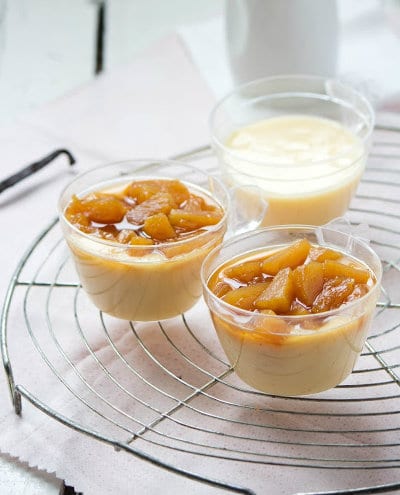 Made with egg yolks, milk, sugar vanilla and cinnamon, Natillas are one of the most typical Spanish desserts. Despite of being very similar to other desserts from South America, Natillas are also close to what is known as custard, crème anglaise, crème pâtissière or crema catalana, and the only difference among them is their thickness and complementary flavors or ingredients added.
Natillas with Caramelized Pineapple
Delicious and creamy typical Spanish dessert.
Ingredients
Natillas
2 cups of milk
⅓ cups granulated sugar.
3 egg yolks
1 tablespoon cornflour
Caramelized pineapple
Pineeapple slices
1 lemon juice
¼ cup granulated sugar
Instructions
Natillas
Beat the yolks, sugar and milk and put it in a saucepan. Add the vainilla and slowly heat it while constantly stirring whith a woodspoon. Add the cornflour and let it thick, but not to much. Set aside and put in small bowls.
Caramelized pineapple
Put the water and sugar in a saucepan and let it heat until turnes golden brown colour. Add the pinneapple slices and stir until combined. Spread over natillas carefully.