This mostly savory Tomatillo Tipple cocktail reminds us of a green Bloody Mary with spice, but is refreshing and perfect for a backyard gathering.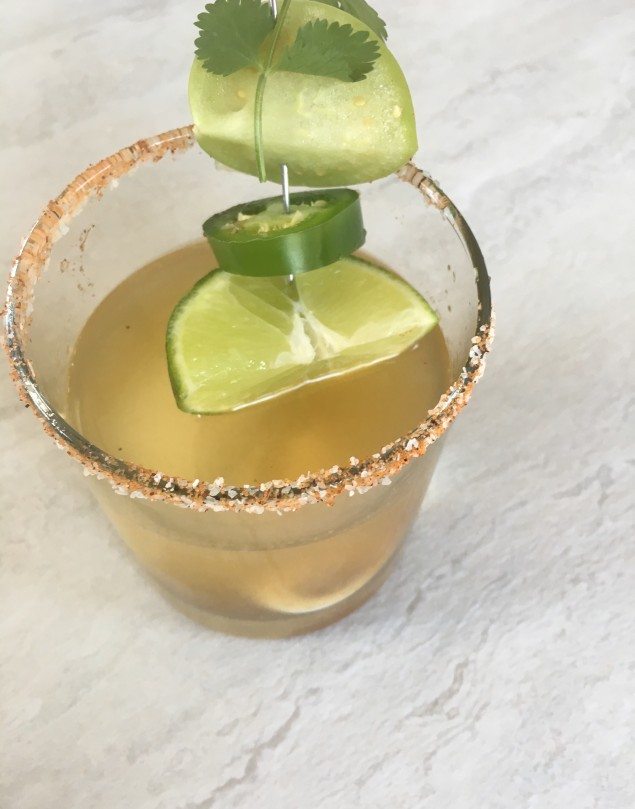 This is a fun cocktail to make while you're in the backyard grilling. While you can char the tomatillos under your broiler, throw them on the grill as it's heating up and muddle together this drink to sip on while your barbecue dinner. It's a little sweet, salty and spicy on the rim, and totally earthy and savory in the glass. Overall, it's refreshing and just what we want to drink on a warm evening.
We used a special, award-winning vodka in this cocktail called Purus and we suggest you do too. For starters, it's organic, made from a fine organic Italian grain in Northern Italy. It's smooth and velvety, with aromas of nuts and warm bread. It brings subtle finishing flavors of stone fruit and refreshing minerals to the cocktail that really makes a difference. So don't use just any old vodka!
Tomatillo Tipple
Recipe Type:
Cocktail, Drink
Ingredients
2-3 Tomatillos, husks removed, halved, charred
4 Jalapeño slices, more or less to your taste
a handful of cilantro leaves
juice of 1 lime
2 Tablespoons cucumber juice
4 Tablespoons Purus Vodka
Chili lime salt (mix together 2 parts chili powder and 1 part salt)
2 Tablespoons agave syrup, more or less to your taste
Instructions
Muddle together the tomatillos, jalapeño slices, cilantro, lime, cucumber and vodka.
Run a lime wedge along the rim of the glass and dip into the chili lime salt to coat.
Strain muddled mixture into the glass with an ice cube.
Top with agave. Taste and adjust.
Serve with a skewer of tomatillo lime, jalapeño and cilantro if desired or a simple lime wedge.