If you're craving something spicy, make a bowl of these vegetarian tofu Sichuan noodles with plenty of mushrooms and chili oil.
I love spicy. Crave spicy. Every few weeks I whip up a batch of chile oil and drizzle it on just about everything and anything.
Sometimes, I simply heat up some oil and then pour the hot, sizzling, bubbly oil over a bowl of chile flakes. The hot oil gives the chile flakes a pleasing toasty flavor and, after a while, turns the oil a vibrant shade of red. Capsaicin, of course, a potent antioxidant found in chiles is responsible for its heat, red color, as well as many of chile's health promoting properties.
Other times, my preparation of chile oil is a bit more elaborate, perhaps a few spices (a cinnamon stick, star anise, Sichuan peppercorns), cloves of garlic and ginger infused in the oil before it's poured over the chile flakes. Regardless, it's easy to prepare and highly addictive.
Given my love for heat, it's not surprising that I have an assortment of chile flakes and powders on hand — milder Turkish Kirmizi chile pepper flakes; smoky, earthy Urfa Biber chile flakes; medium spicy roasted Burmese chile pepper flakes; fruity, minimally spicy Calabrian chile flakes; Korean chile flakes (Gochugaru, what you would use to make kimchi), to name a few. Typically we just think of chile flakes as, well, chile flakes, without considering that many types of chile peppers can be dried and made into flakes. I like a mild-to-moderate spicy chile for the oil. Something that imparts a bit of heat, but won't scorch your tastebuds.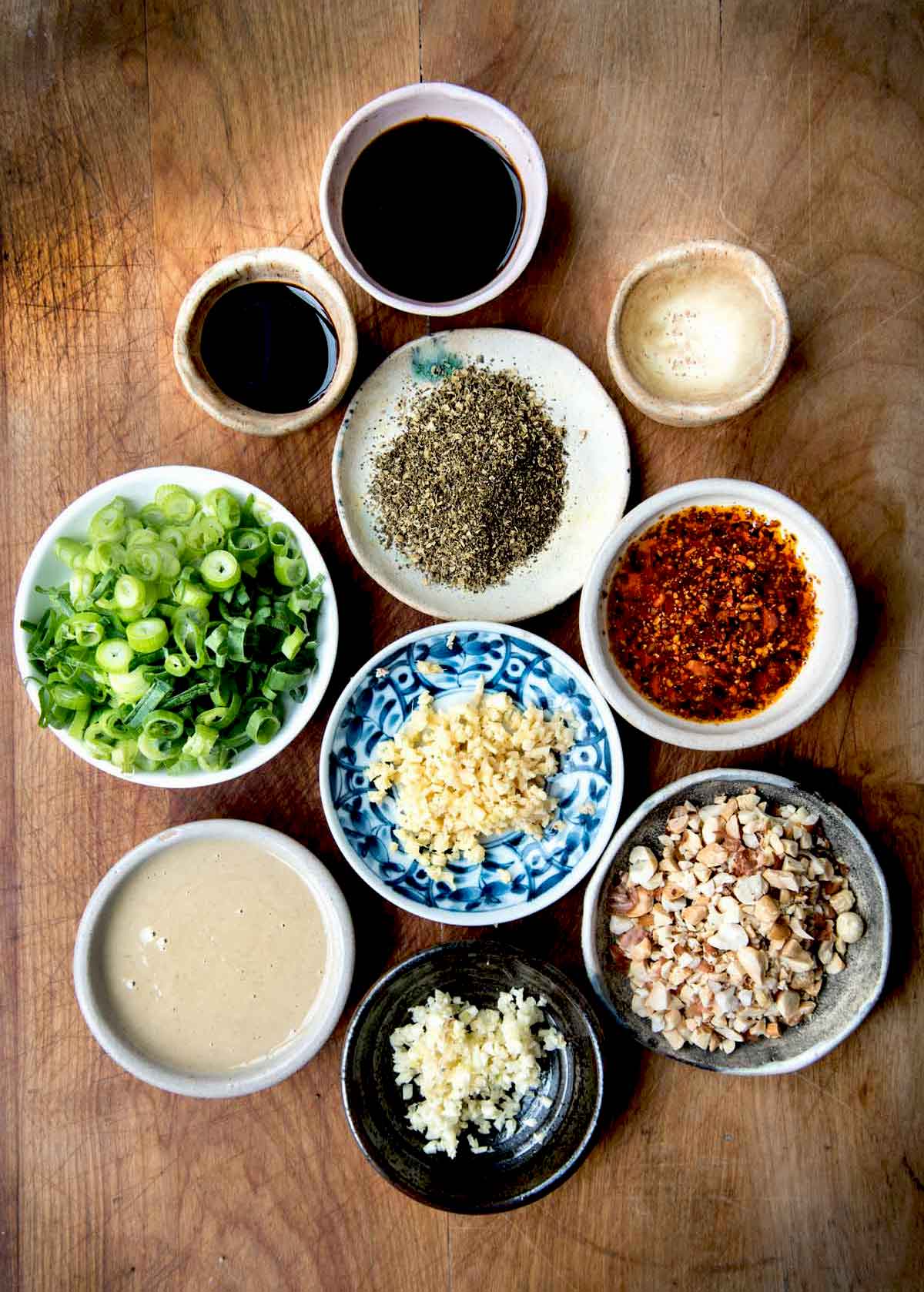 When it comes to Sichuan peppercorn, there are several types. There's Chinese red and green Sichuan peppercorns. Also, Sansho Japanese prickly ash, which has a more pronounced citrus flavor than Chinese Sichuan peppercorns. All produce a mild cooling sensation that gives way to an effervescent, electric, tingling/numbing sensation due to the presence of a molecule known as hydroxy-alpha sanshoo. I purchased the Sichuan peppercorns from Kalusyan's, NYC. Personally I like the green Sichuan peppercorns, which have a nice citrusy flavor, with a bit more of that mouth numbing zing. On a side note, ground Sichuan peppercorn mixed with salt makes for a nice all-purpose seasoning and alternative to black peppercorns.
As for today's dish, the noodles are a vegetarian take on a Sichuan classic, dan dan noodles. But instead of the traditional pork topping, I was in the mood for a vegetarian version — a combination of maitake and tofu, seared in a skillet (or wok) with ginger, garlic, soy and rice wine.
Regarding the the sauce for these noodles, I combined some chile oil with toasted and ground Sichuan green peppercorns, tamari, tahini/sesame seed paste (this brand) and Chinese black vinegar. Black vinegar is one of those unique ingredients that really doesn't have a substitute. It's a bit malty, caramel-y, and maple syrup-y with just a hint of acidity. You can find it on amazon or at most Asian grocery stores. Like anything else, they vary in quality. Look for black vinegar free from additives, preservatives or colorings.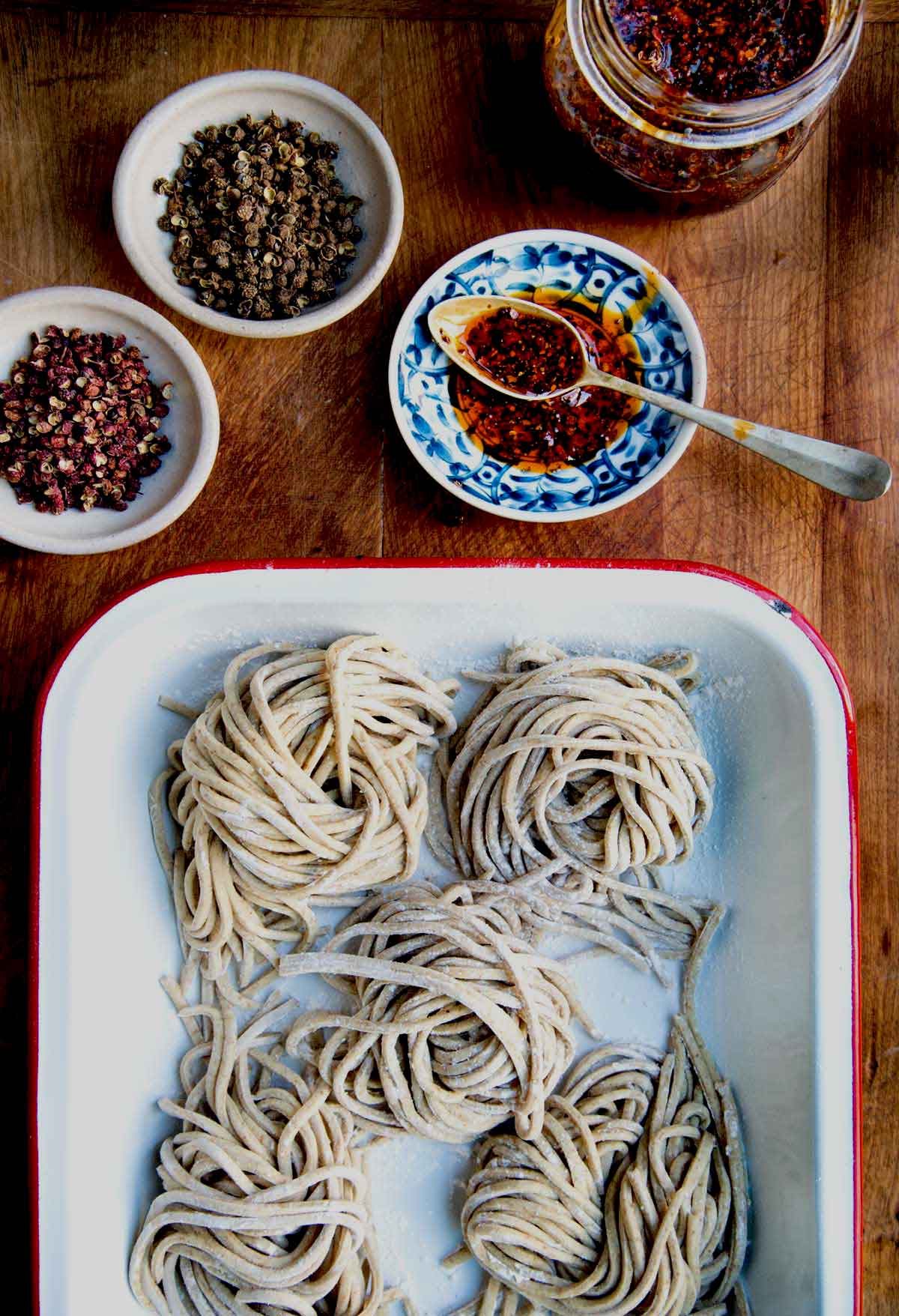 Took a trip to Philadelphia's Chinatown neighborhood but couldn't find fresh noodles, so I decided to whip up a batch of rye ramen-style noodles. I used this recipe from Food & Wine and cut the noodles on an Italian chitarra like this.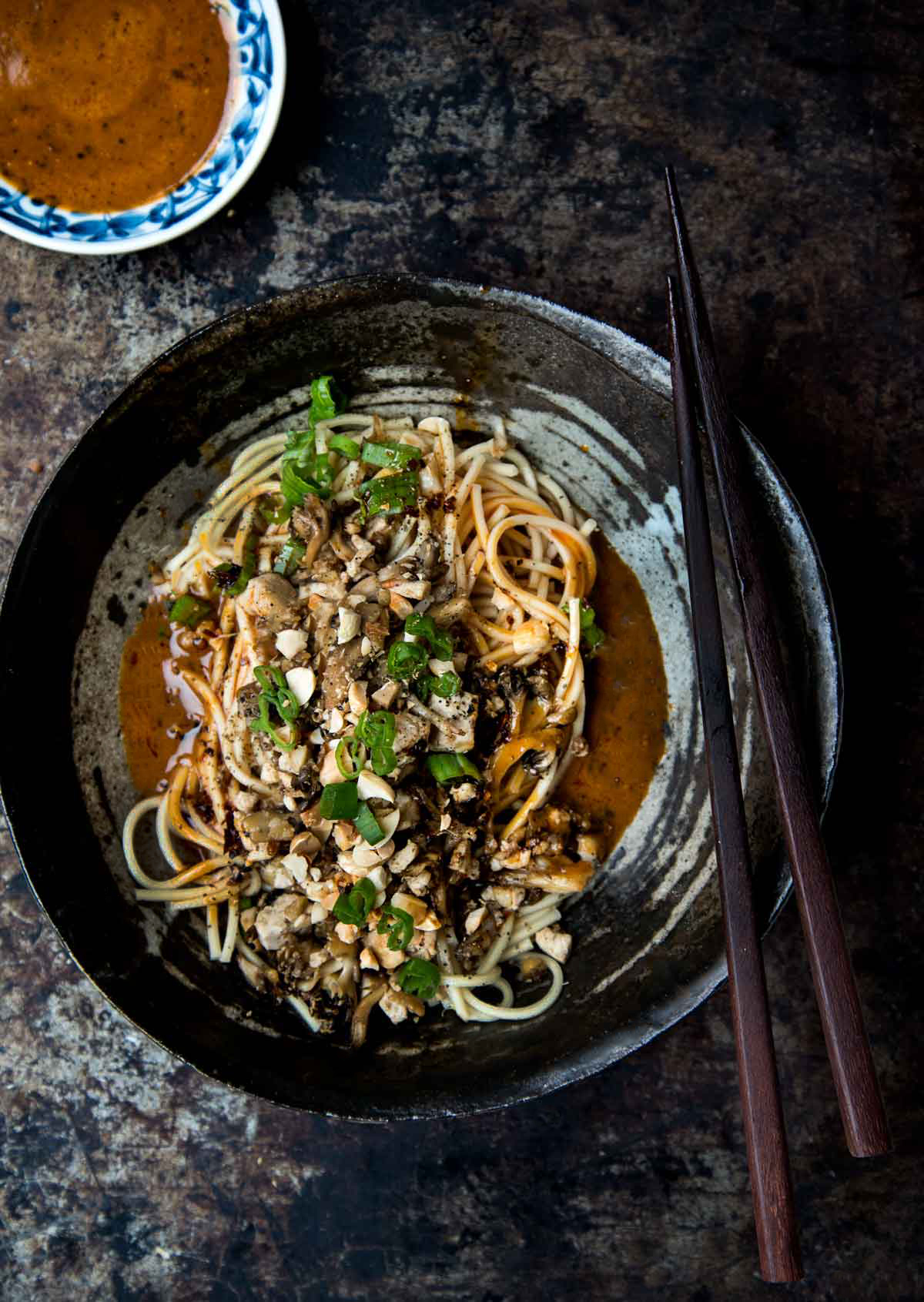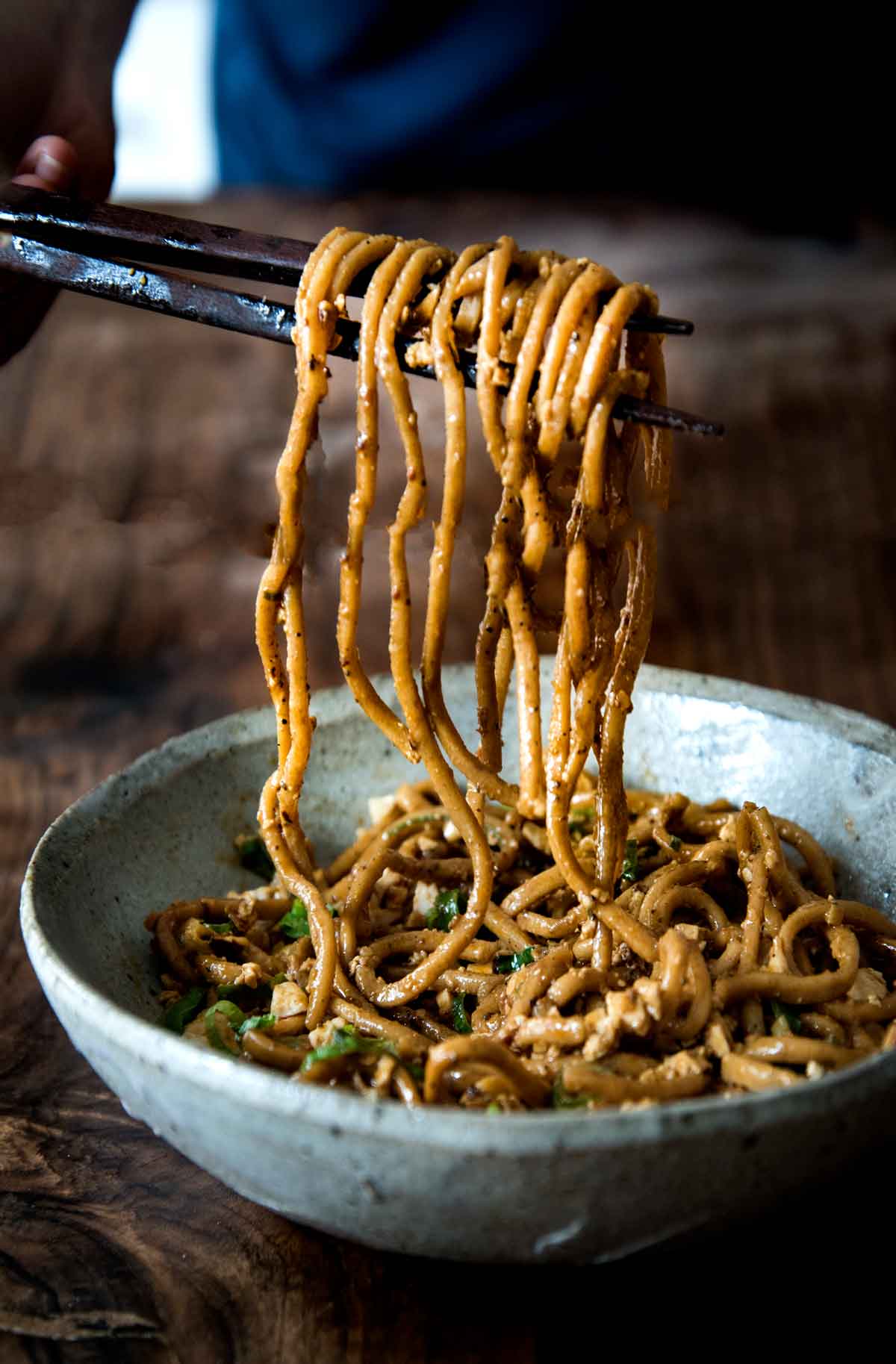 Click HERE for the Sichuan Chile Oil recipe.
Print

Tofu Sichuan Noodles
---
Author:

Linda Schneider

Yield:

0

about

2

servings

1

x
Sichuan Chile Oil
Click the link above for the recipe.
For the noodles
8

–

10

ounces dried or fresh ramen noodles (such as Sun Noodles)
For the Tofu-Mushroom
1 tablespoon

oil

4 ounces

firm tofu (finely chopped)

4 ounces

mushrooms (I used maitke, any variety, chopped)

2

to

3

garlic cloves (minced)

1

inch of ginger minced

1 teaspoon

Shaoxing rice wine (Saki or dry Sherry)

2 teaspoons

soy sauce or tamari
Salt to taste
For the Sauce
1 teaspoon

Sichuan peppercorns

4 tablespoons

soy sauce or tamari

2 teaspoons

Chinese black vinegar

2

to

4

tablespoons Sichuan chile oil plus some flakes (depending on desired heat level (recipe below))

2 tablespoons

tahini
Splash of pasta cooking water
Toppings
Thinly sliced scallions
Roasted (chopped peanuts)
Ground Sichuan peppercorns
---
Instructions
Sichuan Chile Oil
Click the link above for the recipe.
Cook the noodles
Bring a pot of salted water to a bowl. Drop in the pasta and cook until just al dente. Drop into a bowl of ice water to stop the cooking. Drain.
For the Tofu-Mushroom
Heat a wok or large skillet over medium-high heat. Add the tofu and mushrooms and sauté until nicely browned. Add the garlic and ginger, and a little more oil if needed, and sauté another minute. Add the rice wine and soy and stir to combine. Salt to taste.
For the Sauce
Combine the Sichuan peppercorns, soy sauce, black vinegar, Sichuan chile oil and tahini in a bowl. Whisk to combine. Add a tablespoon or two of pasta cooking water, just to loosen up the sauce a bit.
To Assemble
Spoon a few tablespoons of sauce in the bottom of each bowl. Layer half of the noodles on top. Spoon the tofu-mushroom mixture on top. Add thinly sliced scallions, chopped roasted peanuts and a pinch of Sichuan peppercorns. Add a little more sauce on top. Enjoy!
Linda Schneider
Linda Schneider is the blogger behind Wild Greens and Sardines, an homage to her love for all things food and [Mediterranean] travel. What she enjoys most is seasonal, farm-to-table recipes that highlight local ingredients, farmers, and food artisans. She loves going to local farmers' markets, seeing what's in season, and sharing recipes with others.