Toasted Pappardelle with Chanterelles and Hazelnuts is a unique way of making homemade pasta. Toasting the flour deepens the flavor and adds richness.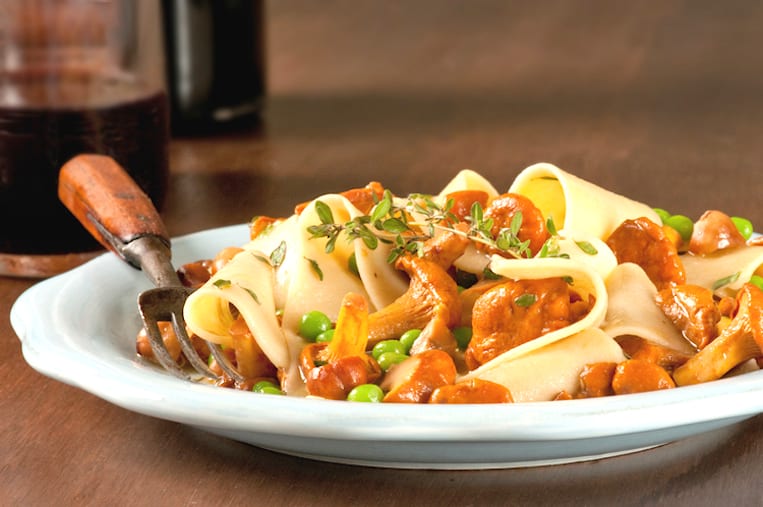 It's been a good summer for Chanterelle mushrooms here in Nova Scotia, nice and damp. I'm lucky, there's an avid forager in the family, so we've been enjoying a bountiful supply of these golden beauties lately.
I'd never heard of toasted flour pasta before, but it sounded good, so I thought I'd give it a try. Some recipes for pasta di gran arso (toasted pasta) suggest cooking the flour until it becomes quite dark, almost like cocoa, while others suggest a much lighter hue. I chose to toast my flour very lightly, and the resulting pasta had a nice nutty flavour, and light honey colour. Not a trace of a burnt or charred taste that I feared might result from a darker roasting.
In my humble opinion these flavourful noodles in a light Marsala wine sauce with toasted hazelnuts and wild Chanterelles are worth every bit of effort it takes to make the homemade pasta, but if you're in a rush, you can always substitute dried pasta. The results will still be excellent.
Print

---
Author:

Beth Dunham

Yield:

6

servings

1

x
For the Pappardelle
2 cups

all purpose flour

1/2 teaspoon

salt

4

large eggs

2

–

4

tablespoons water
For the Sauce
1/3 cup

hazelnuts

1/4 cup

butter

500 grams

1 pound fresh Chanterelle mushrooms

1

clove garlic (finely minced)

1 tablespoon

fresh thyme leaves

1/4 cup

dry Marsala

1 cup

chicken stock or white wine

1

recipe toasted pappardelle or 300-400 grams (

10

–

14

ounces dried pasta)

1/4 cup

fresh or frozen peas
---
Instructions
For the Pappardelle
Preheat the oven to 375F.
Line a cookie sheet with parchment paper, and spread 1 cup of the flour evenly over the parchment.
Toast the flour for 20-30 minutes until it's a light brown honey colour.
To ensure even browning, use a spoon to redistribute the flour from the edges toward the center a couple of times. Let the flour cool before proceeding.
Combine toasted flour and remaining cup of all purpose flour in the bowl of your food processor, and pulse to combine.
Add the eggs, and continue to pulse in short bursts until the mixture resembles a coarse meal.
Add 2 tablespoons of water to the dough, and pulse again until the mixture starts to come together in a ball. If needed, add more water 2 tablespoons at a time, until mixture forms a loose ball.
Turn out onto a lightly floured surface, and gently knead the dough until smooth, only a minute or so.
Wrap tightly in cling wrap, and let the dough rest at room temperature for a couple of hours.
Divide the dough into four pieces.
Using a pasta machine set at its widest opening, roll each piece of the dough through 3 or 4 times, folding it over on to itself a couple of times, until it becomes smooth and silky. Continue passing the dough though the rollers, gradually narrowing the setting until your pasta is very thin, but not quite opaque.
You will likely have to cut the sheets of pasta into shorter, more manageable lengths as you go. I like to end up with sheets that are about 12-18 inches long to slice into pappardelle.
Once your pasta has all been rolled out into thin sheets, use a sharp knife or pizza cutter to slice into roughly 1 inch stripes down the length of each sheet. You can use a straight edge as a guide, or cut freehand, whichever you prefer.
Lightly toss the cut noodles in flour and pile into loose nests to dry for 20 minutes or so before proceeding. At this point, the noodles can be refrigerated or frozen for later.
For the Sauce
Preheat the oven to 350F.
Toast the hazelnuts in a single layer on a cookie sheet for 10-12 minutes, until they become fragrant and the skins start to split.
Once they are cool enough to handle, rub the hazelnuts between your palms to remove the dark skin. Most of it should just fall off without a lot of effort, don't worry about getting all of the skin off, it's no big deal.
In a large frying pan, over medium heat, cook the butter until it begins to brown slightly, about 2-3minutes. Add the Chanterelles and increase the heat to high.
Sautée the mushrooms, stirring occasionally, for about 6 or 8 minutes until all of the liquid has evaporated and the mushrooms are golden brown.
Add the garlic and thyme, and continue to cook, stirring constantly for another minute or so. Don't let the garlic burn, or it will taste bitter.
Add the Marsala, and cook for another minute or two, stirring to scrape up all of the little brown bits in the bottom of the pan.
Add the stock and continue to cook over high heat until the liquid has reduced by half. Taste the sauce to check for seasoning, add a pinch of salt and pepper, if needed.
Meanwhile, in a large pot of salted boiling water, cook the pappardelle until al dente.
Drain the pasta into a colander over the sink, and add the noodles to mushroom mixture. Stir to combine.
Add the peas, reduce the heat to medium and cook for another minute or two.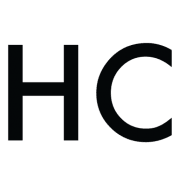 Beth Dunham
Beth is professional food stylist and photographer based in beautiful Halifax, Nova Scotia. Obsessed with all things Italian, Beth illustrates her travel and culinary adventures on her blog with mouthwatering images and delicious recipes.