When the weather starts to cool down and you need a delicious snack try these delicious bacon arancini with tonnato sauce.
By Tania Cusack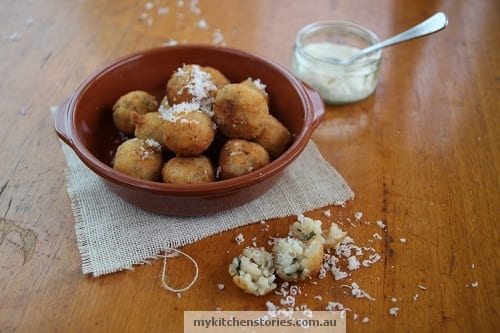 Summer is drawing to a close but it's not time to pack up the entertaining kit just yet. As it gets a bit cooler a warm canape/snack with drinks might be just the ticket.  Thats where these tiny risotto balls will work a treat. Dont skip the tonato sauce, it is the perfect sauce – really give it a try.  You can make these a day or two ahead and store them uncooked in the fridge. Fry them when you want to eat them or an hour or so ahead so that they are room temperature or warm.
Tiny Bacon Arancini with Tonnato Sauce
When the weather starts to cool down and you need a delicious snack try these delicious Baby Rice Balls.
Ingredients
1 cup of risotto rice ( carnaroli or aborio)
2 Tablespoons of olive oil
1 rasher of derinded diced bacon ( opt. add peas or mushrooms)
1 small onion diced
1 clove garlic ( otp)
750 ml ( 24.5 ozs )chicken stock ( warm)
100gm grated parmesan ( 1.75 oz approx)
30-50gm butter (1-2 oz)
Salt and pepper
½ cup chopped parsley
3 cups bread ( or Rice ) crumbs
1 cup ( approx ) flour or gluten free flour
1 egg beaten with 1cup of milk
1 x can 100gm ( 1.76 oz) Tuna in oil ( drained)
100 ml olive oil (1.76 oz)
200ml approx of vegetable /ricebran or grapseed oil (3.5oz)
¼ piece of preserved lemon ( or zest of half a lemon )
1 Tablespoon white wine vinegar
1 teaspoon of dijon mustard
1 large (70gm)egg or 1 small plus 1 yolk
Instructions
Sweat the onion , bacon, garlic and rice on low in a medium pot until soft without browning.
Gradually add the hot stock , stirring and letting the stock absorb after each addition. All rice is a little different. You may need all of the stock or less. The rice should be cooked through and be quite a firm mixture. Add more or less stock according to the way your mixture looks.
Add the salt and pepper, parmesan and butter and mix well. These ingredients bind the Arancini. Spread onto a tray and cool. Preferably in the fridge.
When cold roll into walnut sized balls and dip in flour ,egg then crumb. Put back into the fridge till needed. Fry in oil till golden
Put the drained Tuna, egg , preserved lemon or zest , dijon and vinegar into the food processor and mix
Very gradually add the olive oil then the vegetable oil till the mayonnaise is thick. For a thinner sauce add a little less oil or just add a couple of drops of water at the end. Test for seasoning
Tania Cusack
After completing Culinary School in Sydney, Tania travelled the world working as a Chef in restaurants, doing catering and cooking on road for a travel company in Europe and the US. Once back at home, the birth of her son meant a change, and during his small years, she enjoyed jobs in wholesale food, buying Artisan food products, testing and recipe writing as sales and educational tools. Tania is now back to what she loves, working as an in house Chef for a large retailer, conducting Cooking Classes and writing recipes for her blog.