This dish beckons a simple play of flavor and texture, and there is a lot of scope to personalize it. So choose the flavors that are close to your heart and make this for your loved ones.
By Sukanya Ghosh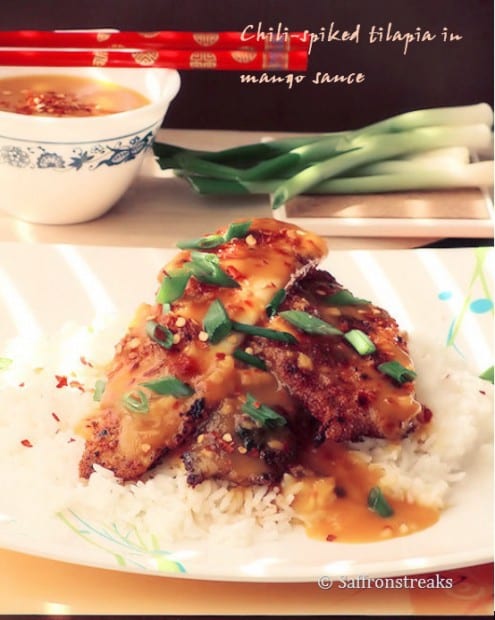 Tilapia Fish in Zesty Mango Sauce
This dish beckons a simple play of flavor and texture, and there is a lot of scope to personalize it. So choose the flavors that are close to your heart and make this for your loved ones.
Ingredients
For Mango sauce:
1 cup – Mango puree (sweetened)
3-4 tbsp – Sambal olek / Thai bird chili paste
1 tbsp – zest of orange
½ tbsp – zest of lemon
1 tbsp – Honey
½ tbsp – ginger (minced)
Salt to taste
For breaded fish:
Oil for pan frying the fish
1 cup – fresh bread crumbs
1 – egg ( lightly beaten )
2 tbsp – dried basil (optional)
1 tbsp – red chili flakes (optional)
chiffoned spring onions to garnish
Instructions
Thaw the fillet of Tilapia fish and dry it with absorbent kitchen towel.
In a wide plate, mix the bread crumbs with the herbs of your choice.
In a shallow plate beat the egg lightly with dash of salt.
Heat the non-stick pan sufficiently and reduce the heat to medium.
Drizzle oil as much require to fry the fish.
Dip the fish fillet in egg, coating it evenly and then flour the fillet in herbed bread crumbs, shaking off the excess.
Once the oil is sufficiently hot, add the lightly breaded tilapia and fry it evenly till a light brown hue is visible.
Once the two sides of the fish fillet are lightly browned, apply the sambal olek or chilli paste generously over one side, turn it over and apply the same to the other side as well.
Lightly fry the fish fillet, the chilli should not get burned, if requires lower the heat further.
Once it is done take out the fish on a separate plate.
Mango sauce:
In the same oil add the minced ginger, saute for a while and add the mango puree.
Next add the honey, zest of orange and lemon, salt to taste and give the sauce a stir.
Bring the sauce to first boil and pour it over the chili spiked tilapia fillet.
For extra heat you can use red pepper flakes too in the sauce.
Serve the tilapia in mango sauce over a bed of steamed white rice or lightly toasted fried rice with almonds and garnish it with chiffoned spring onions.
Notes
There are lots of scope to personalize this recipe, depends upon your palate you can increase the heat in the sauce or you can omit the honey. I will personally advocate for sambal olek but if you do not have that, sriracha sauce may be a decent substituition. For more Thai inspired flavours, you can use 1 tsp of fish sauce (nam pla) too.
Sukanya Ghosh
Sukanya writes the blog Saffronstreaks, a food and travel blog where she experiments in the kitchen spiced up with interesting food stories and gourmet travelogues. She loves to cook with fresh produce, enjoy both spicy and sweet and her many dining out experiences become cherished memories. Sukanya is from India but now lives in North Carolina, USA.