This lemon cake is the height of simplicity and well and truly open for reinterpretation.
By Tania Cusack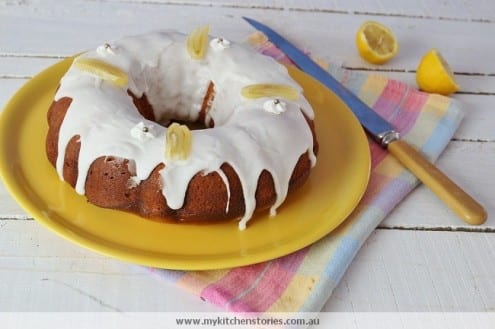 Lemon Cake with Ricotta Cheese
This lemon cake is the height of simplicity and well and truly open for reinterpretation.
Ingredients
¾ cup oil,
2 eggs
1 tablespoon finely grated lemon rind
2 tablespoons lemon juice
1 cup fresh ricotta
1¾ cup caster sugar (granulated)
2 cups self raising flour or plain flour and 2 teaspoons of baking powder
1 Tablespoon honey
Lemon glaze:
1- ½ Tablespoons Lemon juice
1 x cup pure icing ( confectioners) sugar
Ricotta Cream:
250gm ricotta
1 Tablespoon pure icing sugar ( sifted)
vanilla
1 cup of full fat or thickened cream.
Instructions
Preheat the oven to 170 deg C or around 350F. Spray and line a 20-24 cm tin or a bundt tin. The smaller tin will make a deeper cake.
Put the eggs, oil, sugar, zest , juice and ricotta into a mixing bowl and beat till well combined. The mixture looks thick and smooth. Stir in the flour , dont over mix, till combined.
Pour into the prepared cake tin and bake till a skewer inserted in the centre comes out clean.
To make the lemon glaze:
Put 1 tablespoon of juice into a bowl then sift over the icing sugar and mix till smooth. Use the additional juice if you would like a slightly thinner icing.
Ricotta Cream:
Put the cream, ricotta sugar and vanilla into the bowl of a mixer and beat till light and fluffy and soft peaks form. Use as a filling for Ricotta cake or as a topping.
Tania Cusack
After completing Culinary School in Sydney, Tania travelled the world working as a Chef in restaurants, doing catering and cooking on road for a travel company in Europe and the US. Once back at home, the birth of her son meant a change, and during his small years, she enjoyed jobs in wholesale food, buying Artisan food products, testing and recipe writing as sales and educational tools. Tania is now back to what she loves, working as an in house Chef for a large retailer, conducting Cooking Classes and writing recipes for her blog.