Thomas Keller's Risotto-Like Pasta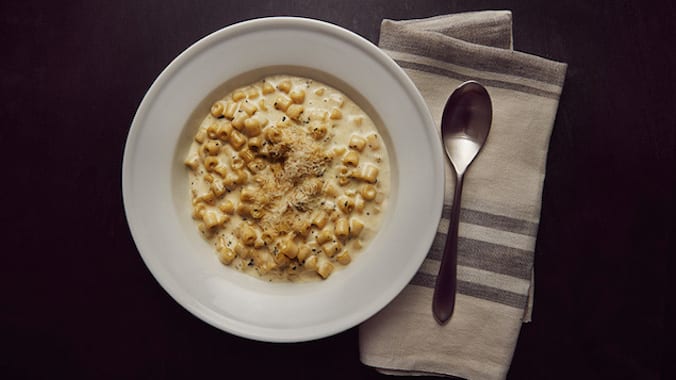 In this flavorful recipe, dried pasta is cooked just like risotto, slow and with lots of stirring. Although more work, the end result is a delicious dish where the pasta has absorbed the tastes of broth, cheese, and truffles.
By Thomas Keller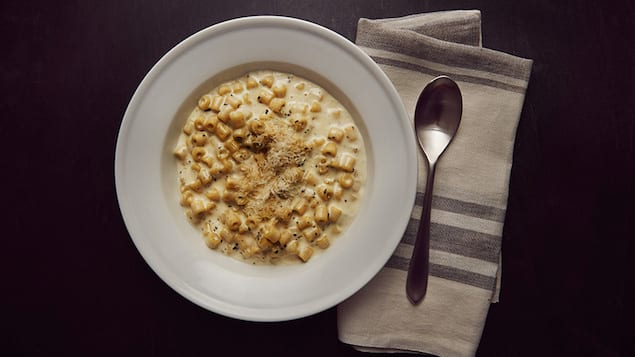 Grab your best pan and start cooking this beautiful pasta dish. It may take long and require more attention than simply boiling water, but its flavor is more than worth it. Plus, isn't the autumn season meant for slowing down and creating big flavors?
Thomas Keller's Risotto-Like Pasta
In this flavorful recipe, dried pasta is cooked just like risotto, slow and with lots of stirring. Although more work, the end result is a delicious dish where the pasta has absorbed the tastes of broth, cheese, and truffles. Prepared in an All-Clad 3 Qt. Sautoir
Cuisine:
Italian-Inspired
Ingredients
2 tablespoons unsalted butter
½ cup very finely minced onion
8 ounces small tubular dried pasta such as ditaloni, elbows or penne, preferably extruded through brass dies and with a rough surface
2 teaspoons kosher salt
1 quart light, unsalted chicken broth, hot
3 tablespoons unsalted butter
1 cup parmesan cheese, finely grated on a microplane, plus additional for garnish
¼ cup (before whipping) heavy cream, whipped to stiff peaks
3 tablespoons minced black truffles (optional) plus additional truffle for shaving
Instructions
Heat the All-Clad 3 Qt. Sautoir over medium low heat. Add the butter, onions and kosher salt. Sweat the onions, stirring frequently until the onions soften. Add the dried pasta and cook, stirring slowly but continuously for about 5 minutes.
Add the minced truffle, if you are using them, at this point. Ladle enough very hot chicken stock over the pasta to barely cover it and continue cooking stirring frequently until half of the liquid has been absorbed by the pasta. Taste the pasta to check the texture and add a little bit more stock. Continue doing this until you reach your desired texture and doneness and there is very little liquid left. It is important to continue to stir the pasta gently throughout the process so that all the pasta cooks evenly. Also keep in mind that the amount of stock and time can differ depending on the shape and thickness of different pasta varieties.
Once your pasta is cooked to your liking, turn down the heat and vigorously stir in the butter until the pasta is nice and creamy.
Stir in the parmesan cheese followed by the whipped cream. Spoon into serving dishes, garnish with additional grated parmesan cheese, and generously shave the truffles over the top, if you are using them, and serve right away.
Thomas Keller
Chef Thomas Keller is known and revered around the world for his exquisite restaurants. The delicious food and beautiful environments he has created at The French Laundry, in Yountville, CA and Per Se, in New York City, have each earned three Michelin stars. Bouchon, Keller's casual eatery in Yountville scored an additional star. There are more Bouchon's in New York as well as in Los Angeles and Las Vegas. The family-style restaurant, Ad Hoc, also in Yountville, was added in 2006. From formal to free-wheeling cuisine, Chef Keller magically taps the human desire we all have to gather together and eat.