This unique take-away restaurant concept can only be found in the Netherlands.
by Ena Scheerstra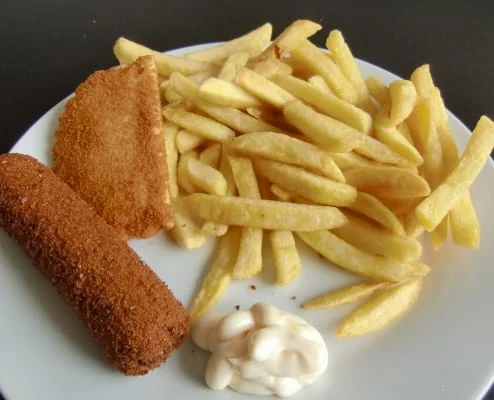 Even though more and more foreign cuisine take-aways arise, the snackbar ever keeps popular. Snackbar food is certainly no haute cuisine, but is perfect if you're in a lazy mood and fancy a guilty pleasure. Most snackbars offer tables and chairs to sit and eat your food, but most people just take it with them and eat it at home, since the establishments usually lack atmosphere. Snackbars are everywhere: most villages have a one, the larger train stations have one and mobile snackbar trucks are present at all kind of events (or post themselves at strategic places). Some snackbars, usually those on busy spots, have a wall with hatches that go open to take out a snack when you throw money in, hence the Dutch expression 'eating out of the wall'. There are about 5000 snackbars in the Netherlands, this is without even counting the mobile snackbar trucks. To illustrate: I live in a larger city and have 2 snackbars at walking distance and a dozen more at biking distance, while there are far less foreign cuisine take-aways in the neighborhood. People really can't go without a snackbar: some Dutch campings abroad import Dutch snacks so that people can eat their beloved take-away even when they are on their holidays. A small note: snackbars can be found in Belgium as well, but usually they don't have the extensive selection of fried snacks that Dutch snackbar do have.
But what exactly can you buy at a snackbar? Actually, quite a lot: French fries, deep fried snacks, sauces, but also ice-cream and drinks (soda and beer, sometimes wine). And some larger snackbars also sell seasonal dishes, like pea soup and stamppot in winter.
French fries (friet, patat) come in different varieties. The variety that is present the most is shown on the picture. There are thinner fries, but usually they are not sold at the snackbar. Thicker fries (Flemish fries) are usually only available in snackbars in the southern part of The Netherlands, because it is a Belgian regional specialty that has blown over. Some snackbars have raspatat, fries from a paste made with potato powder and water that is pressed through a machine to form fries, and then fried in a deep-fat fryer.
You can eat fries with many different sauces, the most common is mayonnaise. Another very common sauce is frietsauce, this is a really unique sauce and only exists in the Netherlands. It is very similar to mayonnaise, but at the same time it's very different. The difference in taste and feeling is hard to describe; it is sweeter and more sour, and only contains 25% fat, which changes the texture. French fries with mayonnaise or frietsauce is usually called 'friet met' (fries with), and often mayonnaise and frietsauce are interchangeable, so when you ask for mayonnaise it can be that you actually get frietsauce. Other sauces are curry ketchup (spiced ketchup), satay sauce and Joppie sauce (the exact recipe is secret, but it is basically frietsauce with onion, sweetener and curry powder). And then there are the combinations of sauces. 'Speciaal' (special) is a combination of mayonnaise, curry ketchup or normal ketchup and raw onions. And 'oorlog' (war) I know as a combination of satay sauce, mayonnaise and raw onions (without the onions this is called 'flip' in some parts of the Netherlands) or a combination of satay sauce, mayonnaise, curry ketchup or normal ketchup or raw onions… and there are some other local varieties. Ketchup and mustard are generally not eaten with French fries.
And when you're finished with deciding which sauce you want with your French fries, you still need to choose your deep-fried snack. If you would walk into a snackbar today, you would find a list like this: kroket, goulashkroket, satékroket, bitterballen, frikandel, mexicano/carrero, pikanto, berenhap, kaassoufflé, kipcorn, kipknots, kipnuggets, sitostick/kikastick, zeestick, fishcorn, eierbal, bamischijf, nasischijf, loempia…. and maybe some more of which I don't even know what they are.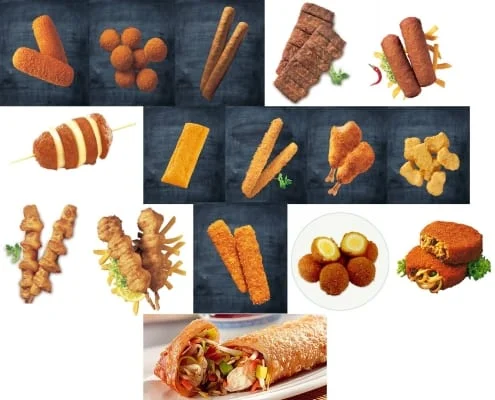 Kroketten (croquettes) are probably the most well-known abroad and are one of the most popular snacks in the Netherlands. They consists of a thick meat ragout rolled into cylinders that are coated with dried breadcrumbs and then deep-fried. The more luxurious versions are made with only beef (rundvleeskroket) or veal (kalfskroket). Bitterballen are very similar to kroketten, they are small and round instead of bigger and cylindrical but the filling is the same. Bitterballen are often served on parties as a warm snack with mustard to dip them in. Kroketten are also eaten with mustard. Kroketten are also a popular lunch dish, served on slices of bread or a bun. Alternatively, kroketten are filled with goulash (goulashkroket) or with meat and satay sauce (satékroket). Kroketten filled with vegetables or with cheese are less popular in the Netherlands. The deep-fried potato puree dish that is commonly called croquettes abroad, is also available in the Netherlands. We just call them aardappelkroket (potato croquette) instead of vleeskroket (meatkroket). In the future I will prepare my own meat croquettes, but it is quite a labour-intensive project, so I think those deserve their own post.
The other very popular snack in the Netherlands is the frikandel. It is a long, skinless, dark-coloured meat sausage that is deep-fried and eaten hot. It is made from waste meat (pork and chicken, sometimes horse), binding agents and herbs. Frikandellen are often served 'speciaal', just as the sauce option mentioned above. The mexicano, carrero and pikanto are spicy variations on the frikandel, made in another shape. A berenhap (literally bear snap) is a sliced meatball skewered on a stick with thick slices of onion in between, and then deep-fried. The meatball is not really like how you would make it at home, but more like frikandel meat.
Kaassoufflé literally means cheese soufflé, so logically you would expect a souffleed snack with cheese, but this is not the case. A kaassoufflé consists of cheese (often this is partially gouda and partially fake cheese) wrapped in dough and then coated in dry breadcrumbs. They are usually rectangular or half-moon shaped and are deep-fried, just like all the snacks. This makes the cheese in the middle very hot, liquid and prone to accumulate in one side of the kaassoufflé, so eating with care is advised to prevent mouth-burns. This is (as far as I know) the only truly vegetarian snack option, unless you get the variant which also contains cooked ham. It is usually eaten on its own, but some people eat it with sweet chili sauce, mustard or joppiesauce.
Then the less commonly eaten (but still widely available) snacks. The kipcorn, kipknots, kipnuggets and sitostick/kikastick are all chicken-based deep-fried snacks, but have different shapes. People usually eat them with sweet chilli sauce, because the processed chicken meat is quite bland. Both the zeestick (seastick) and the fishcorn are fish-based. The eierbal (eggball) is basically a scotch egg, but instead of using meat to surround the hard boiled egg, ragout is used. It is a regional specialty in the northern and eastern part of the Netherlands. The bamischijf and nasischijf contain bami goreng and nasi goreng, are breaded and then deep-fried, which give them a crunchy outside. There are variations on their names, depending on which form they have, for example disks (schijf) or rectangles (blok, hap).
Buying French fries and snacks at the snackbar is not the only way. Many people have a deep-fat fryer at home, which they use to fry everything themselves. The assortment of French fries is actually larger at the supermarket than at the snackbar, you can buy the thinner and the thicker fries as well, and there are alternatives like fries with extra crunch and crinkled varieties, all in the freezer. All the sauces are available at the supermarket as well. The supermarket assortment of snacks (also frozen) is much smaller, a lot of the less common snacks you can only get at the snackbar; but the supermarket does have party packs with snack minis that are perfect to serve at parties, or for people like me that like a little bit of everything.
Another common thing that is eaten together with French fries and snacks is apple sauce. It refreshes your mouth and quenches your thirst, both very relevant since snackbar food is quite fatty and salty. And it also serves as the vegetables in the dish. Most people just buy a jar of apple sauce at the supermarket, but I think those are quite bland, so I make my own. People always talk about cooking apples versus eating apples, but in the end you can cook all apples to make apple sauce. The real eating apples just take a bit longer to cook, because they are firmer. But I generally use all-round apples like Elstar and Jonagold, because those are grown in the Netherlands, have an excellent flavour in most dishes and also are tasty to eat on their own. Best of all, they are usually the cheapest apples available too.
Print
Apple sauce
Fresh, sweet and slightly tart apple sauce, perfect as side-dish, but also as dessert or as filling for baked goods.
Author:

Ena Scheerstra

Prep Time:

15 mins

Cook Time:

15 mins

Total Time:

30 minutes

Yield:

4

-6

1

x
1

kg apples

100 g

sugar
Optional: cinnamon; lemon juice/peel; vanilla
Instructions
Peel, quarter and core the apples, then cut them in chunks.
Pour a small layer of water in a pan, place the apples on top (when using lemon peel, add this now).
Bring to the boil.
Cover the pot and lower the heat.
Cook 10 minutes, or until soft.
Stir in the sugar and optional ingredients.
Leave to cool and serve at room temperature or chilled.
Notes
The amount of sugar depends on the type of apples you use. The amount given is for tart apples and gives a quite sweet apple sauce. If you like it less sweet, or you have sweeter apples, use less.
You can make the apple sauce either smooth, by cooking it until all the apples disintegrate or by pushing it through a sieve, or chunky by cooking it not too long and just stir it to break it up a little.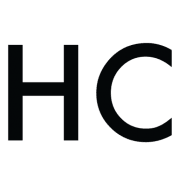 Ena Scheerstra
Ena Scheerstra has a lifelong love for food and cooking, starting to collect cookbooks at age 10. She spends most of her free time on cooking and everything food related. She is a strong believer of honest food, produced sustainable and sourced locally, and cultures her own vegetables on her balcony and in her small allotment. Her blog is very internationally orientated, reflecting the variety of food she cooks, but on Honest Cooking she is focusing on showing the world the wonders of Dutch food.