This vegetarian main is meant to be spicy, serving it with rice will temper the heat somewhat, but you can always add more chillies if you want to keep the kick.
By Sukanya Ghosh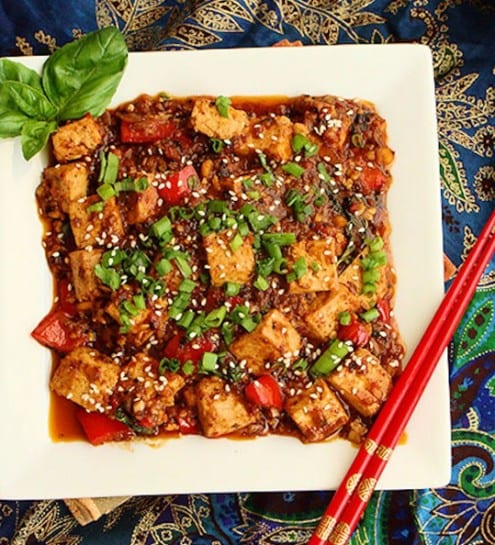 Thai Style Stir Fried Tofu
This vegetarian main is meant to be spicy, serving it with rice will temper the heat somewhat, but you can always add more chillies if you want to keep the kick.
Ingredients
Firm tofu (Nasoya) : 1 box
Shallots (finely chopped) : 1
Thai bird chillies (substitute with sambal olek) : 3 tbsp or adjust to your taste
Garlic (minced) : 1 tbsp
Crushed peanuts : 1-2 tbsp
Red bell peppers (diced): 1 (optional)
Dark soy sauce : 1 tbsp
Thai Basil (substitute with Italian sweet basil) : a large handful
White pepper : 1 tsp
Stock / water : ¼ cup
Oil for stir frying : 1 tbsp
Salt and sugar to taste
Seasoned sesame oil to drizzle
Instructions
Cut the firm tofu into cubes, finely chopped the shallots, and minced the garlic.
Heat the oil in a wok and add the garlic, shallots and chilli paste (sambal olek) and saute them for few seconds.
Add the crushed peanuts, red bell pepper and tofu. Stir fried them for 10- 15 seconds.
Add the dark soy sauce, white pepper powder, fry for couple of seconds and add the water / stock.
Stir fried them for couple of more minutes until the sauce thickens a bit.
Adjust the seasonings, tear some basil leaves and add it to the wok.
Wait until the basil wilted, drizzle some seasoned sesame oil over it and take it off the heat.
Serve the stir fried tofu on a bed of steamed jasmine rice or enjoy it with noodles.
Sukanya Ghosh
Sukanya writes the blog Saffronstreaks, a food and travel blog where she experiments in the kitchen spiced up with interesting food stories and gourmet travelogues. She loves to cook with fresh produce, enjoy both spicy and sweet and her many dining out experiences become cherished memories. Sukanya is from India but now lives in North Carolina, USA.