Don't skimp beating the butter and sugar together, that's what gives this delicate cake it's light texture.
By Sowmya Dinavahi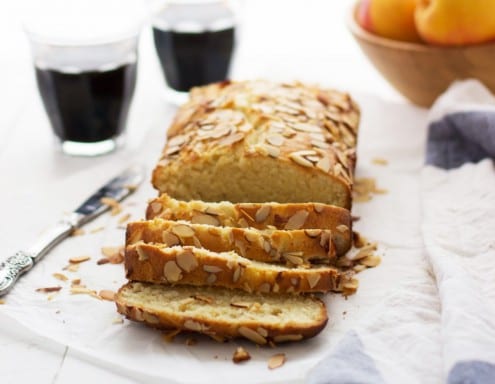 Cardamom and Almond Pound Cake
Don't skimp beating the butter and sugar together, that's what gives this delicate cake it's light texture.
Author:
Sowmya Dinavahi, adapted from Bon Appetit
Ingredients
¾ Cup (1½ sticks) Unsalted Butter, room tempertature , plus more for greasing pan
2 Cups all-purpose flour plus more for pan
1¼ tsp of Baking Powder
1 tsp of Ground Cardamom
¾ tsp of Kosher Salt
¼ cup of whole milk
½ cup of creme fraiche plus more for serving (I substituted it with sour cream)
1 Cup of Granulated Sugar
3 Large eggs, room temperature
¾ tsp of vanilla extract
¼ tsp of almond extract
¼ cup of sliced almonds
Instructions
Preheat oven to 350 Def F. Butter a 9x5x3" inch loaf pan; line bottom and long sides with a strip of parchment paper,leaving overhang. Butter parchment and dust with flour, tapping out any excess.
Whisk Baking powder, cardamom, salt, and 2 cups flour in a mixing bowl; set aside. Whisk milk and ½ cup creme fraiche (sour cream) in a small bowl; set aside.
Using an electric mixer on high speed, beat sugar and ¾ cup of butter in a large bowl until light and fluffy, about 4 minutes. Add eggs one at a time, beating to blend between additions and scrapping down sides and bottom of bowl with a spatula, then add vanilla and almond extracts.
Reduce the speed to low and add dry ingredients in 3 additions, alternating with creme fraiche (sour cream) mixture in 2 additions, combining with dry ingredients; beat until just combines. Scrape batter into prepared pan,smooth top and sprinkle with sliced almonds.
Bake cake, rotating halfway through,until golden brown and a toothpick inserted into the centre comes out clean, 55-65 minutes. (Tent with foil if browning too quickly)
Transfer pan to wire rack and let cake cool for 15 minutes in the pan itself. Using parchment overhang,gently remove cake from pan and transfer to rack; let cool.
Slice cake and serve with freshly sliced peaches (or any fruit).
Sowmya Dinavahi
Sowmya shares her culinary journey and passion for cooking and photography on her blog named 'Messy Kitchen Stories'. Her cooking style is mostly authentic South Indian cuisine and a little bit of Baking.She likes to cook anything and everything vegetarian. Mostly She tries to recreate the magic that her mom creates in her traditional South Indian dishes. Apart from that, If she loves something that she had outside, she cannot rest until she make it exactly the way she had it. She is a native from India but currently residing in Lincoln, NE with her husband.