These juicy meatballs full of bright, Southeast Asian flavors would make a great cocktail snack for a party.
By Jill Nammar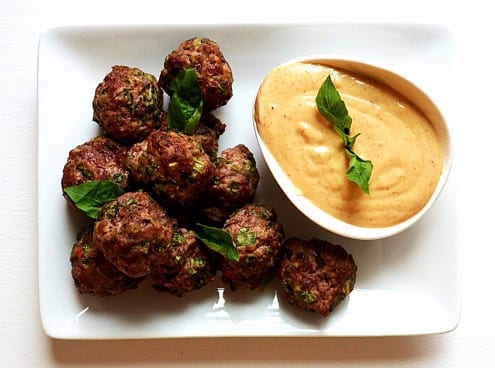 Thai Meatballs with Peanut Satay Dipping Sauce
These juicy meatballs full of bright, Southeast Asian flavors would make a great cocktail snack for a party.
Serves:
18-20 mini meatballs
Ingredients
For the Meatballs You'll Need:
1 pound of ground beef. I used grass fed, organic, 85% lean. You can swap it for ground turkey or ground chicken (see notes)
1 inch piece of ginger, peeled and grated
All or part of one tiny Thai bird's eye pepper or jalapeno pepper, minced. I used one red Thai bird's eye pepper.
4 scallions, diced very finely
2-3 limes, zest half of one and use the zest in the meatballs. Slice the limes into wedges for serving.
Handful of fresh Thai basil and fresh mint, diced finely. Regular basil will work too.
3 tablespoons of coconut milk from one full fat can. I like Thai kitchen brand. Try to take some of the coconut cream from the top of the can. You can also use light coconut milk.
Tiny drizzle of honey or pinch of sugar (optional)
Sea salt to taste
Neutral tasting oil or coconut oil for cooking
For Serving: Thai basil, lime wedges, peanut dipping sauce, steamed rice, Persian chopped salad (recipe link for salad in the notes section)
For the Peanut Sauce You'll Need:
½ cup creamy peanut butter. I use an all natural brand without salt.
1 lime
1 cup of coconut milk, lite or regular. I use full fat Thai Kitchen brand.
Sea salt to taste
Instructions
Prepare the peanut dipping sauce by putting the peanut butter in a large bowl and vigorously stirring it with the coconut milk. The large bowl ensures there won't be any spattering. At first, it will look lumpy and watery. Eventually, the 2 ingredients combine into a smooth sauce. Add a few squeezes of lime juice from one lime. Stir in a good pinch or two of salt if you're using a no salt peanut butter. Set aside.
Preheat the broiler on high. Line a large baking pan with tinfoil. Spray the tin foil with cooking spray or coat with a drizzle of neutral tasting oil.
In another large bowl, add all the meatball ingredients up to the neutral tasting oil for cooking/serving suggestions. Combine the ingredients without overmixing. Wet or oil your hands and form the meatballs into round balls the size of large marbles or walnuts. Place on the prepared baking tray and broil them for about 8-10 minutes. The inside should be cooked through but still very juicy. Serve with the peanut satay sauce, fresh lime wedges and other suggestions. Enjoy!