This earthy Thai green curry fish soup is loaded with warm flavors and is best served with rice and fresh herbs.
Today, I have a follow-up recipe featuring Australis Barramundi. The former recipe was for a Miso-Glazed Barramundi with Homemade Rye Noodles. Barramundi is a a moist, buttery, and meaty whitefish that is native to Australia and Southeast Asia. This time around, I decided to take advantage of barramundi's meaty texture and incorporate it into a quick and easy Thai Green Fish curry.
At first glance, the list of ingredients may appear daunting, but minus a few harder to find ingredients, you should be able to procure most at your neighborhood supermarket. As for the remaining ingredients, if you have access to an Asian grocer, you should be in good shape. If you're not feeling quite so ambitious, you could always substitute with a store-bought green curry paste (just keep in mind that you may want to alter the amount of paste you add to this dish, depending on the brand).
A few notes on the harder to find ingredients…
Kaffir lime leaves: kaffir lime leaves of the kaffir lime, native to Southeast Asia. They're incredibly aromatic and add a unique floral note to dishes. I've wrote about lime leaves on several occasions (I'm mildly obsessed with them). I bought my kaffir lime leaves at Whole Foods, but just about any Asian market should carry them. Of note, lime leaves freeze well.
Galangal: Galangal is a root, also native to Southeast Asia. It has a piney, earthy taste with a tough, woody texture. There really isn't a substitute, but the good thing is that galangal freezes well, so you can always stock up and save for a later date, when needed.
Shrimp paste: Don't be alarmed by its pungent nature. Shrimp paste is fermented/salted shrimp. On it's own, shrimp paste would probably overwhelm your palate. However, when mixed with other ingredients, it adds that quintessential umami quality; that little extra added flavor that just makes the dish what it is. It's fermented and keeps a really long time.
Once you have your curry paste, homemade (which can be prepared a few days in advance) or store-bought, the rest of the dish comes together in minutes. It makes for a flavorful, quick, dinner any night of the week.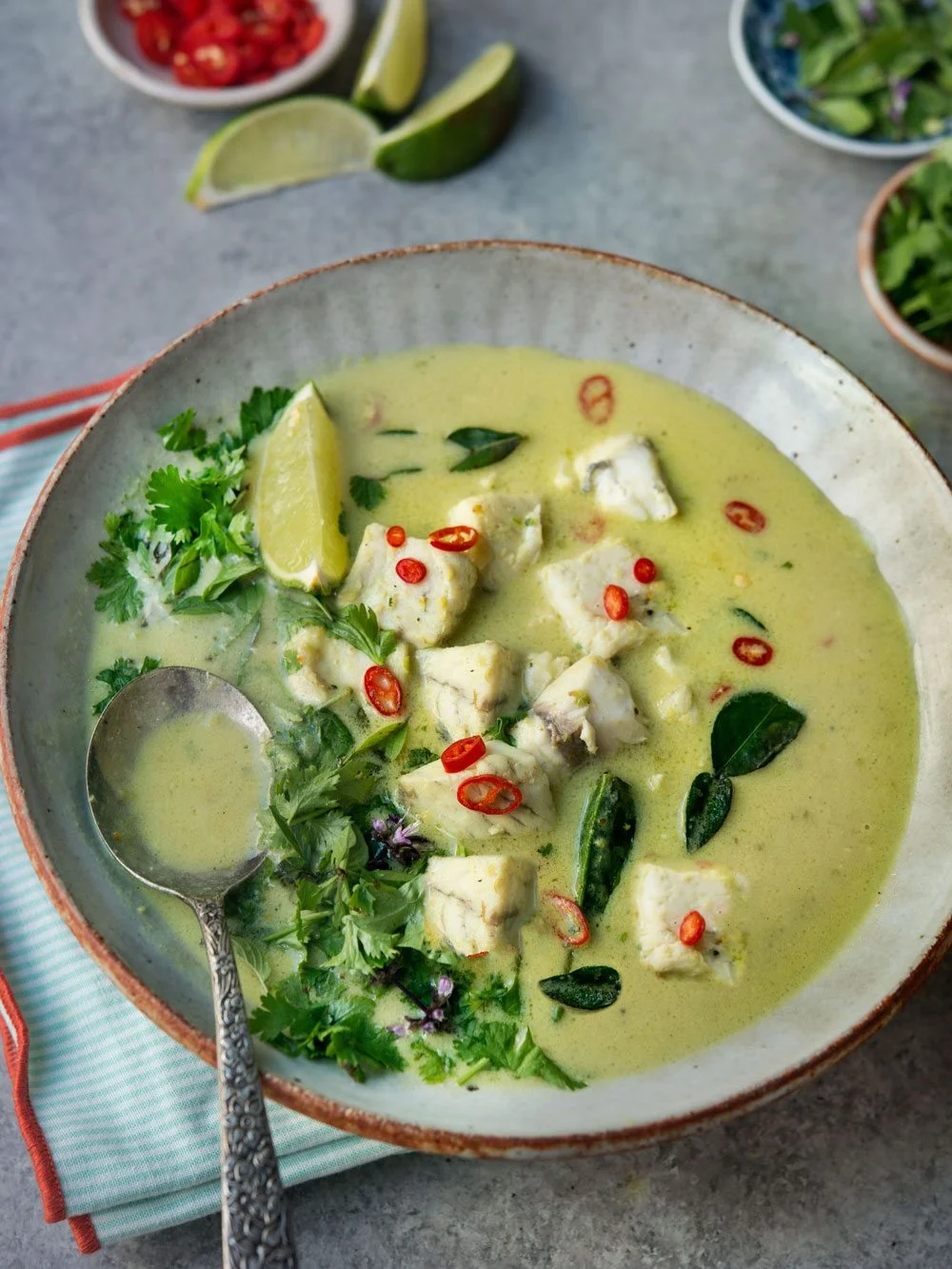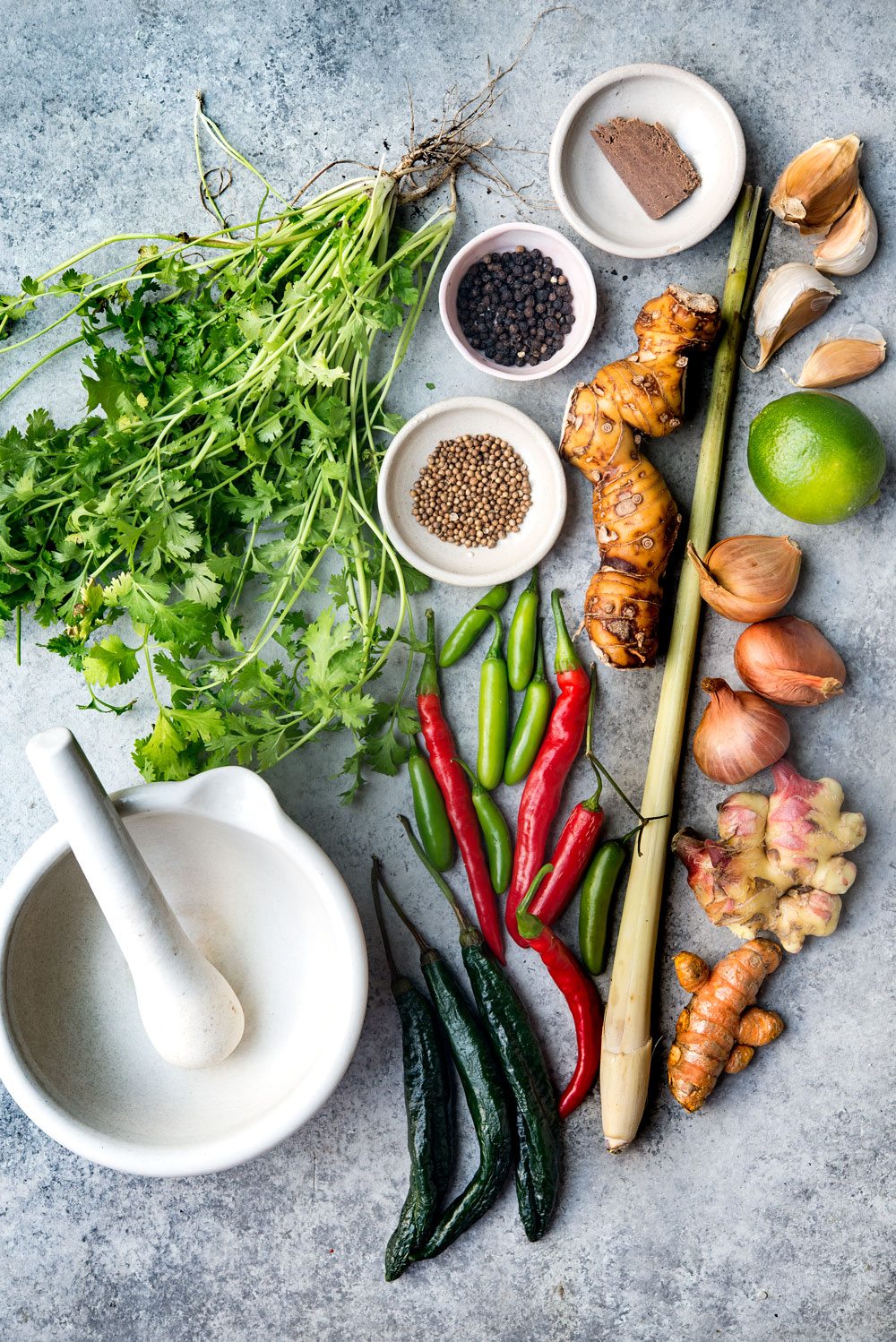 I like to top the fish curry with an assortment of fresh herbs (basil, Thai basil and/or cilantro), red chile, and a few wedges of lime…serve with rice and enjoy!
See Also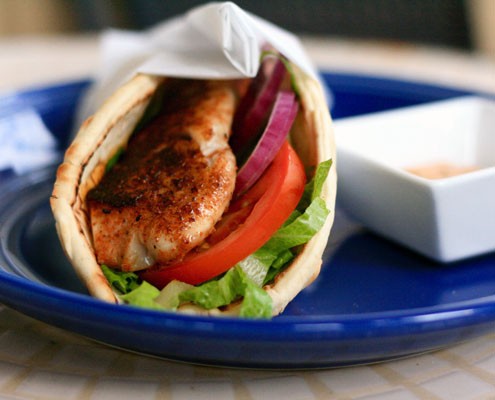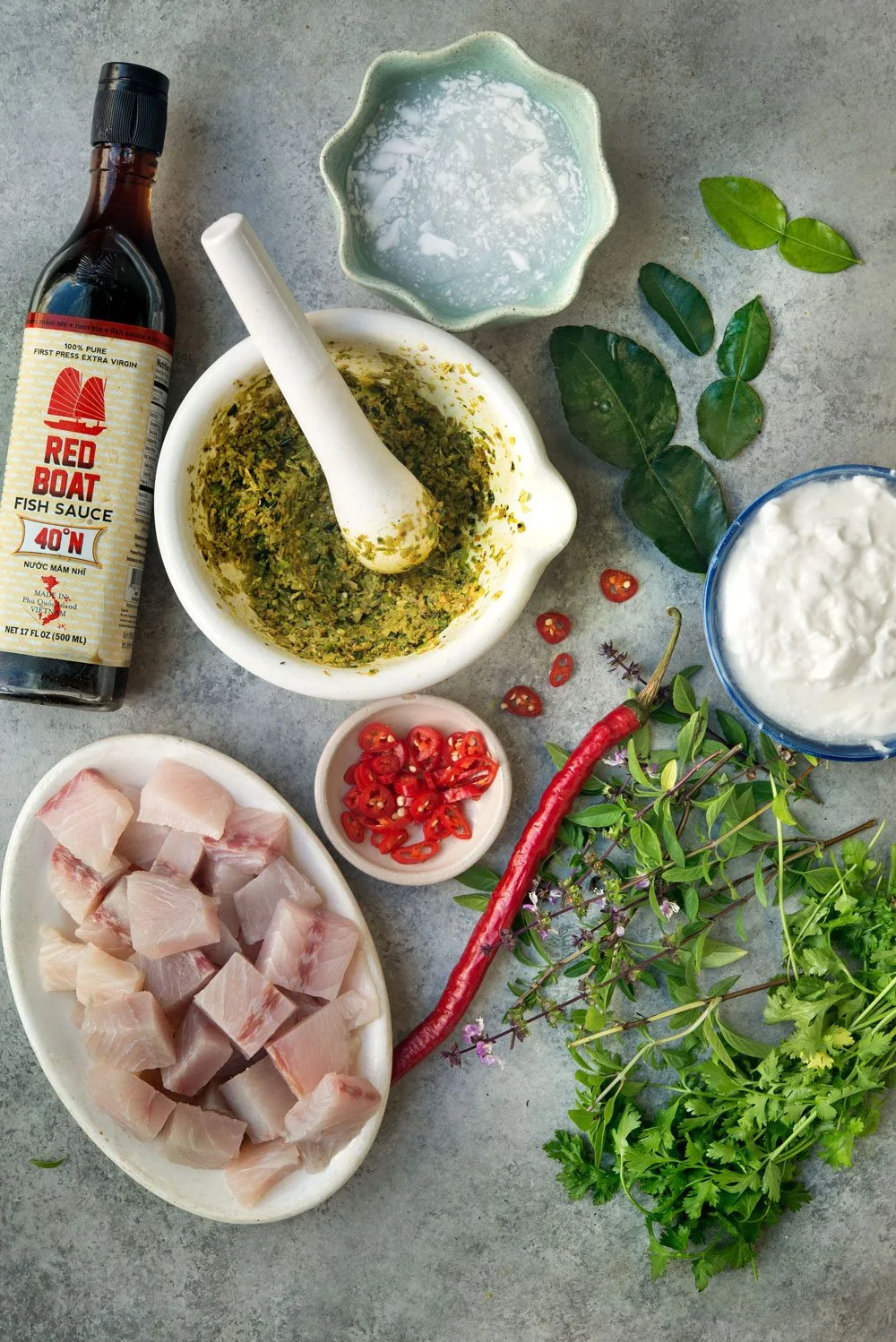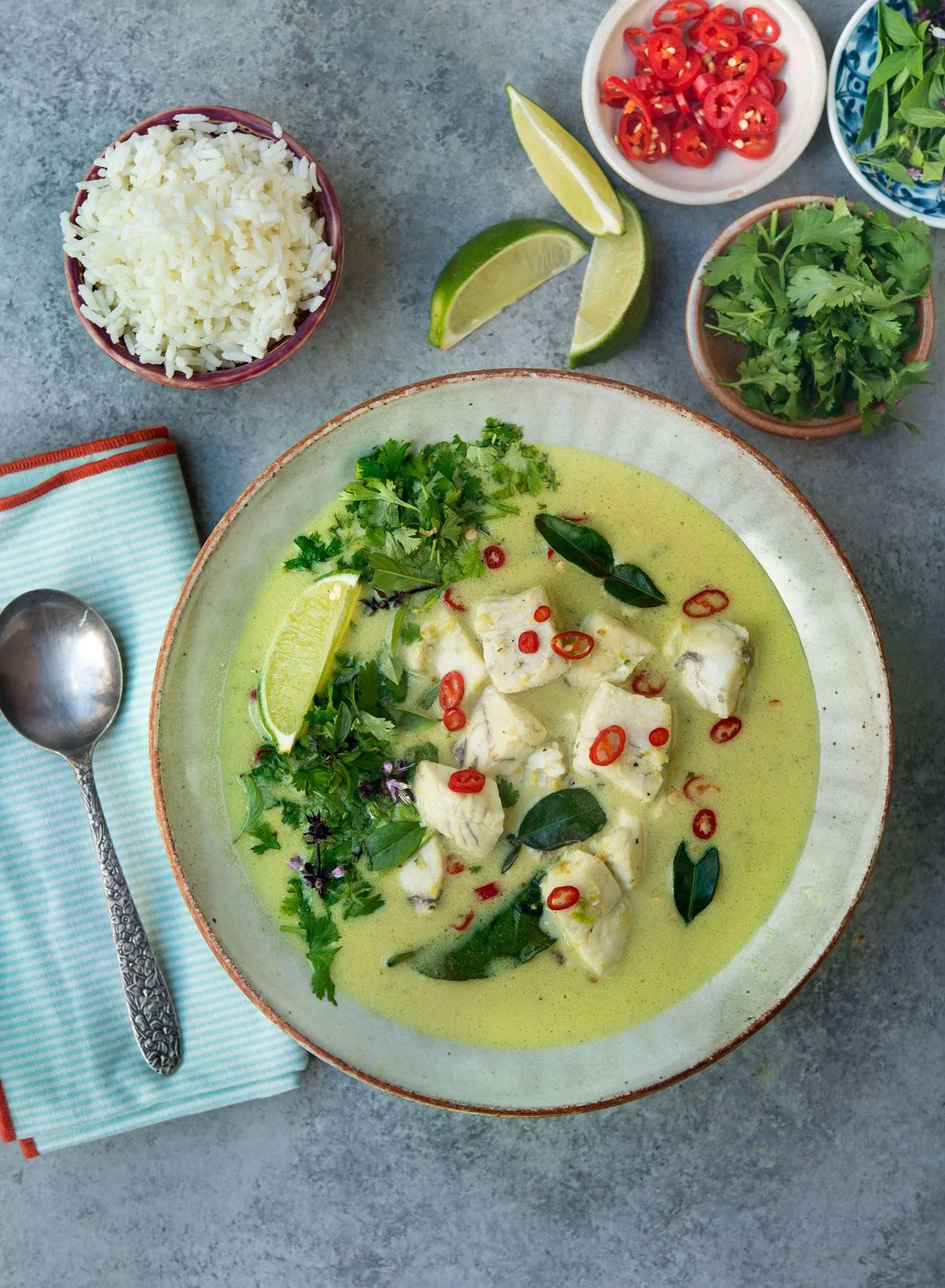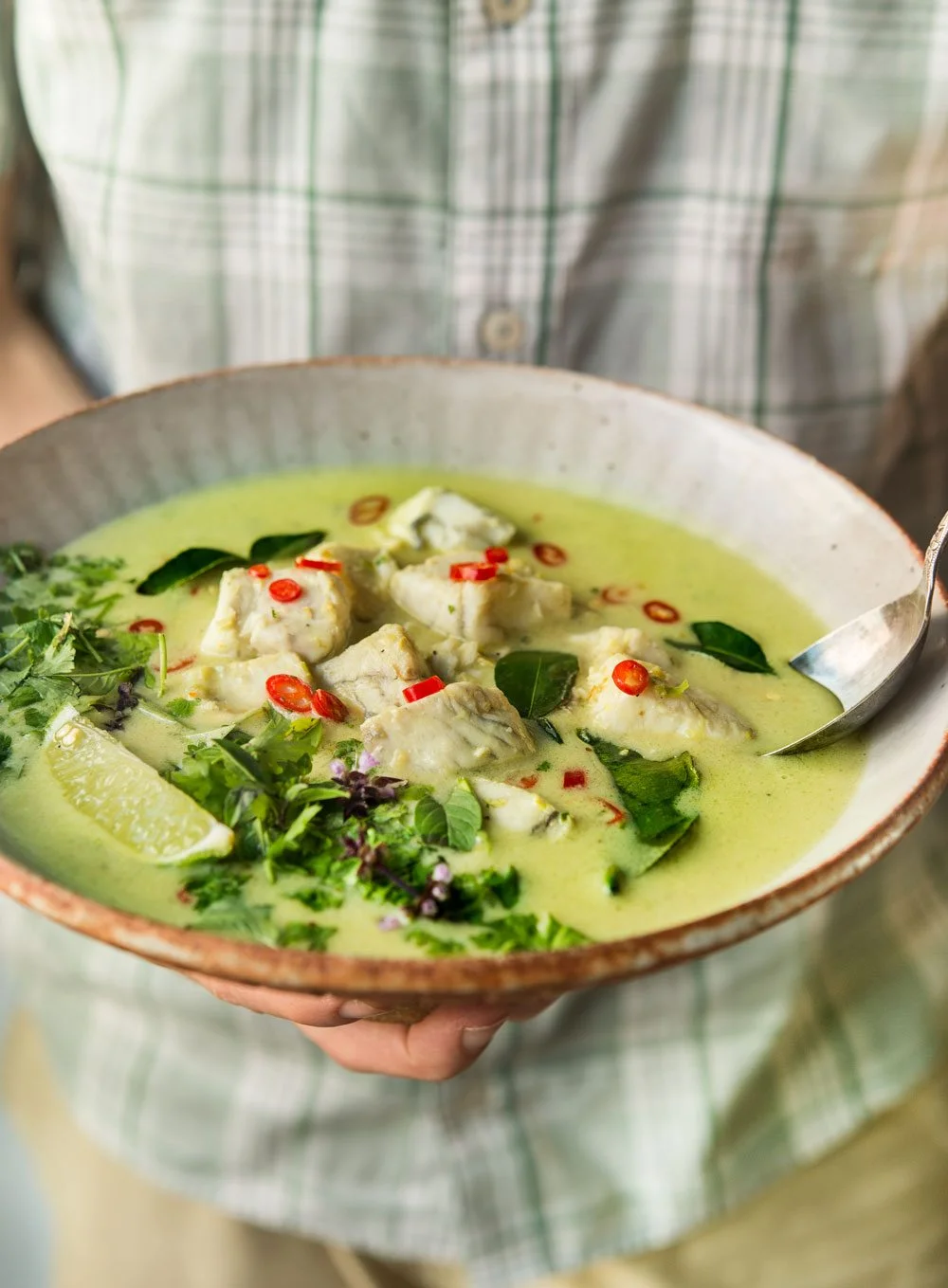 Click here for the green curry paste blend.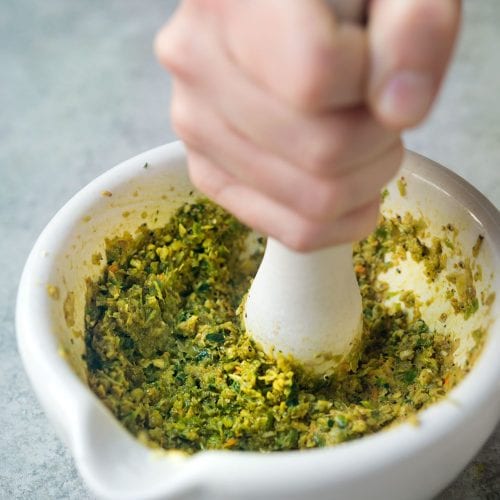 Thai Green Curry Fish Soup
Linda Schneider
This earthy Thai green curry fish soup is loaded with warm flavors and is best served with rice and fresh herbs.
Ingredients
1 1/2

tablespoons

coconut oil

3 to 4

tablespoons

Thai green curry paste

more or less depending on spice level

1

can coconut milk

cream and milk separated

1

pound

Australis Barramundi

cubed

3 to 4

kaffir lime leaves

1 1/2 to 2

tablespoons

fish sauce

more or less to taste

Handful of Thai basil leaves

for serving

Handful of cilantro leaves

for serving

Lime wedges for serving

Fresh red chile

sliced, for serving

Rice for serving
Instructions
Heat coconut oil in a wok or large skillet. Add the Thai green curry paste (Click the link above for the recipe.)and saute until aromatic, 30 seconds to 1 minutes. Add the coconut cream and simmer 2 to 3 minutes. Add the coconut milk, fish, lime leaves, and fish sauce. Cook until fish is cooked through.

Ladle into bowls. Serve with fresh herbs, lime wedges, chile, and rice.
Linda Schneider
Linda Schneider is the blogger behind Wild Greens and Sardines, an homage to her love for all things food and [Mediterranean] travel. What she enjoys most is seasonal, farm-to-table recipes that highlight local ingredients, farmers, and food artisans. She loves going to local farmers' markets, seeing what's in season, and sharing recipes with others.