Tres Leches Cake receives a sweet new makeover with the buttery addition of homemade toffee sauce.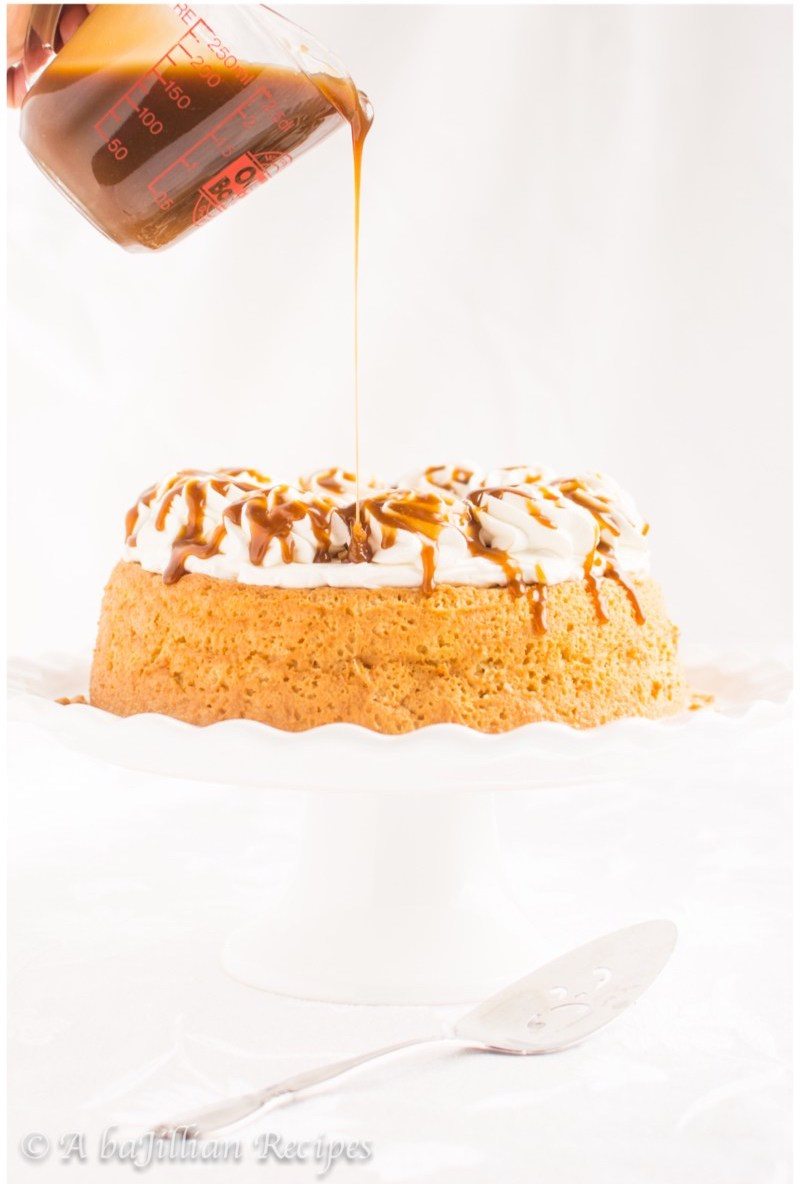 Tres Leches Cake has been on my list of desserts to try for quite some time. I mean, who WOULDN'T be into trying an ultra rich and moist cake soaked with THREE different milks. And when I say milk, it's definitely not the healthy ones. I'm talkin' evaporated, whole, and sweetened condensed milk. It's a rather genius idea for keeping a cake from drying out. I wonder if that was the inspiration for its creation…
Anywho, being the non-traditionalist that I am when it comes to desserts, I decided to change things up a bit by incorporating one of my favorite flavors into the mix…
TOFFEE. HOMEMADE toffee.
Yes, if you didn't think Tres Leches Cake could get any richer, then you obviously haven't been around my blog long enough. This cake is infused with not only the richness of whole, evaporated, and sweetened condensed milk, but also the warm sweetness of toffee.
While dulce de leche, AKA caramel, would've been a more obvious choice, I felt that toffee just doesn't get the attention it deserves—always being overshadowed by caramel. While they're pretty similar to each other, the main difference lies in the type of sugar you use. Caramel uses white sugar and toffee uses brown sugar which gives it a more molasses sweetness. Another thing I discovered was how much easier this toffee sauce was to make compared to caramel. This recipe doesn't require any candy thermometer and comes together in a snap.
Not to mention, the sauce itself is abso-fricken-lutely heavenly.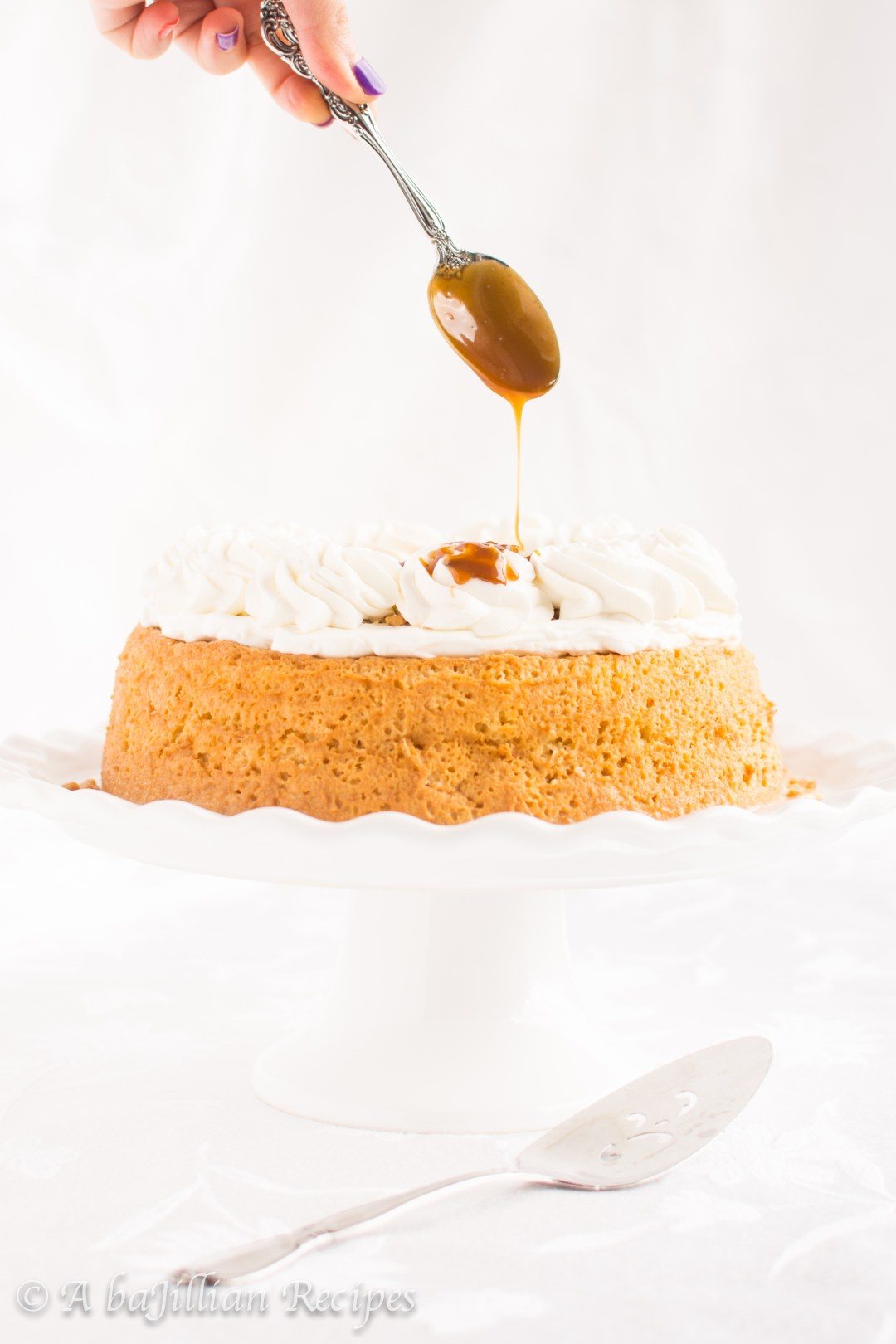 See Also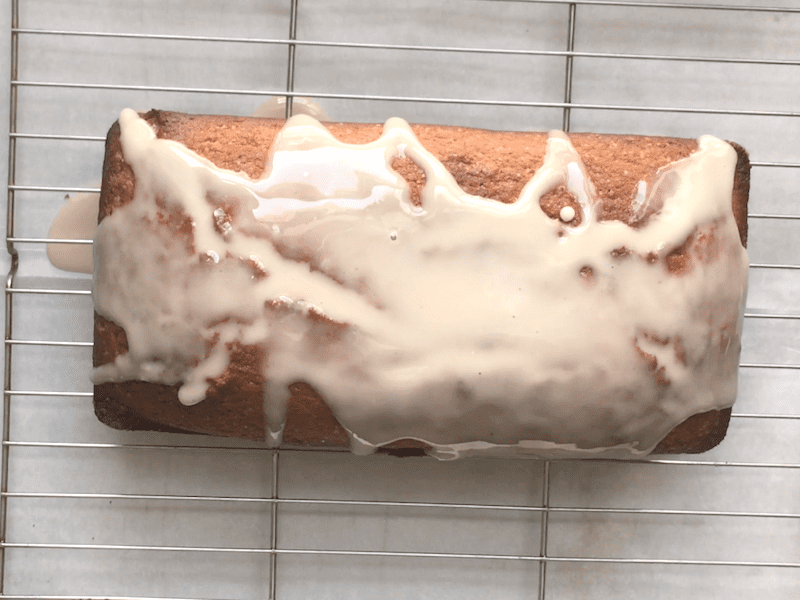 It truly deserves its own post. So smooth, buttery, and rich, it tastes exactly like those little Werthers Originals hard candies. You know, the ones that your grandma always kept in her pockets along with the sugar packets and individual Kleenex packs. They were like the Rolls Royce of hard candies because they were more luxurious and tasted ten times better than those yellow butterscotch discs.
The lightly sweetened whipped cream makes the perfect crown for such a rich and decadent cake as this. The fluffiness of the whipped cream combined with the lusciously creamy toffee-infused cake is like pure ecstasy. Just a little sprinkle of Heath toffee bits is added to finish this showstopper off, followed by a mesmerizingly sweet stream of homemade toffee sauce.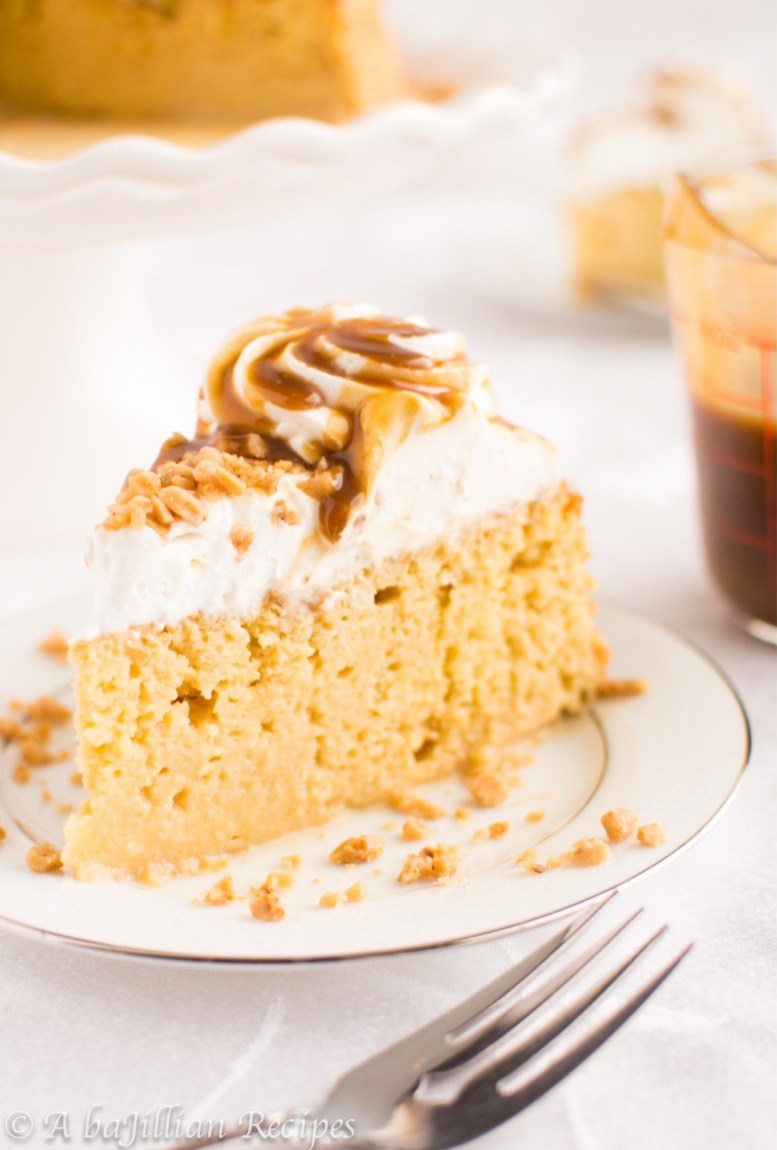 Click here for the toffee sauce recipe.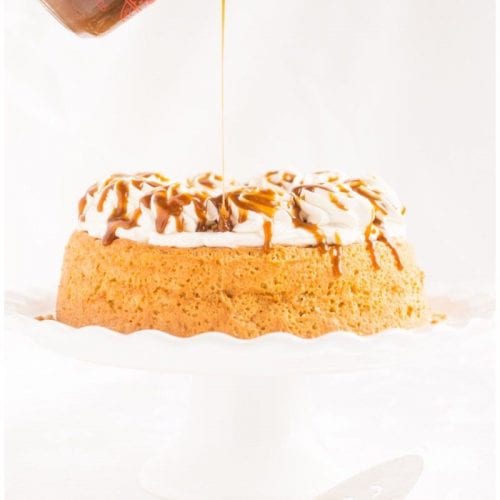 Tres Leches Toffee Cake
Jillian Hatsumi
Tres Leches Cake receives a sweet new makeover with the buttery addition of homemade toffee sauce.
Ingredients
Cake:
1

cup

all-purpose flour

1

and 1/2 teaspoon baking powder

1/4

teaspoon

salt

5

eggs

separated

3/4

cup

granulated sugar

1/3

cup

milk

1

teaspoon

vanilla

1/8

teaspoon

almond extract

optional
Toffee Sauce:
Click the link above for the recipe.
Tres Leches Mixture:
1

12 oz can evaporated milk

1

cup

sweetened condensed milk

1/3

cup

milk

1/3

cup

toffee sauce

1

teaspoon

vanilla
Whipped Cream:
2

cups

heavy cream

3

Tablespoons

powdered sugar

1

teaspoon

vanilla

1/4

cup

Heath toffee bits
Instructions
Make the Cake:
Preheat the oven to 350F degrees and spray a 9-inch springform pan with nonstick cooking spray.

In a bowl, whisk together the flour, baking powder, and salt; set aside. In the bowl of a stand mixer fitted with the whisk attachment, whip the egg whites on high until soft peaks form. Add 1/4 cup of granulated sugar, and continue whipping until stiff and glossy peaks form. Transfer whites to another bowl.

Return bowl to the mixer, add the egg yolks and remaining 3/4 cup granulated sugar. Beat on high until thick and pale yellow. Stir in the milk, vanilla, and optional almond extract. Remove bowl from mixer and fold in the flour mixture until just combined—do not overmix. Gently fold in the egg whites, then pour batter into prepared pan. Bake for 30-32 minutes, or until a toothpick inserted in the center comes out clean. Allow cake to cool completely.
Make Tres Leches Mixture:
Whisk together the evaporated milk, sweetened condensed milk, milk, toffee sauce and vanilla in a bowl until combined. Once cake has cooled, use a skewer to poke holes all over the top of the cake. Using a large spoon, slowly pour the milk mixture evenly over the cake. Make sure to get the edges and all around the cake as well. Use up ALL of the liquid. Refrigerate cake for at least 3 hours or overnight.
Make the whipped cream:
Place heavy cream, sugar, and vanilla into the well-chilled bowl of a stand mixer fitted with the whisk attachment. Whip on high until stiff peaks form.
To Assemble:
Release and remove sides of the springform pan and place onto a serving plate. Pipe or spread whipped cream as desired. Sprinkle toffee bits evenly on top, then finish with a generous drizzle of the toffee sauce. Serve and enjoy!
Jillian Hatsumi
I'm Jillian, the writer, baker, chef, recipe creator, and amateur (very amateur) photographer of A baJillian Recipes. Though I'm not a classically trained chef, I like to think I know my way around a kitchen pretty well. Aside from baking, cooking, and EATING, I also enjoy acting, couponing (I LOVE saving money!!), running, working out, photography, and playing with my little fluffernutter, Olivia. She's a dog, if you're wondering...