Thai Iced Tea Cupcakes with Condensed Milk Buttercream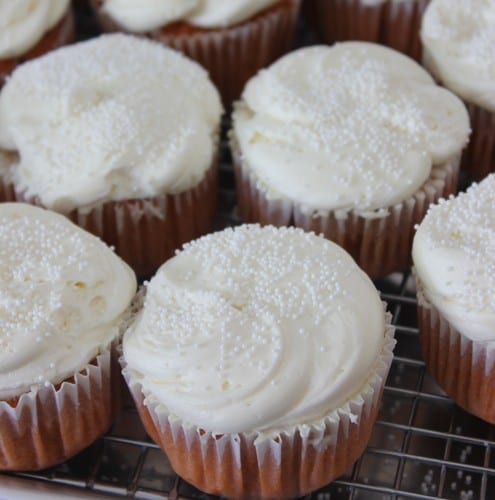 Bowen Close steeps Thai tea in a mixture of milk and sweet condensed milk to make a cupcake that tastes shockingly like its inspiration.
By Bowen Close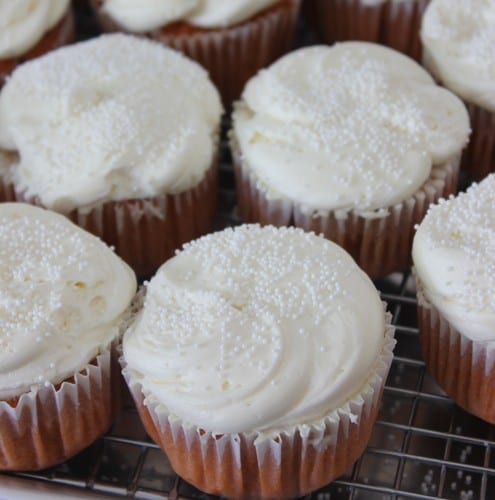 These cupcakes easy to make, and a little confusing to eat. (In a very, very, very good way.)
See, they exactly like Thai iced tea – you know, the delicious kind you order at Thai restaurants to calm down fiery curries and noodles packed with chili. (The one you inevitably end up drinking most of before your food even arrives …) You'd swear you were drinking a big glass of creamy, sweet, orange-colored Thai iced tea – but it's a cupcake.
I co-hosted a bridal shower for one of my best friends this weekend, and developed a Thai iced tea cupcake to go along with a fresh, flavorful Thai barbeque-type menu (think: satays, spring rolls, larb lettuce wraps, Thai-inspired cole slaw). This is another in a line of recipes I've developed as I've been playing with basic recipes and adding new flavors and interesting combinations of things.  I've been experimenting in particular with steeping flavoring elements in the milk that goes into a basic yellow cake, and have been very pleased with the tasty items that follow. I steeped saffron in buttermilk to make this Persian birthday cake, and this time I steeped Thai tea in a mixture of milk and sweet condensed milk to make a cupcake that tastes shockingly like its inspiration.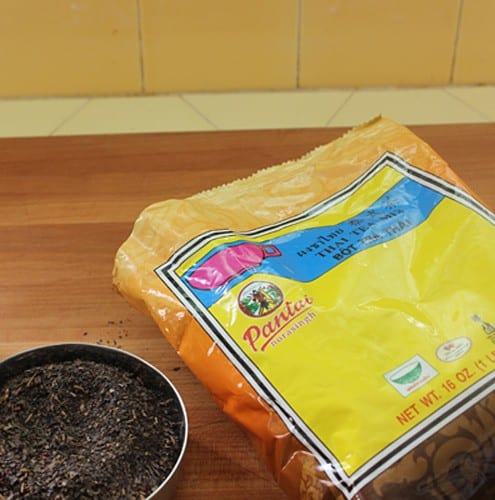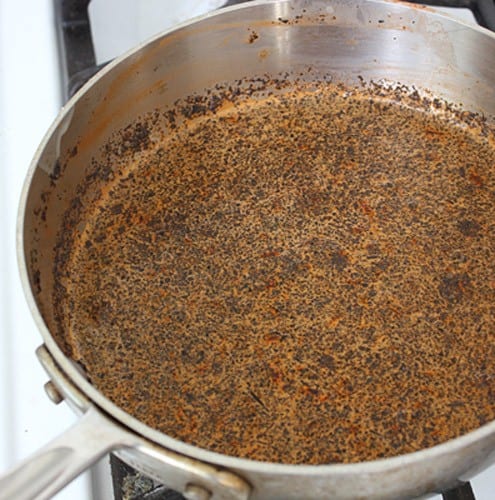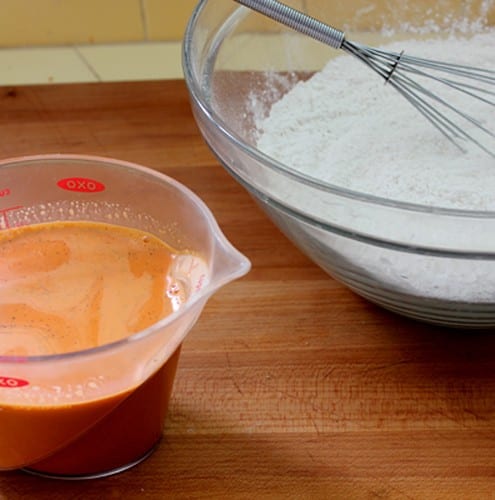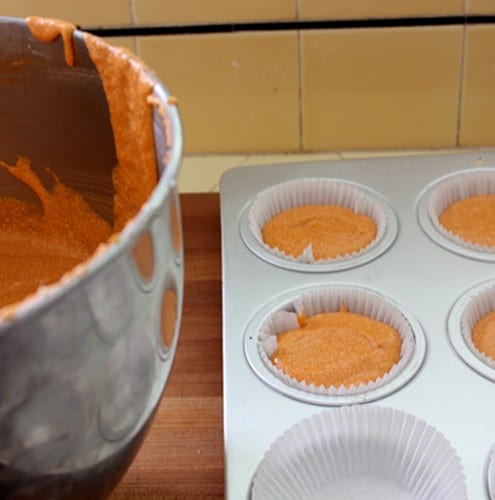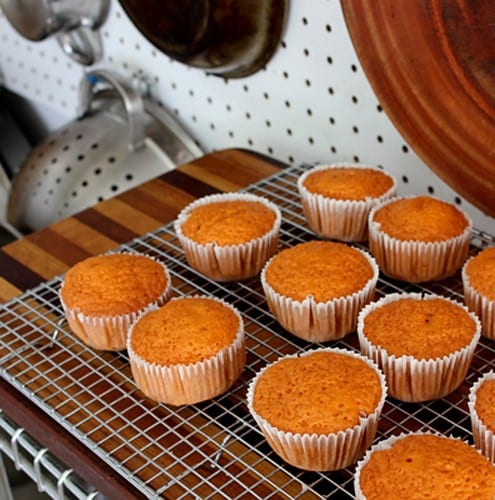 A tasty, easy condensed milk buttercream pulls together the flavor ruse even further and helps to mimic that layer of milk that often comes on top of the tea.
One of my favorite parts about making these cupcakes is handing one to someone without telling them what the flavor is and seeing their excitement as they recognize the flavor.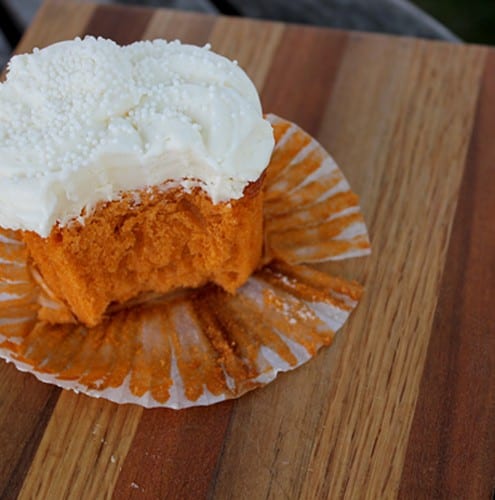 Thai iced tea cake with condensed milk buttercream - tastes exactly like the beverage!
Author:
Bowen Close (Bowen Appétit)
Ingredients
2 cups whole milk
¼ cup condensed milk
¾ cup Thai iced tea mix (see note, below)
2¾ cups cake flour (unsifted)
2½ tsp. baking powder
¾ tsp. salt
16 Tbsp. (2 sticks) butter, room temperature
1¾ cups sugar
4 eggs, room temperature
1 Tbsp. vanilla
Condensed milk buttercream
2 cups (4 sticks) butter, room temperature
1½ cups condensed milk
1⅔ cups powdered sugar, sifted or whisked to remove lumps
2 tsp. vanilla
Instructions
Preheat oven to 350F. For cupcakes, grease and flour or line with paper liners 24 cups in muffin pans. For cakes, grease and flour two 8- or 9-inch round pans or one 9x13-inch rectangular pan and line the bottom with parchment paper.
Whisk together the milk and ¼ cup condensed milk in a medium pot. Heat over medium or medium-high heat until scalded - steaming with bubbles forming around the edge - stirring occasionally. Add the tea mix, remove from heat, cover, and let sit 10 minutes. Pour through a sieve, coffee filter, or tea screen to strain out the tea. Let the mixture cool to somewhere between room temperature (a bit warmer is okay, too), using the refrigerator or freezer to cool down quickly if necessary. You can work on the next few steps while you're waiting for the milk mixture to cool down.
Whisk together the flour, baking powder, and salt in a large bowl. Set aside.
Using an electric mixer (stand or handheld) on medium speed, cream together the butter and sugar until light and fluffy (4-6 minutes). Beat in the eggs one at a time, making sure each egg is fully incorporated before adding the next. Beat in the vanilla. Scrape down the beaters and the sides of the bowl as needed.
Reduce speed to low and beat in one-third of the flour mixture. As soon as the flour is almost incorporated, add half the milk mixture. Repeat with a second third of the flour mixture, the rest of the milk, then the rest of the flour, making sure not to overmix after each addition.
Use a rubber spatula to give the batter a final stir, scraping along the bottom and sides of the bowl to make sure all lumps are incorporated and that there are no pockets of dry ingredients hiding in the batter.
Pour the batter into the prepared pan(s), filling cupcake cups about ¾ full. Bake 20-30 minutes (shorter end for cupcakes and rounds, longer end for sheet cake), rotating pans halfway through baking. When done, the middle of the cake will spring back when lightly pressed with a fingertip and a toothpick or wooden skewer inserted into the center of the cake should come back with a few crumbs attached.
Let the cakes cool in the pans on wire racks for 10 minutes. For cupcakes, remove each one and let cool on wire racks until completely cool. For cakes, run a small, sharp knife around the edge to loosen the cake from the pan, then flip onto wire racks. Remove the parchment paper and flip upright. Let cool on wire racks until completely cool. Frost.
For the buttercream: Beat butter with an electric mixer until completely smooth, about 1-2 minutes. With the mixer on low, pour in the condensed milk. With the mixer on low, add the powdered sugar in a few batches. Add vanilla. Beat until completely incorporated.
Notes
- I purchased Thai iced tea mix from a Thai grocery store in Los Angeles (this brand: http://www.amazon.com/Thai-Iced-Traditional-Restaurant-Style/dp/B000UPNK9S). This recipe will work with any dry Thai iced tea mix that instructs you to steep in hot water and then drain (i.e. not an instant tea powder), whether you purchase it or make it from dry ingredients. Most mixes I've seen seem to contain food coloring, which I like to avoid - but I haven't yet tried making my own mix at home, but I found some good options doing an internet search for thai iced tea recipes. - The tea flavor develops as the cupcakes sit, so they're best if you make them 24 hours or so before eating. Finished and frosted cupcakes can be refrigerated for 48 hours before eating (bring to room temperature before serving), and unfrosted cupcakes can be frozen for up to three months (you can even frost them without thawing, if you want).
Bowen Close
Bowen Close believes that food should make people happy and healthy, and loves bringing together people with creative, delicious food made from the heart. She loves making farm-inspired, flavorful dishes with sustainable ingredients - whether that's a big plate of roasted veggies, a towering chocolate layer cake, or a cocktail utilizing backyard ingredients - and collects recipes and other food-related stories on her website, Bowen Appétit. She is a chef, cooking instructor, and food writer living in Southern California with her husband and fully stocked pantry.