This rice bowl can be an easy weekday meal of teriyaki salmon and steamed bok choy, but it has enough flavor and pizzaz to also be featured on a seafood Christmas Eve dinner menu.
By Shannon Lim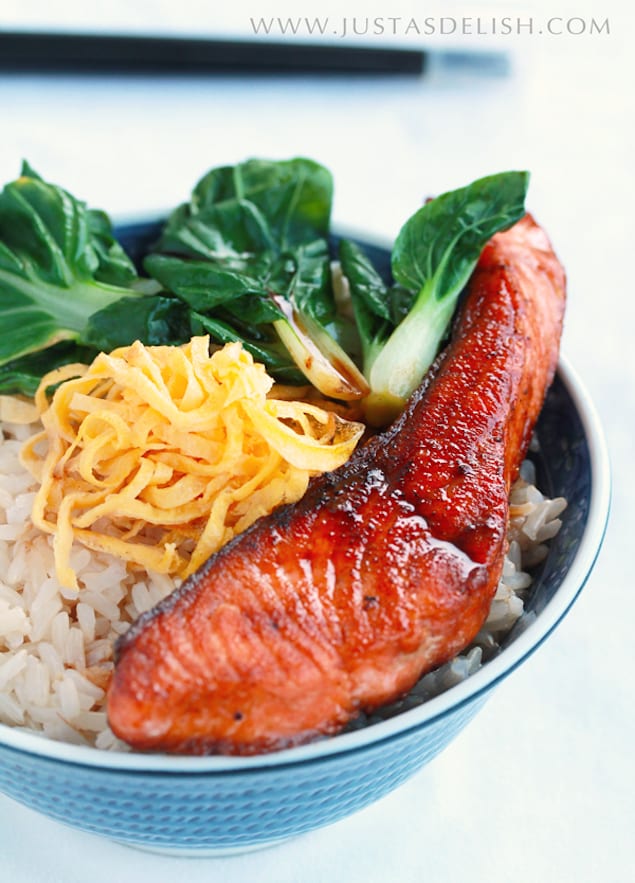 Fish appears often on my weekly meal, mostly local fish like mackerel, sea bass, sardines and red snapper. About once a month, salmon is my treat as they are not as cheap in this part of the world. Like most families of Chinese descent, I grew up eating fish dishes almost daily because of the belief that fish helps us become smarter -> better grades -> better jobs -> better life.
Besides being brain food, fish are packed with nutrients and an excellent source of high-quality protein, vitamins and minerals (including potassium, selenium and vitamin B12). What makes salmon receive most attention is their content of omega-3 fatty acids. The most beneficial omega-3 fats occur naturally in oily fish as Eicosapentaenoic acid (EPA) and Docosahexaenoic acid (DHA). They contribute to healthy brain functions (reducing the risk of alzheimer's and depression), the heart, joints and general wellbeing.
Omega-3 is termed as an essential fatty acid because our bodies cannot produce them and we must eat them or take supplements. To optimise your body's supply of essential fats rich in EPA and DHA, try to eat oily fish – such as salmon, mackerel, sardines, herring and fresh tuna – at least twice a week.
Pan fry salmon coated with teriyaki sauce makes a quick and easy weekday meal. Teriyaki sauce is really versatile, and who wouldn't love this sticky soy sauce. Even the pickiest eater would not resist. While the rice is cooking, cook the omelette and salmon. When salmon is done, place bok choy into the rice cooker or pot to gently steam for 1 minute. Serve immediately with a drizzle of the delicious teriyaki sauce. Itadakimasu!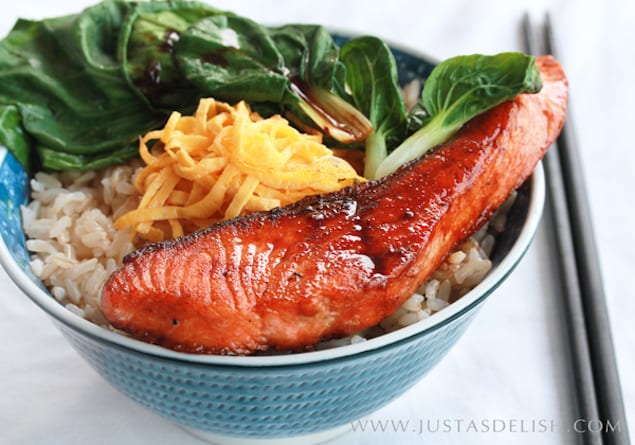 Teriyaki Salmon and Bok Choy Rice Bowl
This rice bowl can be an easy weekday meal of teriyaki salmon and steamed bok choy, but it has enough flavor and pizzaz to also be featured on a seafood Christmas Eve dinner menu.
Ingredients
2 Salmon Fillets (100g each) - sliced side ways for Japanese style salmon fillets
1 medium Egg
2 handful of Baby Bok Choy or any favourite leafy greens
1 cup soaked Brown Rice
2cmx2cm Kombu (Kelp) - optional
2 cups Water
Teriyaki Sauce
1 tablespoon Honey
1 tablespoon Soy Sauce (or tamari for gluten free option)
1 tablespoon Mirin
1 tablespoon Sake (optional)
Instructions
Soak brown rice overnight or at least 4 hours. If using a pot to cook, add brown rice, kombu and water and bring to boil. Then lower heat to simmer for about 10 minutes or until water is fully absorbed. Keep covered for another 10 minutes to steam the rice.
Heat up a non-stick 18cm pan on low heat. If using a normal pan, lightly coat the pan with oil. Whisk egg with a pinch of salt in a small bowl. Pour egg onto the pan and swirl the mixture around to get a thin layer of omelette. In about 1 minute, the top will be dried and cooked through.
Remove and slide off the omelette onto a chopping board. Roll the omelette and slice thinly from the end.
Using the same pan, pan fry the salmon fillets for about 2 minutes on each side on medium heat. Remove the fillets to set aside.
Mix teriyaki sauce ingredients in a small bowl and pour the sauce into the same pan. When it start to simmer, switch off the heat and add back the salmon fillets to coat them in the sauce.
Just before serving, place baby bok choy into the pot of rice to let the residue heat gently steam the veggie for 2 minutes. I have the veggie directly on top of the rice. This will produce slightly crunchy bok choy, which I prefer. Steam longer if you prefer wilted bok choy.
Plate a bowl of rice, and top with salmon, bok choy and omelette, with drizzle of teriyaki sauce. Itadakimasu!
Notes
If you do not have sake, replace with rice wine or omit altogether. You won't be get an authentic teriyaki sauce, but it's Just As Delish.
#mc_embed_signup{background:#fff; border: 3px double black; clear:left; font:14px Georgia,serif;  width:635px;}
/* Add your own MailChimp form style overrides in your site stylesheet or in this style block.
  We recommend moving this block and the preceding CSS link to the HEAD of your HTML file. */