Cool, fall temperatures are coming. Get cozy with this tender lamb shepherd's pie.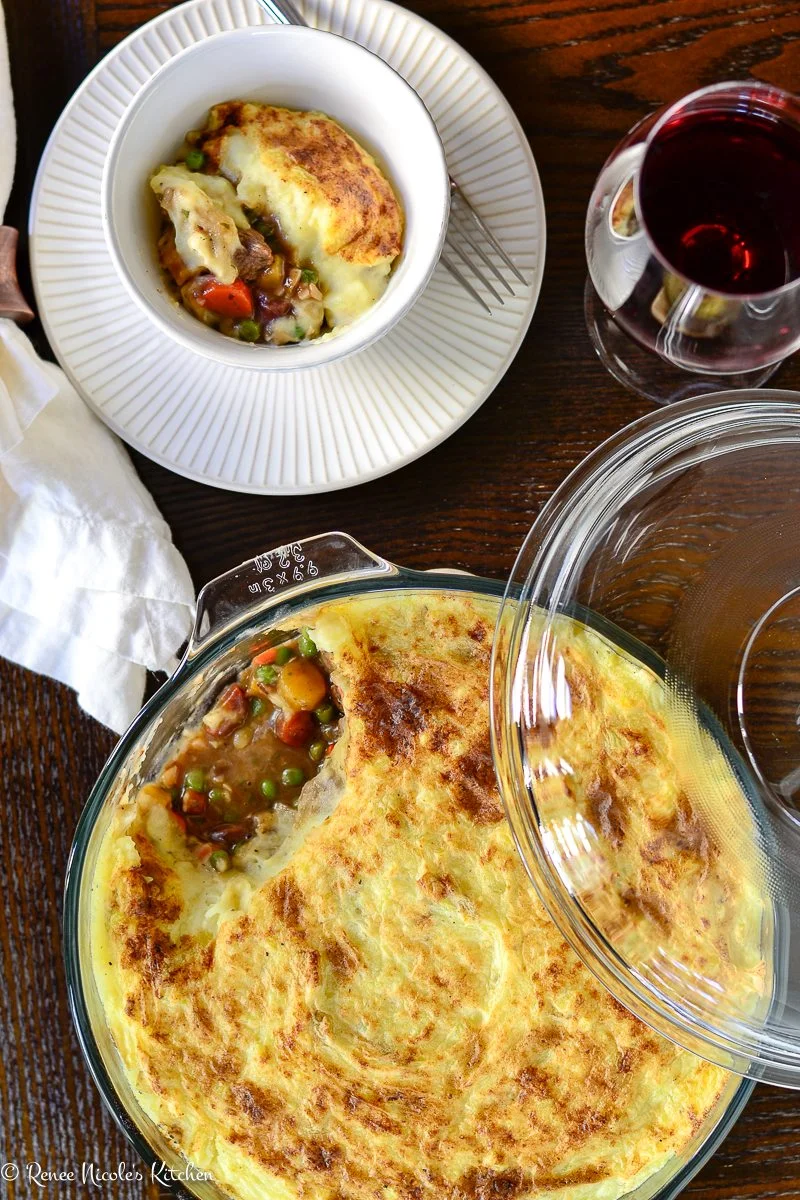 Lamb shepherd's pie is the ultimate meat and potatoes dinner. It's a stick to your ribs meal that will satisfy your tastebuds and fill your belly. It's perfect for a Sunday supper, a special occasion, or any time you have a little more time to spend in the kitchen.
My version of this classic British dish was inspired by my British husband. He also taught me that in England shepherd's pie uses lamb, while the beef version is actually a cottage pie. The kind with cheese has even yet another name. Here in the US we tend to call all versions shepherd's pie and every recipe has their own variations.
In this lamb shepherd's pie I've taken the traditional recipe and upgraded it with a red wine herb gravy and chunks of lamb loin instead of ground lamb. The result is one of the best shepherd's pies I've ever tasted. It isn't a set it and forget it meal, but it's is definitely worth the extra effort.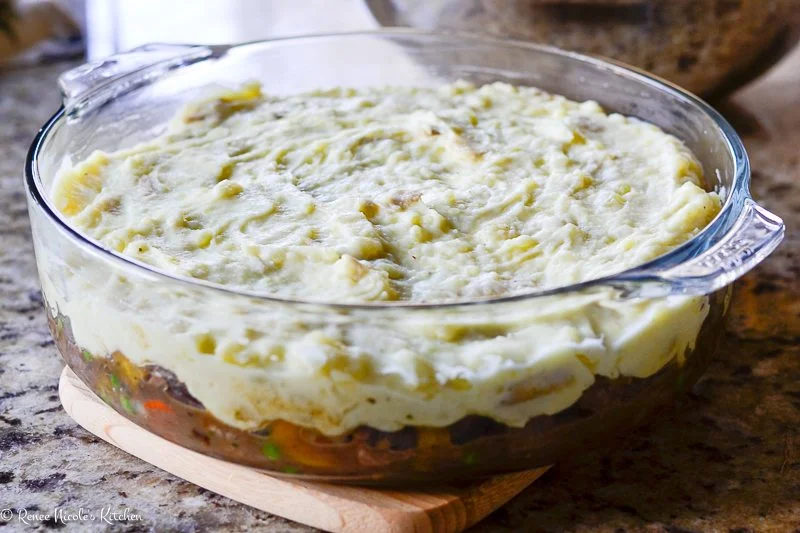 When it comes to a typical meat and potatoes dinner, I tend to focus on just the meat and potatoes, forgetting about eating my veggies. Like when having my Banger's & Mash with Guinness Gravy. This lamb shepherd's pie, on the other hand, includes the veggies right in the casserole. Carrots, peas, and onions come together with the lamb and gravy to make a stew like base for the mashed potatoes, giving you a balanced meal in one bowl.
Speaking of veggies, you'll notice that there are more than just standard orange carrots in my pie. I selected a combination of orange, yellow, and purple heirloom carrots for a pop of extra color.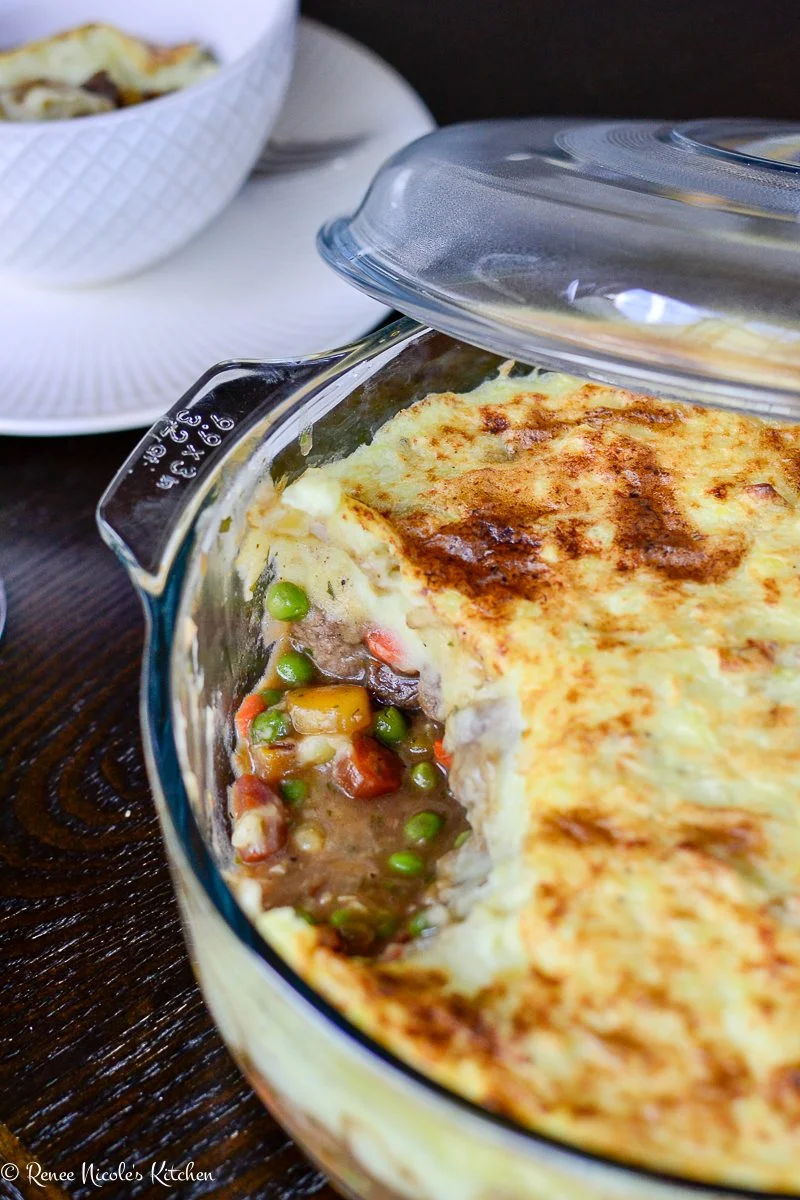 I don't typically recommend using purple carrots in soups and stews, as they can turn the entire dish purple. In this case, the purple enhanced the color of the red wine gravy. If you choose all orange, your pie will look different, but the flavor should be pretty much the same.
For the lamb, my personal preference is to use boneless lamb loin chops. With bone-in lamb loin chops you will need twice as much since the bones will be discarded. Aim for around 2 pounds of bone-in lamb loin to yield the 1 pound of lamb meat needed for the shepherd's pie. The recipe will still turn out well if you have slightly more or less meat.
Occasionally I am able to find lean lamb stew or kabob meat that is already trimmed. Using these pre-trimmed cuts greatly reduces your prep time and can be a bit more budget friendly. Cut any larger pieces into bite sizes for use in this pie.
To learn more about the different cuts of lamb and how they can be used check out the Lamb Cutting Board from American Lamb.
There are two last things to be aware of before getting started with this recipe. First, make sure you prep the meat and all of the veggies, and have everything to hand before you start to cook. Things can start to burn quickly if you aren't ready for it.
See Also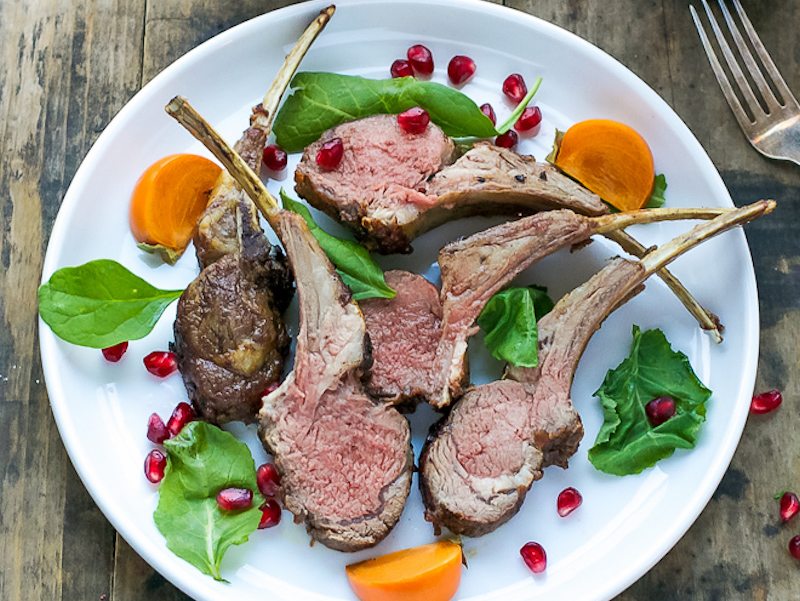 Second, make sure you are using a broiler safe dish for the assembly.
I often use my dutch oven, which can safely be used on both the stovetop and in the oven. It allows you to do the cooking without dirtying an extra pan, but it's heavy and can be difficult to lift when it's time to get things out of the pan.
This time I used a combination of my 5 quart saute pan and a 3 quart glass casserole dish. It was easier to maneuver in the kitchen and casserole dish shows off the gorgeous colors in the bottom layer of the pie. For me it was worth having the extra pan to clean. Whichever route you go, make sure the manufacturer says it's oven safe.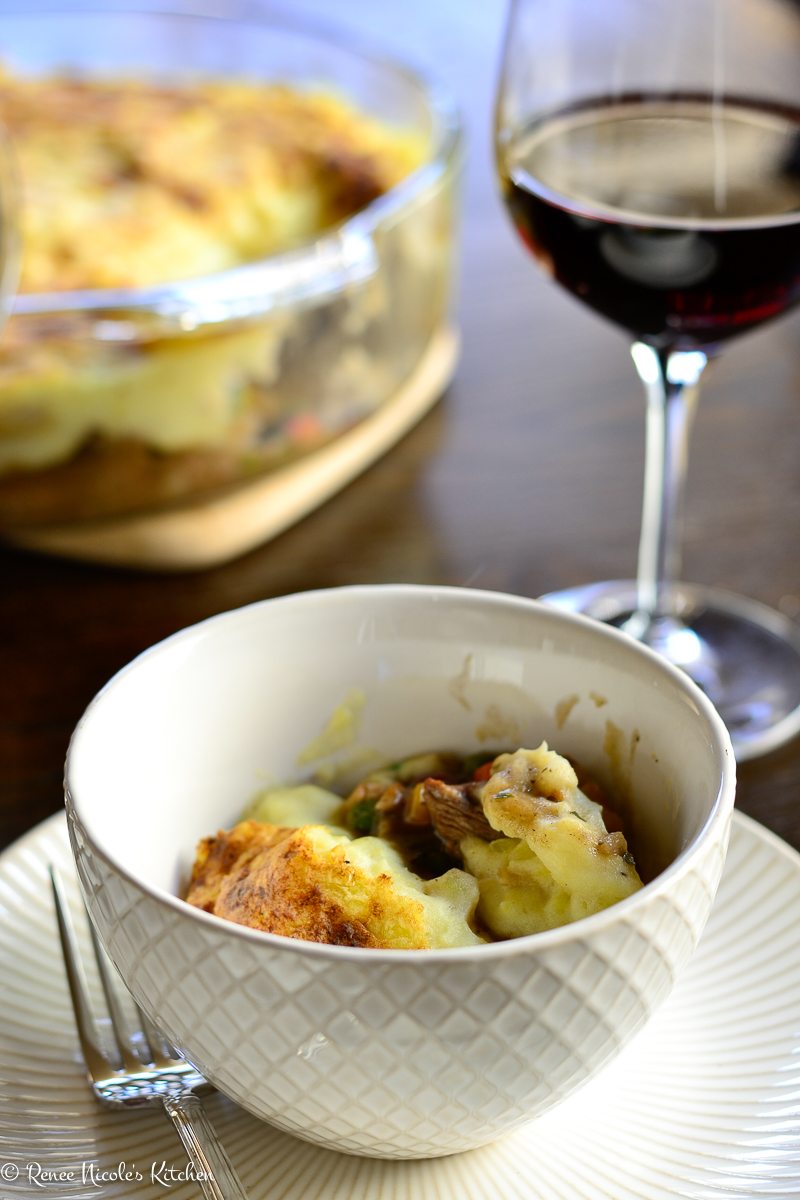 Click here for the vegetables and gravy recipe.
Print

Tender Lamb Shepherd's Pie
---
Author:

Renee Gardner

Total Time:

1 hour 10 minutes
Description
Cool, fall temperatures are coming. Get cozy with this tender lamb shepherd's pie.
---
Lamb & Marinade
1

lbs lamb loin or shoulder **see notes

2 TBSP

worcestershire sauce

1/2 tsp

salt

1/4 tsp

ground black pepper
Veggies & Gravy
Click the link above for the recipe.
Mashed Potatoes
2

lbs Yukon Gold potatoes – chopped 6 – 8 medium potatoes

1/2 cup

milk

2 TBSP

half & half

1/2 tsp

salt

1/4 tsp

pepper
---
Instructions
Preheat the broiler to high.
Trim and chop lamb into bite sized pieces and place in a medium sized mixing bowl. Add 1/2 tsp of salt, 1/4 tsp of black pepper, and worcestershire sauce. Toss to combine and set aside.
Place chopped potatoes in a medium sized pot. Fill with cold water and cover with a lid. Bring to a boil over high heat, then drop the heat to medium high and simmer uncovered for 15 – 20 minutes or until potatoes are fork tender.
While potatoes are cooking, heat a large dutch oven over medium heat. Add olive oil and heat an additional 1 – 2 minutes.
Stir in onions and carrots along with 1/2 tsp of salt. Cook 12 – 15 minutes, stirring occasionally, until carrots and onion have softened.
Add the garlic and cook 1 minute longer.
Remove the vegetables from the pan and place in a medium sized mixing bowl. Increase the heat to medium-high.
Reserving the marinade, add the lamb to the dutch oven. Brown the lamb on all sides.
Place the cooked lamb in the bowl with the vegetables and drop the heat back to medium.
Mix the red wine with the reserved marinade and add to the dutch oven.
Using a whisk, scrape the bottom of the pan to remove all the tasty brown bits.
Continue to cook over medium until the wine is reduced by half.
Add 2 tablespoons of butter to the red wine. Swirl to melt then whisk in the flour. Cook the wine, butter, flour mixture for 2 – 3 minutes, stirring constantly.
Slowly pour the beef stock into the wine, butter and flour, whisking constantly until smooth. Bring it to a simmer and allow to cook for 3 minutes longer to thicken.
Carefully add the lamb and vegetables back into the gravy. Add the tarragon, 1/4 teaspoon of pepper, and peas. Taste and adjust the salt if needed.
Keep mixture warm over a low flame while making the mashed potatoes.
Mash the potatoes using a hand masher or stand mixer. Add in the milk, half & half, 4 tablespoons of butter, and 1/4 teaspoon of salt.
If broiling in a glass casserole dish, transfer the lamb and vegetable mixture to the bottom of the casserole dish. If broiling in the dutch oven, scrape down the sides of the pan with a spatula to prevent burning.
Cover the lamb and vegetable mixture with the mashed potatoes, smoothing out the top as best you can.
Place the pie, uncovered, under the broiler for 8 – 10 minutes or until the potatoes brown. I check mine at 5 minutes and rotate the pan to prevent burning.
Allow to cool 5 – 10 minutes prior to serving.
Notes
Please note: *If you chose to use bone in lamb loin chops, you will need to purchase 2 lbs in order to have enough meat after removing it from the bone. Lamb shoulder also works well for this dish. If you can find lamb stew or kabob meat that is already trimmed, it will greatly reduce your prep time. ** If you can't find fresh tarragon, you can substitute with 2 tsp of dried tarragon. This recipe also works with rosemary or thyme, if you prefer.
Prep Time:

1 hour

Cook Time:

10 minutes

Category:

Main
Renee Gardner
Hi! I'm Renee, the recipe developer, food photographer, and mastermind behind Renee Nicole's Kitchen. My favorite foods are pizza, red wine, and popcorn, but not always in that order. When I'm not focused on food I enjoy sleeping in, reading fiction novels, and long walks with my goldendoodles, Tuck and Tahoe.