Tender Dum Pukht Meat and Vegetable Kebab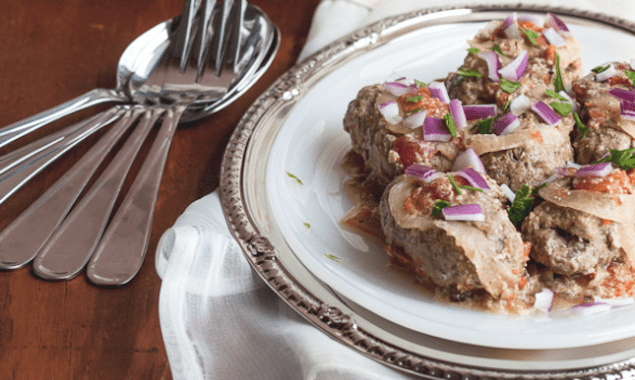 Dum pukht is a method of kebab that cooks the meat in a sealed pot with aromatic spice until it is perfectly tender.
By Lail Hossain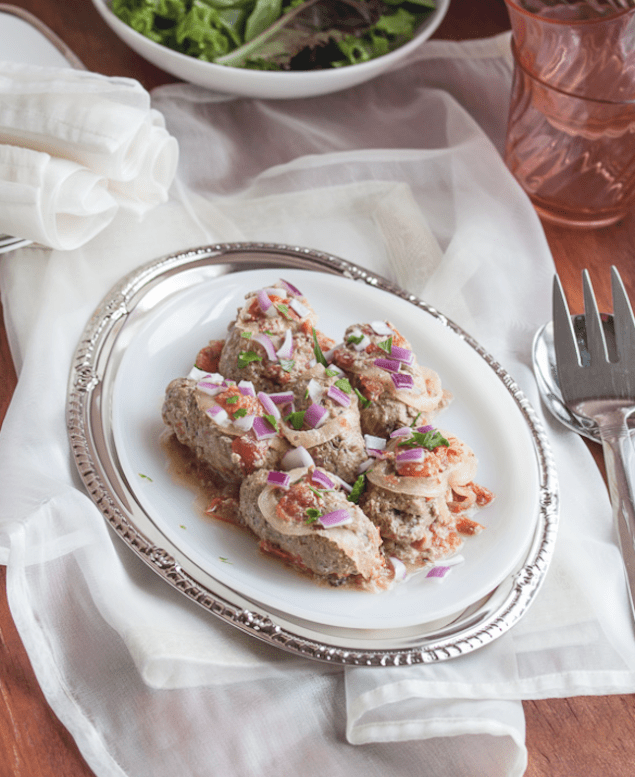 Dum is a cooking technique where food is slow cooked over a very low flame in sealed containers. The seal can be a tight lid or aluminum foil. As it cooks, heat creates steam in the sealed container. As the steam condenses and stays confined in the sealed pot, it cooks the food slowly before it can escape. Traditionally, a bed of hot coals are used to cook in the dum method. However, often cooking in low flame on stovetop or baking in a tightly sealed oven also mimic a "dum" method. Herbs and spices play an extremely critical role in dum technique. Dum kabab is a minced meat kabab prepared using off course the dum technique. Excellent as appetizer, sides or sandwich filler.
Instead of grilling, this minced meat kabab is slow cooked in the oven or stovetop in its own juices which persuades the release of maximum flavor. Fresh spices and herbs are key for dum kabab flavoring. The dum method makes this kabab melt in the mouth and herbs like cilantro, dill, parsley, mint mixed with spices gives this kabab an irresistible aroma. The kabab retains all the natural aromas and becomes infused with the richness of flavors that distinguishes this kabab from other kababs that are mostly dry.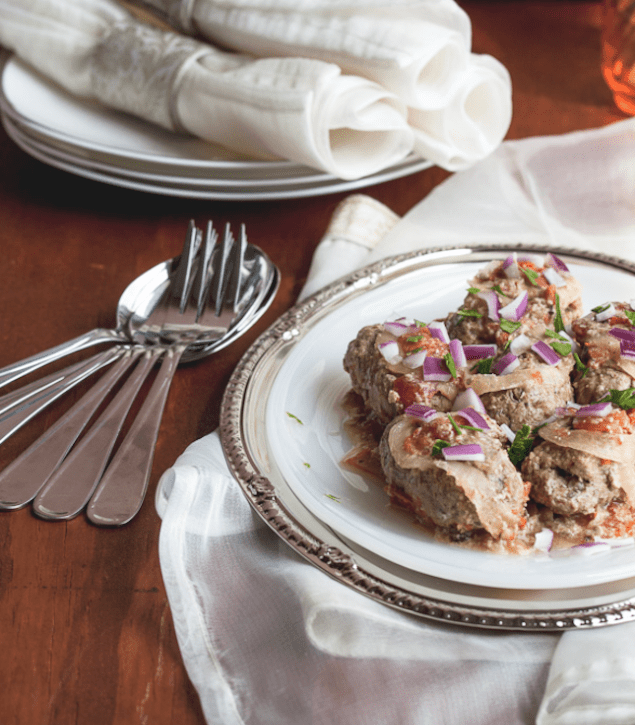 Tender Dum Pukht Meat and Vegetable Kebab
Dum pukht is a method of kebab that cooks the meat in a sealed pot with aromatic spice until it is perfectly tender.
Ingredients
1 lb ground beef or lamb
2 teaspoon garlic paste
1 teaspoon ginger paste
½ teaspoon garam masala
2-3 green chili, chopped
1 cup onions, finely minced and liquid discarded
½ cup beresta, crushed
½ cup herb mix of choice (cilantro, dill, parsley, mint, etc.), finely chopped
2 tablespoon lemon juice
2 tablespoon gram flour(besan)
2 teaspoon salt. (or per taste)
1 egg
2 tablespoon oil, additional oil or Spray oil to grease baking tray
2 tablespoon yogurt
2-3 tomatoes, round sliced
1 onion, round sliced
Red onion, chopped for garnish
Instructions
Preheat oven to 350 degrees Fahrenheit.
Grease a baking tray with spray oil or by brushing some oil. Set aside.
Mix all ingredients and roll into sausage size kebabs.
Sprinkle or layer the round sliced tomatoes and onion rings on top of the kebabs.
Tightly cover the baking tray with aluminum foil so steam cannot escape.
Bake 40 minutes turning once and let the kababs cook in it's own juice.
Broil the kababs for 8-10 minutes uncovered turning once. Put the cover back on after broiling.
Alternatively, you can make this kabab using the dum method on a stovetop. I find using the oven to be easier.
Notes
Let the kabab sit about 10-15 minutes before opening the aluminum foil to let the kababs soak in more juice that may remain after cooking.
Make sure the kababs do not stick to the tray. You may use an aluminum foil sheet to cover the tray to avoid sticking.
Great as appetizer, sides or sandwich filler.
You may garnish the kabab with red onion and chopped herb of your choice.
Lail Hossain
Lail Hossain finds cooking to be an explosion of creativity. She is enthusiastic about modifying a laborious step of an old recipe, and experimenting with different ethnic recipes by adding her own spin to it yet keeping the recipes simple, healthy, and delicious. Originally from Bangladesh, Lail shares her journey of food, creativity and family in her blog "With A Spin". She is also very passionate about highlighting Bangladeshi cooking to the international culinary space.